BWW Previews: Morgan James Headlines Cincinnati Pops New Year's Eve At Music Hall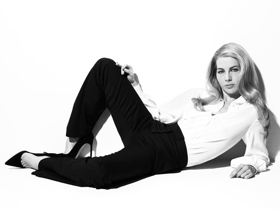 In its annual New Year's Eve concert, vocalist Morgan James presents an evening of Broadway, jazz and musical theater tunes with the Cincinnati Pops Orchestra conducted by John Morris Russell, conductor. The theme is 'I Put a Spell on You.'
This concert is always a crowd pleaser, and this one will prove no differently. On Sunday, December 31 at 8 p.m., New York-based James will present a concert with tunes such as Caravan by Duke Ellington, I Put a Spell on You by Jay Hawkins, The Look of Love by Burt Bacharach and Times Square 1944 from On the Town by Leonard Bernstein in honor of his 100th birthday.
The second act includes Call My Name from Prince, River by Joni Mitchell and Feelin' Good by Leslie Bricusse and Anthony Newley. Morgan finishes the evening with Respect by Otis Redding. She worked with Sam Strater, director of artistic administration, in coming up with a unique and fun program for the celebrated evening.
James is a renowned vocalist known for her work with Postmodern Jukebox. She started singing in a choir when she was in junior high. She noticed that she got a great reaction when she sang. "I wanted more of that reaction," James said. "Music is everything to me, and I guess you could say it always has been. I set out to be a Broadway baby, and soul music found me. I taught myself to belt when I was 25, and started experimenting with my instrument. Though I loved listening to it, I had no idea it would be my path."
Her first voice teacher, Dawn Peterson, was and is an inspiration to James. Some of her vocal idols include Nina Simone, Aretha Franklin, Mariah Carey and Joni Mitchell. She considers her greatest achievement in music not giving up. She was intimidated by writing, but also exhilarated by it. "It's a magical thing to make a song exist out of thin air!"
The singer has released an album entitled Reckless Abandon in which she assumed co-writing duties on all twelve tracks and sang her own background vocals. James has also recorded Hunter. She is touring Europe throughout the month of December, ending her year in Cincinnati.
Russell became conductor of the Cincinnati Pops in 2011 after earlier serving as the associate conductor of the Cincinnati Symphony Orchestra and Pops from 1995 - 2006. A native of Ohio, he is also music director and principal conductor of the Hilton Head Symphony Orchestra in South Carolina as well as principal pops conductor of the Buffalo Philharmonic Orchestra. He also holds the title of conductor laureate with the Windsor Symphony Orchestra in Ontario, Canada, where he served as music director for eleven years.
Tickets start at $25 and are available by calling the box office at (513) 381-3300 or visiting www.cincinnatipops.org.
Laura A. Hobson is a Cincinnati-based writer with her own writing company, Hobson Mosaic. She writes for several publications, including Cincy Magazine, aeqai (international online (read more...)