The Neo-Futurists to Celebrate 10,000 Premieres, Halloween and More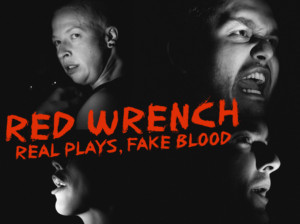 The Neo-Futurists' The Infinite Wrench, their open-run production at The Neo-Futurarium, 5153 N. Ashland Ave., reached a milestone Friday, Sept. 29. At the 11:30 p.m. performance, the ensemble wrote and performed the 10,000th premiere in their ongoing show featuring short plays in a race against the clock.
The Neo-Futurists continue to produce their ever-changing flagship show with world premiere plays every Friday and Saturday at 11:30 p.m. and Sunday at 7 p.m., excluding December 15 - 24.
The 29-year old Andersonville collective will celebrate these milestones with events throughout the holiday season, from favorite traditions, like Best Of and their New Year's Eve Performance & Party, to new experiments, like Halloween with Red Wrench and a downtown happy hour with 10,000 PROOF, in collaboration with CH Distillery.
Tickets for The Infinite Wrench and all the special events listed below are available at neofuturists.org or The Neo-Futurarium box office at 773.878.4557.
---
RED WRENCH: REAL PLAYS, FAKE BLOOD
Monday, Oct. 30 at 8 p.m.
The Neo-Futurarium, 5153 N Ashland at Foster
Tickets are $25
The Neo-Futurists brutalize the senses with Red Wrench: Real Plays, Fake Blood, a special Halloween horde of short plays performed in 60 merciless minutes. Plays that explore the macabre, the strange, the unknowable terrors in the back of your mind. Expect dark humor, heavy metal and existential dread and, of course, candy.
10,000 PROOF: A NEO-FUTURIST HAPPY HOUR & CELEBRATION AT CH DISTILLERY
Wednesday, Nov. 15
5 to 8 p.m.
CH Distillery, 564 W Randolph
Tickets are $25 and include one drink ticket
The Neo-Futurists celebrate the premiere of their 10,000th play and launch THE NEXT 10,000, a campaign to raise $20,000 by the end of the year, with 10,000 PROOF: A Neo-Futurist Happy Hour & Celebration at CH Distillery on November 15 from 5 to 8 p.m. Music from Neo-Futurist Artistic Associates Gwynn Fulcher, John Szymanski, and Curtis Williams, with original performances by Neo-Futurist Ensemble Members make for an engaging night of multi-faceted artistry with spirit-lifting mixed drinks. CH Distillery sponsors the cocktails and food for the special event. All additional cocktails are $10 and Metropolitan beers are $5 with 100% of the proceeds going to The Neo-Futurists.
BEST OF 2017: THE INFINITE WRENCH
Best of 2017 Performances:
Friday, Dec. 1 at 11:30 p.m.
Saturday, Dec. 2 at 11:30 p.m.
Sunday, Dec. 3 at 7 p.m.
Friday, Dec. 8 at 11:30 p.m.
Saturday, Dec. 9 at 11:30 p.m.
Sunday, Dec. 10 at 7 p.m.
The Neo-Futurarium, 5153 N Ashland at Foster
Tickets are $9 plus the roll of a six-sided die, cash-only, at the door; advance tickets are available for $20 with a rollback refund at neofuturists.org.
The Neo-Futurists have written over 360 world premieres this year. Now they'll take the first two weekends of December to share their favorite plays of 2017 from The Infinite Wrench. Featuring an extraordinary-sized troupe and a carefully curated selection of the funniest, strangest and most wrenching plays from 2017, these performances offer a Neo-Futurist review of the year's popular phenomenon, political nightmares and personal crises.
60 SONGS IN 60 MINUTES: MAYFLY'S CHILDHOOD TORN INTO TRAFFIC LIGHT CYCLES
Thursday - Saturday, Dec. 14 - 16 at 8 p.m.
Created by Nick Hart with Andrew Tham
The Neo-Futurarium, 5153 N Ashland at Foster
Tickets are $10 - 20
A small ensemble of musicians and artists creates a collage of sound and noise, using anything they can find to write and perform 60 original songs in 60 minutes. This is The Neo-Futurists' latest experiment in new modes of extreme performance, created and performed by ensemble member Nick Hart and featuring musicians Emma Hospelhorn, Andrew Tham, and Gwen Tulin.
NEW YEAR'S EVE PARTY & PERFORMANCE
Sunday, Dec. 31, 2017
Doors open at 9:30 p.m., The Infinite Wrench performance begins at 11 p.m.
The Neo-Futurarium, 5153 N Ashland at Foster
Tickets are $50
A special New Year Eve's party and performance done in full Neo-Futurist fashion. The evening begins with pre-show reception with brews from Metropolitan Brewery and featuring Poems While You Wait (type-written poetry on demand). Live performances begin at 9:30 p.m., and then at the crack of 11 p.m., the race to midnight kicks off with a The Infinite Wrench performance that will finish just in time for an audience champagne/sparkling apple juice toast at midnight.
---
The Infinite WrenchCreated, Written & Performed by The Neo-Futurist EnsembleAll performances Fridays and Saturdays at 11:30 p.m.; Sundays at 7 p.m.Running year-round, excluding December 15 - 24Tickets at the door: Cash only, $9 plus the roll of one six-sided die ($10-15) Advance tickets: $20 with a $1-6 cash rollbackTickets and information at neofuturists.org or 773.878.4557. Running time: 60 Minutes.
The next new thing for The Neo-Futurists, The Infinite Wrench is a mechanism that unleashes a barrage of two-minute plays for a live audience 50 weekends a year. From the elegant to the poop joke, the personal monologue to the political pronouncement, the writing is fresh every week and inspired by the lives of the performers. If you've seen the show once, you've seen the show once.
The company of writer-director-performers includes Neil Bhandari, Kurt Chiang, Trent Creswell, Ida Cuttler, Trevor Dawkins, Tif Harrison, Nick Hart, Joanna Jamerson, Jasmine Henri Jordan, Dan Kerr-Hobert, Jeewon Kim, Lily Mooney, Connor Shioshita Pickett, Kirsten Riiber, Leah Urzendowski and Malic White.
The Neo-Futurists are a collective of writer-director-performers creating theater that is fusion of sport, poetry and living-newspaper. Creating over 10,000 plays within the newly launched The Infinite Wrench, 28 years of Too Much Light Makes the Baby Go Blind, and over 65 full-length productions within their immediate, non-illusory aesthetic, The Neo-Futurists have grown to become one of the most highly regarded experimental theater companies in the United States. From humble beginnings as the first late-night theater production in Chicago, they launched what became Chicago's longest running show and today sustain multifaceted programs such as Neo-Access, The Kitchen (a micro-festival on art and performance), Prime Time, Neo-Lab and The Infinite Wrench, the ongoing late night show running 50 weekends every year.
Related Articles View More Chicago

Stories

Shows
More Hot Stories For You