Pride Films And Plays Announces Extension of A MAN OF NO IMPORTANCE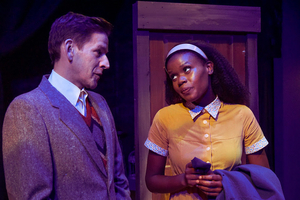 Pride Films and Plays' Jeff-recommended production of A MAN OF NO IMPORTANCE, the Chicago area's first revival in over a decade of the heartwarming musical created by Lynn Ahrens, Stephen Flaherty, and Terrence McNally, has been extended for one additional week due to popular and critical demand. The musical will now close with the 2:30 pm matinee on Sunday, November 17.
Writing for the Chicago Reader, Joshua Flanders said, "Director
Donterrio Johnson
has cast actors with stellar voices and real musical and instrumental chops." WTTW'S Hedy Weiss wrote, "The ensemble work here is perfection. But it is (Ryan) Lanning's exquisitely limned turn as Alfie that ultimately makes the show. A man of much importance." A MAN OF NO IMPORTANCE is based on a 1994 film starring
Albert Finney
as a Dublin bus conductor and features a gorgeous Irish-influenced score. PFP:s production is directed by
Donterrio Johnson
, the Jeff award-winning actor who directed PFP's BUYER AND CELLAR earlier this year and recently appeared in THE SPITFIRE GRILL with American Blues Theater. Music direction is by
Robert Ollis
, who most recently music directed SOUTHERN COMFORT for Pride Films and Plays. Ollis received a Jeff Award for his music direction of KISS OF THE SPIDER WOMAN, plus Jeff nominations for six other shows, including HAYMARKET: A NEW FOLK MUSICAL in 2019. Ollis was Music Director for the 2008 production of A MAN OF NO IMPORTANCE, which earned five Jeff Award nominations for Bailiwick Repertory. Alfie Byrne is a middle-aged, unmarried bus conductor who idolizes
Oscar Wilde
and harbors a secret crush on his handsome young co-worker Robbie Fay. Much of the musical's comedy comes from Alfie's determined efforts to stage a production of Wilde's SALOME with his quirky community theater group. Johnson's cast is led by
Ryan Lanning
as Alfie. Lanning appeared as Robbie Fay in the 2008 production. Lanning is a Jeff Award winner for his Molina in Bailiwick's KISS OF THE SPIDER WOMAN and his leading roles on Chicago stages also include the title roles in CANDIDE for Porchlight and HEDWIG AND THE ANGRY INCH for Haven Theatre. Nick Arceo, who recently performed the leading role in Underscore Theatre's workshop of NOTES AND LETTERS, plays Robbie Fay. Also featured in Johnson's diverse cast are
Ciera Dawn
(of THE LITTLE MERMAID and JESUS CHRIST SUPERSTAR at Paramount and WE ARE PROUD TO PRESENT.... at Steppenwolf) as Adele Rice, Sarah Beth Tanner (of HAYMARKET for Underscore Theatre and TWELFTH NIGHT for Midsommer Flight) as Lily Byrne, and Jeff Award-winner
Tommy Bullington
(who most recently played Pseudolus in A FUNNY THING HAPPENED ON THE WAY TO THE FORUM at Metropolis Arts Center) as William Carney. Also in the cast are
Ryan Armstrong
(Ernie, Rasher Flynn),
Tiffany Taylor
(Mrs. Patrick), Ian Rigg (Father Kenny),
Kimberly Lawson
(Mrs. Grace),
Jessica Lauren
Fisher (Miss Crowe),
Christopher Davis
(Baldy), Orlando Shelly (Peter),
Amanda Giles
(Mrs. Curtin), Thomas Tong (Sully O'Hara),
Kevin O'Connell
(Brenton Beret,
Oscar Wilde
), Patrick O'Keefe (Swing) and Jenni Carroll (Swing). The production team includes Robert S. Kuhn (costume design), Evan Frank (scenic design),
Mike McShane
(lighting design), Isaac Mandel (sound design), Matthew Zalinski (props design), Shannon Leigh Webber (dialect coach), Patrick O'Keefe (dance captain),
Allison Petrillo
(assistant director), Emily Marrazzo (stage manager), Finn Taylor (assistant stage manager), and Justus Wright (sound engineer). A MAN OF NO IMPORTANCE is staged in the 85-seat Broadway Theatre of the Pride Arts Center and It will play through Sunday, November 17. Tickets are on sale now at
www.pridefilmsandplays.com
.
More Hot Stories For You