Photo Flash: Theatre at the Center's ANOTHER NIGHT BEFORE CHRISTMAS
From the writers of Married Alive! and A Dog's Life comes the Chicago area premiere of Another Night Before Christmas, November 17 through December 18, 2011 at Theatre at the Center,1040 Ridge Road, Munster, IN. The press performance will be Sunday, November 20 at 7 p.m. Find the true meaning of Christmas in this wonderful holiday musical about a right jolly old elf, a less jolly single woman and an old wish finally coming true. Another Night Before Christmas is a delight for the whole family. This witty and tuneful holiday favorite, Directed by William Pullinsi, is sure to win laughs from anyone who's ever lost - or found - the holiday spirit. Chicagoland favorite Hollis Resnik stars as Karol Elliot with Don Forston starring as The Guy (who may have a prestigious job at the North Pole). 
Hollis Resnik is an 8-time Jeff Award Winner and 17 time nominee. She is the 2011 recipient of the Helen Hayes award for CANDIDE at Shakespeare Theatre in Washington D.C. Ms. Resnik has also won three After Dark Awards and two Sarah Siddons Awards. She has starred in the National Tours of DIRTY ROTTEN SCOUNDRELS, THOROUGHLY MODERN MILLIE and LES MISERABLES. Off Broadway, she starred in WINGS. She has appeared in films such as Little Big Top, Backdraft and The Untouchables and on ABC TV's Cupid. Regionally, she has appeared on area stages such as the Marriott Theatre, Goodman Theatre, Court Theatre and Northlight Theatre.
Don Forston
is a five-time Jeff Award nominee and After Dark Award winner for his portrayal of Alfie Doolittle in My Fair Lady at Drury Lane Theatre. Mr. Forston created the role of "The Guy" during the World Premiere of Another Night Before Christmas at Kansas City's American Heartland Theatre. He has been seen regionally in the World Premiere of The Emperor's New Clothes at Chicago Shakespeare Theatre, the Jeff Award winning production of Ragtime at Drury Lane Theatre, A Christmas Story at Theatre at the Center as well as numerous credits at The Marriott Theatre, Chicago Shakespeare Theatre and Fox Valley Repertory.Another Night Before Christmas tells the story of burnt-out social worker Karol Elliot, who is having a crisis of Christmas spirit. While heading home on a lonely Christmas Eve, she shares her groceries with a homeless man who decides to show his thanks and rekindle her holiday cheer by breaking into her apartment later that night insisting that he's Santa Claus. Instead of stealing her belongings, he brings in a bag of goodies and transforms her downtown apartment into a blinking, red and green wonderland. Before long Karol begins to wonder, is this bearded stranger more than what he seems? The Artistic Team, led by Artistic Director of Theatre at the Center William Pullinsi, features Musical Direction and Orchestrations by William A. Underwood and choreography by
Nicole Miller
. The design team includes Scenic Designer Bill Bartelt; Lighting Designer Shelley Strasser Holland; Sound Designer Barry G. Funderburg; Costume Designer Brenda Winstead, Wig Designer
Kevin Barthel
, and Props Designer Elizabeth Fandrei. The Stage Manager is Rebecca Green, the Assistant Stage Manager is Robert Hildreth, the Technical Director is Ann Davis; and TATC's General Manager is Richard Friedman.Founded in 1991, Theatre at the Center is a year-round professional theater at its home, The Center for Visual and Performing Arts, 1040 Ridge Road, Munster, Indiana. Theatre at the Center is Located off I-80/94, just 35 minutes from downtown Chicago, and has free parking. Performances are Wednesdays and Thursdays at 2:00 p.m.; Fridays and Saturdays at 8:00 p.m.; Sundays at 2:30 p.m.; and select Thursday evening and Saturday matinees. Individual ticket prices range from $36 - $40. To purchase individual tickets call the Box Office at 219.836.3255 or Tickets.com at 800.511.1552. Group discounts are available for groups of 11 or more and gift certificates, perfect for all special occasions, are also available. For more information on Theatre at the Center, visit
TheatreAtTheCenter.com
.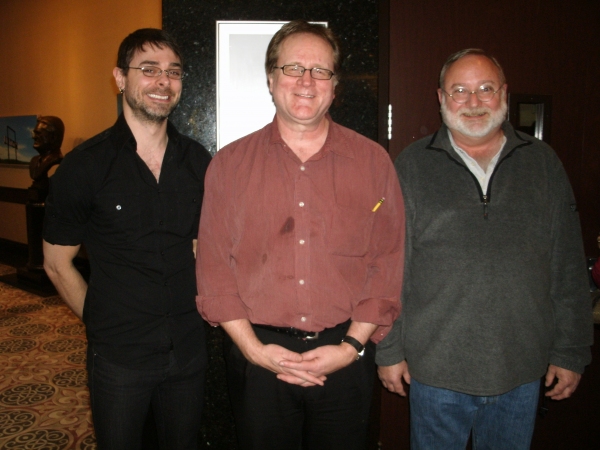 Ethan Deppe, William A. Underwood and Randy Glancy

Kathleen Gibson and Katrina Kuntz

William Pullinsi and William A. Underwood