Photo Flash: Porchlight Music Theatre presents ICONS Gala
Porchlight Music Theatre annouces that its 2017 ICONS Gala celebrating the career of Broadway legend Hal Prince held Sunday, April 30 in the Atlantic Ballroom at the Radisson Blu Aqua Chicago, 221 N. Columbus Drive, broke its records for number of attendees and funds raised, making it the most succesful gala in the organization's 22-year history. The Gala, with honorary chair Paul Lisnek, included special guest Lonny Price and performances from Chicago's leading talents celebrating the career of Hal Prince, the presentation of the 2017 Guy Adkins Award for Excellence in the Advancement of Music Theatre in Chicago to Rachel Rockwell and silent and live auctions. Proceeds from the event and its accompanying auctions benefit Porchlight's educational programs and productions.
The ICONS Gala pays tribute to a person who has forever changed the landscape of American music theatre. The 2017 special event honored Hal Prince, recipient of twenty-one Tony Awards, more than any other individual, including eight for directing, eight for producing the year's Best Musical, two as Best Producer of a Musical and three special awards. The elegant brunch began with guests enjoying mimosas and passed appetizers as they bid on silent auction items varying from tickets to see the Cubs at Wrigley Field, tours of WGN studios, a VIP experience with WBEZ's "Wait, Wait Don't Tell Me" and a variety of staycations and trips to Milwaukee and Durango. Once the guests entered the Atlantic Ball Room, Beckie Menzie performed on the piano, the first of a stellar line up to perform songs from the incredible career of Hal Prince, followed by Lisnek welcoming the audience to an unforgettable afternoon. Next to the stage were Bethany Thomas and Austin Cook, the stars of the hit Porchlight production Stephen Sondheim's Marry Me a Little, currently running through May 21 at Stage 773. Porchlight Music Theatre's Artistic Director Michael Weber introduced a very special guest, Lonny Price. Price spoke of his experiences working with Prince especially on Merrily We Roll Along, the focus of Price's current hit documentary, "Best Worst Things That Could Have Happened." Price welcomed to the stage Matthew Crowle, who will appear, in the role Price originated on Broadway, in Porchlight's 2018 production of Merrily We Roll Along. The 2016 Guy Adkins Award for Excellence in the Advancement of Music Theatre in Chicago recipient E. Faye Butler presented this year's award to recipient Rachel Rockwell. Rockwell spoke of her own experiences with Prince in her acceptance speech and also praised Chicago's incredible dedication to the arts. Adrian Aguilar, Angela Ingersoll and Denzel Tsopnang then entertained the crowd until Executive Director Jeannie Lukow and Board of Director and Artistic Associate Bil Ingraham began the live auction which included fantastic prizes such as dream vacations to New York City, Nashville, Prescott and Mexico City as well as an opportunity to be a chef for a day at Rick Bayless' Frontera Grill. The brunch concluded with final numbers from Aguilar, Ingersoll and Tsopnang.
Gala Chair Tamara Sims said, "The year's gala was our best one ever. There are so many factors that go into the ICONS Gala being a success, in addition to our generous guests and attendees. A special thank you to E.Faye Butler, Paul Lisnek, Lonny Price, Rachel Rockwell and all the performers who make this day truly an original event! Thanks to the Board of Directors and the Gala Committee who tirelessly work to promote all of Porchlight's goals, but especially rally when it comes to the ICONS Gala. And to the Porchlight staff who works so hard behind the scenes to make sure from start to finish, the ICONS gala is a party that people want to attend annually. I love being chair of this event because one of my favorite things is seeing everyone having fun and introducing friends and family, old and new, to our family at Porchlight Music Theatre at the ICONS Gala!"
Lukow said, "It is an incredible experience for me to attend the ICONS Gala. I have been involved with Porchlight since its beginnings and to see the crowds grow each year, the enthusiasm the guests have for our mission and productions and the star quality we have perform at this very special event is amazing." Weber added, "Porchlight is currently preparing to move its productions to the Ruth Page Center for the Arts, and the dedication of our audience deserves our deepest gratitude. Today's fund-raiser allows Porchlight to continue to share its vision for music theatre in Chicago and, through our education programs, raise awareness of this art form among students of all ages."
ABOUT Paul Lisnek, HONORARY GALA CHAIR
Paul Lisnek is a multi-Emmy Award winning television host and anchor. Lisnek has been the political analyst for WGN-TV since 2008 appearing on all the station's newscasts discussing the political issues of the day. He is the host of "Politics Tonight" on CLTV on which he interviews the leading political figures in the city, state and country and also serves as a fill-in anchor. He has interviewed presidents, governors, senators, congressmen, local representatives and mayors too numerous to count over the last 25 years.
Lisnek also hosts the podcast "Paul Lisnek Behind the Curtain" for WGNRadio.com and WGNPlus which highlights theatres, theatrical productions and the arts in addition to politics. In addition, he also anchors "Newsmakers" and hosts "Broadway in Chicago Backstage," which is taped in front of a live studio audience on the Comcast Network with an in-depth look at Chicago's hottest theatrical productions. "Backstage" has featured shows from Hamilton to Billy Elliott, and Aladdin to Book of Mormon and Wicked.
Other award-winning specials include "Site of Remembrance" on the Holocaust Museum and Education Center, "Footsteps of Lincoln" and "Day of Honor," a special on the Honor Flight Chicago program for World War II veterans. He is the author of thirteen books including "The Hidden Jury," "Winning the Mind Game," "Quality Mind, Quality Life" and is completing his first fiction book. The Museum of Broadcast Communication in Chicago opened the Paul M. Lisnek Gallery, which features a permanent exhibit detailing and honoring Lisnek's long career in television.
ABOUT Rachel Rockwell, 2017 Guy Adkins AWARD FOR EXCELLENCE IN THE ADVANCEMENT OF MUSIC THEATRE RECIPIENT
Rachel Rockwell recently directed Shakespeare in Love at Chicago Shakespeare. In 2016, she directed and choreographed Ride the Cyclone also at Chicago Shakespeare and in New York City for MCC Theatre this past December. Other credits at Chicago Shakespeare include The Little Mermaid, Shrek the Musical, Beauty and the Beast, The Adventures of Pinocchio, The Emperor's New Clothes and the Short Shakespeare! productions of Romeo and Juliet and The Taming of the Shrew. Additional Chicago directing/choreography credits include: Brigadoon (Jeff Award - Best Musical and Best Choreography) at Goodman Theatre and Billy Elliot (Jeff Award nomination - Best Musical, Direction and Choreography), West Side Story (Jeff Award nomination - Best Director), Oliver! (Jeff Award nomination - Best Musical and Best Director), Sweeney Todd (Jeff Award nomination - Best Musical and Best Director), The Sound of Music (Jeff Award nomination - Best Musical and Best Director), Ragtime (Jeff Award - Best Musical and Best Director), Miss Saigon (Jeff Award nomination -Best Musical and Best Director), all at Drury Lane Theatre; Mamma Mia, Shout! (Jeff Award nomination - Best Revue), 42nd Street (Jeff Award nomination - Best Director and Best Musical), The 25th Annual Putnam County Spelling Bee (Jeff Award PROFILES nomination - Best Musical), also at Marriott Theatre; Mary Poppins, In the Heights, The Music Man, Annie, Hair at Paramount Theatre; Enron (Jeff Award nomination - Best Play, mid-size) at TimeLine Theatre Company. In 2012 Ms. Rockwell was named Chicagoan of the Year in Theatre by the Chicago Tribune.
ABOUT Porchlight Music Theatre
Porchlight Music Theatre, now in its 22nd season, is nationally recognized for developing innovative new works, reimagining classic productions and showcasing musical theatre's noted veterans and rising stars. Porchlight elevates the genre in Chicago by providing intimate and powerful theatrical experiences for its growing and diverse audiences. With the vision of Artistic Director Michael Weber, Porchlight builds on its role as Chicago's only Equity not-for-profit company exclusively specializing in music theatre. Porchlight's rich history includes the staging of more than 60 productions with 15 Chicago premieres and five world premieres. Through Porchlight's "Off the Porch" new works program, the musicals of the next generation are developed and given a first audience. The School at Porchlight is Chicago's new center for music theatre training in the areas of performance, writing and appreciation. The company's many accolades include 17 Black Theatre Alliance nominations and three awards, as well as a total of 126 Joseph Jefferson Award nominations resulting in 39 Jeff Awards including four consecutive Best Production awards for Dreamgirls (2016), Sondheim on Sondheim (2015), Ain't Misbehavin' (2014) and A Class Act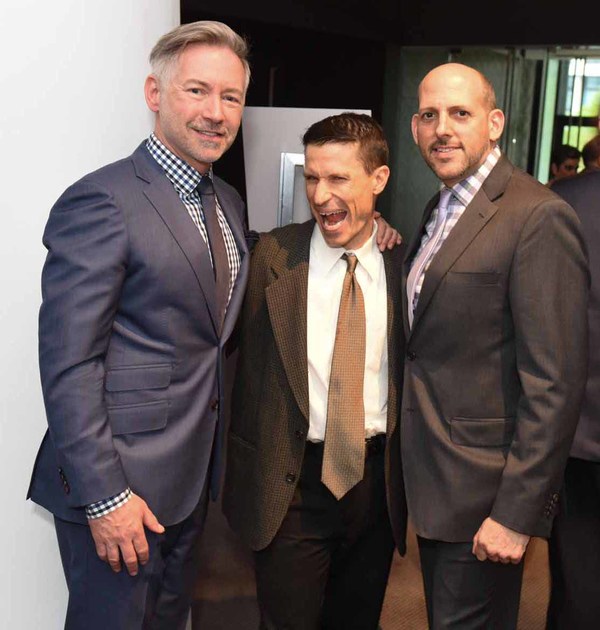 (L to R) Brad McCormick, Jay Simms and Porchlight Board of Director
Bil Ingraham
(L to R) Stars of Porchlight's current hit
Stephen Sondheim
's Marry Me a Little
Austin Cook
and
Bethany Thomas
perform for the ICONS audience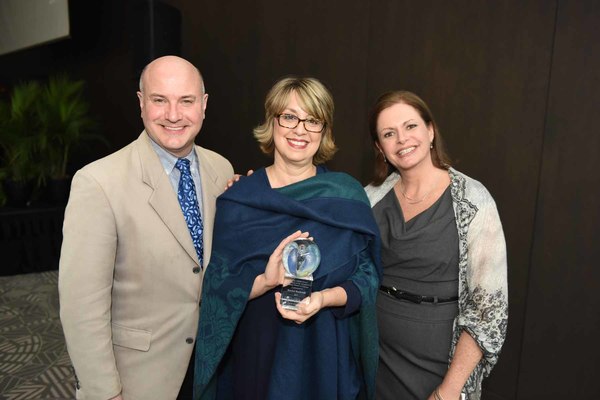 (L to R)
Porchlight Music Theatre
's Artistic Director
Michael Webber
, 2017
Guy Adkins
Award for Excellence in the Advancement of Music Theatre in Chicago recipient
Rachel Rockwell
and
Porchlight Music Theatre
's Executive Director
Jeannie Lukow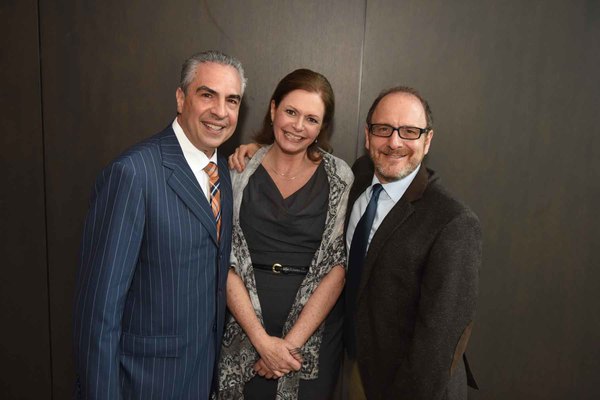 (L to R) Honorary Chair
Paul Lisnek
,
Porchlight Music Theatre
's Executive Director
Jeannie Lukow
and honored guest
Lonny Price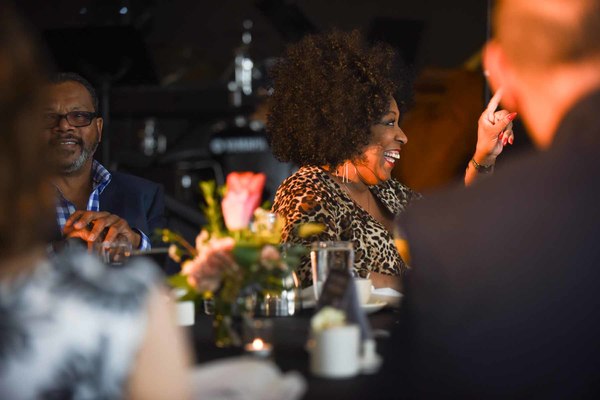 2016
Guy Adkins
Award for Excellence in the Advancement of Music Theatre in Chicago recipient
E. Faye Butler
reacts to the speakers comment on her illustrious career
Honorary Chair
Paul Lisnek
opens the ICONS Gala and welcomes the sold out crowd
(L to R)
Keely Vasquez
,
Chris Carter
,
Loren Connell
and
Adrian Abel Azevedo
at
Porchlight Music Theatre
's ICONS Gala 2017