Photo Flash: MY THREE ANGELS At Attic Playhouse
Set in French Guiana, a region where on Christmas Eve the temperature has graciously dropped to 104 degrees, three amiable convicts are employed as roofers above the Ducotel's general store. The roof winds up being the least of the family's troubles. On the way from France is Henri - an evil-minded cousin and owner of the flailing store, and his nephew Paul - who recently jilted the Ducotel's fanciful young daughter. The three warm-hearted convicts are passionate believers in true justice, and decide it's their job to take the visitors on as they plot to set matters right.
A captivating and comedic holiday treasure also known as We're No Angels.
My Three Angels
By Samuel Spewack & Bella Spewack
Based on "La Cuisine Des Anges" by Albert Husson
Performances run from November 13 - December 20, 2009. Fridays and Saturdays at 8 pm and Sundays at 3 pm.
Tickets are $20 with advanced purchase and $22 at door. Special discounts are given to Senior Citizens (age 65+), Students (age 21 & younger), Active Duty Military Personnel and groups. For tickets or further information please call: (847) 433-2660.
ATTIC PLAYHOUSE is located at 410 Sheridan Road, Highwood, Illinois.
ABOUT "MY THREE ANGELS"...
Albert Husson's French comedy, "La Cuisine des Anges," opened at the Theatre du Voeux-Columbier in 1952. It was adapted into English a year later by the Tony Award-winning, husband-and-wife writing team Sam and Bella Spewack, who are best known for writing the book for Cole Porter's "Kiss Me, Kate." "My Three Angels" opened on Broadway at the Morosco Theatre in March, 1953 as directed by Jose Ferrer. It ran until 1954. The movie version (based on the play with some story-line changes) was re-titled, "We're No Angels." It was released in 1955 featuring many notable actors including: Humphrey Bogart, Aldo Ray, Peter Ustinov, Leo Caroll, Basil Rathbone and Joan Bennet. "My Three Angels" is a warm, witty, and charming holiday comedy!
Featuring:
JACOB ALEXANDER (of Glenview) as "Alfred" DANIEL BYSHENK (of Vernon Hills) as "Lieutenant"
Will Hare (of Chicago) as "Paul" JOSHUA HARRIS (of Chicago) as "Henri Trochard"
NICOLA HOWARD (of Glenview) as "Madame Parole" BRENDAN HUTT (of Oak Park) as "Joseph"
ABBEY MOLYNEUX (of Chicago) as "Marie Louise Ducotel" BARB STASIW (of Hawthorne Woods) as "Emilie Ducotel"
Evan Voboril (of Chicago) as "Jules" MIKE WEAVER (of Glencoe) as "Felix Ducotel"
Director/Producer - KIMBERLY LOUGHLIN (of Highland Park) Asst. Director - CHRISTINE KOSKA (of Highland Park)
Set Designer / Technical Director - JACK ZORDAN (of Glenview) Lighting Designer - FRANK ROSE (of Chicago)
Costumer - JOHN GION (of Winnetka) Stage Crew - JEFF SLOAN (of Arlington Heights)
Stage Crew - JOSH PHILLIPS (of Chicago) Stage Crew - JERI SOLOMON (of Northbrook)
"MY THREE ANGELS" - CAST PROFILES -
JACOB ALEXANDER (Alfred) is thrilled to be on the Attic stage for the first time in My Three Angels. Jacob was last seen as Grady VanLehne in Atletico Jones Productions' Throwing Heat at the Athenaeum Theatre, where he previously played Reverend Barnes in Sordid Lives. He has also appeared in The Glass Menagerie (Jim) at Oakton College's Footlik Theatre; Yellow (Soldier) with Collaboraction at Steppenwolf's Garage Theatre; and Summer Reruns (staged readings) with A Reasonable Facsimile Theatre Company. (of Glenview)
DANIEL BYSHENK (Lieutenant) hopes this riveting play of the triumph unlikely heroes have over evil will mark the start of a long career on the stage for him, as he makes his debut performance with the Attic. He will also be returning to the Attic Playhouse stage as Leslie in our upcoming farce - It Runs in the Family. (of Vernon Hills)
Will Hare (Paul) is appearing in his first show with the Attic Playhouse. He has played Stanley in A Streetcar Named Desire and Bottom in A Midsummer Night's Dream at New World Repertory; Hamm in Endgame at Red Tape Theatre; and the voice of Audrey II in Little Shop of Horrors at Quest Ensemble. Will has an M.F.A. from the Chicago College of the Performing Arts Theatre Conservatory, and is a proud member of the Screen Actors Guild. (of Chicago)
JOSHUA HARRIS (Henri Trochard) is thrilled to be making his Attic Playhouse debut. After growing up in Texas and Oklahoma, he received his Master's degree in Theatre from Oklahoma City University. He moved to this area one year ago to pursue acting; and is now in his fourth production after performing with Tympanic Theatre Company, among others. Joshua will be returning to the Attic stage as David in our next play - It Runs in the Family. (of Chicago)
NICOLA HOWARD (Madame Parole) is happy to be returning to the Attic Playhouse. Last year she appeared as Elizabeth in our production of Angel Street. You may also have seen Nicola on our stage opposite her real-life husband John in our production of Not Now, Darling as Maude Bodley; as Dorothy Tree-Hapgood in Inspecting Carol, and Madame Arcarti in Blithe Spirit. She also served as Assistant Director for our production of Cactus Flower. Other memorable roles are Lady Bracknell in The Importance of Being Earnest at the Footlik Theater; Vera Charles in Auntie Mame; Dottie Ottley in Noises Off; Diana in California Suite; Lily Belle in The Curious Savage; and Betty Meeks in The Foreigner. Nicola has also done voice-over work and performed in industrial films. (of Glenview)
BRENDAN HUTT (Joseph) is thrilled to be ending the year by making his debut at the Attic Playhouse. His recent work includes a decidedly non-angelic performance in The Great American Nudie Spectacular; Actor's Theatre Company's Sweeney Todd; two readings of The Double for Babes with Blades; a weekend as a pirate in the Pirate Invasion! at the Port Washington Pirate Festival; and hitting a zombie in the head with a chair in the independant film A Death Defying Act. Joseph will be returning to the Attic stage this spring in our production of Heaven Can Wait. (of Oak Park)
ABBEY MOLYNEUX (Marie Louise Ducotel) is thrilled to be making her Attic Playhouse debut. She is new to Chicago and couldn't be happier to be working with such an incredible cast and crew. Recent credits include: Belle in A Christmas Carol and an ensemble member in W;t at B Street Theatre in Sacramento, CA; Elisabeth in the World Premiere of My Father's War at TheatreSquared in Fayetteville, AR; and Ann in All My Sons at the University of Arkansas where she recently completed the M.F.A. program in Acting. (of Chicago)
BARB STASIW (Emilie Ducotel) is thrilled to be returning to the Attic Playhouse for her fourth show. Favorite roles include: Wanda (Cold Cold Feet); Oath-taker (The Wonderful World of Dissocia); Lillian (I Hate Hamlet); and Karla (Wonder of the World). She currently serves on the Attic Playhouse board of directors, and was most recently "behind-the-scenes" as Assistant Director for our production of The Affections of May. (of Hawthorne Woods)
Evan Voboril (Jules) is returning for the second time to the Attic Playhouse having just performed in our production of The Affections of May as Brian Henning. His most recent roles have included: Roy the Conductor in Twentieth Century (Beverly Theatre Guild); Johnny Case in Holiday and Donald in You Can't Take It With You (Village Theater of Palatine). He will be returning soon to appear as Tony in our production of Heaven Can Wait this spring. By day, Evan is a book editor, and in past lives was a lawyer and elementary school teacher (jobs that have provided him with most of his drama experience). (of Chicago)
MIKE WEAVER (Felix Ducotel) is thrilled to make his Attic Playhouse debut. A veteran of productions throughout the North Shore, his credits include The Full Monty with Highland Park Players; Sunday in the Park with George, Footloose and Jane Eyre with Big Noise Theatre Company; Jekyll & Hyde and Blythe Spirit with North Shore Theatre of Wilmette; 1776, Funny Girl and Evita with Actors Theatre of Glencoe; and The Mikado with Winnetka Theatre. (of Glencoe)
"MY THREE ANGELS" - PRODUCTION TEAM PROFILES -

KIMBERLY LOUGHLIN (Director / Artistic Director) has degrees in both Theatre and Psychology from the University of Southern California, and is a founder and Artistic Director of the Attic Playhouse. Besides producing, directing and performing in shows for Attic Playhouse, she teaches and directs children's theatre, and performs on-stage in shows around the North Shore. (of Highland Park)
CHRISTINE KOSKA (Assistant Director) has been an audience member at the Attic Playhouse throughout the years, and has always loved this quaint but extraordinary and amazing theatre. She is absolutely thrilled to play the role of Assistant Director in this beloved production of My Three Angels. Christine has been in multiple shows throughout the North Shore as well as had the honor of directing some of the children's plays for the Highland Park Players. By day, she is the Project Manager for her big production, the implementation of a new hospital computer system at Saint Anthony Hospital in Chicago. (of Highland Park)
JACK ZORDAN (Set Designer / Technical Director) has been designing and building sets for the Attic Playhouse for over ten years. Jack has designed the sets for our productions of The Affections of May; The Mousetrap; Drinking Alone; Cold Cold Feet; Keeping Down with the Joneses; Visiting Mr. Green; Harvey; Not Now, Darling; Cactus Flower; No Way to Treat a Lady; And Then There Were None; Meshuggah-NUNS! ; Greetings!; Love in E-flat; I Hate Hamlet; Don't Dress for Dinner; Over the Tavern; Our Lady of the Tortilla; Over the River and Through the Woods; A Shayna Maidel; Moon Over Buffalo; Murder at the Howard Johnson's; A Christmas Carol; Play On! and What About Luv?... to name a few. He has also designed and built sets for Winnetka Theatre, Ballet Entre Nous and the Glencoe Jr. High Project. Jack has enjoyed performing on-stage with Winnetka Theatre, Glenview Theater Guild, North Shore Theatre and the Wallace Bowl. In between work and theatre, Jack is an avid runner. (of Glenview)
FRANK ROSE (Lighting Designer) has designed lights at the Attic Playhouse for the past seven seasons. He is the Technical Director at The North Shore Center for Performing Arts, a position he has held since its opening in November, 1996. For several years Frank was the production manager for Light Opera Works in Evanston, and taught and served as the technical director/resident designer at National-Louis University. In addition he has free-lanced extensively in the Chicago area as a technical director, a stage manager, and as a scenic and lighting designer. Frank received his B.F.A. in Theatre Arts from Illinois Wesleyan University. (of Chicago)
JOHN GION (Costumer) is thrilled to be back working with the Attic Playhouse, on one of his favorite shows and eras. He most recently costumed our production of Angel Street - (aka Gaslight). John received his B.A. in Theatre Production from Columbia College - Chicago, and has done post-graduate work in costume design at the University of Wisconsin - Parkside. John has also costumed for Winnetka Theatre, Glenview Theatre Guild, Center Stage, North Shore Theatre of Wilmette, Northbrook Theatre, Holiday Productions, Buffalo Grove Park District and New Trier High School where he just finished doing Guys and Dolls. He is currently employed at ALL DRESSED UP COSTUMES in Batavia. (of Winnetka)
JEFF SLOAN (Stage Crew) is excited to be a part of his seventh season with the Attic Playhouse having worked previously on The Affections of May; Enter Laughing (where he also appeared "on-stage" as Don Darwin); The Mousetrap; Drinking Alone; Cold Cold Feet; Angel Street (where he also appeared "on-stage" as Policeman); Keeping Down with the Joneses; Visiting Mr. Green; Harvey (where he also appeared "on-stage" as E.J. Lofgren); Not Now, Darling; Cactus Flower; No Way to Treat a Lady; And Then There Were None; Meshuggah-NUNS!; Greetings!; John Loves Mary; Lost in Yonkers; Love in E-flat; Inspecting Carol; I Hate Hamlet and Don't Dress for Dinner. Jeff is a new member of the Attic Playhouse Board of Directors, and has been involved with dozens of area shows for more than sixeen years. Venues include: Ballet Entre Nous, Glenview Theater Guild, Winnetka Theatre, Actors Theatre of Glencoe and Highland Park Players. (of Arlington Heights)
JOSH PHILLIPS (Stage Crew) is returning to work for the eighth season at the Attic, having worked on our productions of Enter Laughing (where he also appeared "on-stage" as Don Baxter); The Mousetrap; Drinking Alone; Cold Cold Feet; Angel Street (where he also appeared "on-stage" as Policeman); Keeping Down with the Joneses; Visiting Mr. Green; Harvey; Not Now, Darling; Cactus Flower; No Way to Treat a Lady; And Then There Were None (where he also appeared "on-stage" as Fred Narracott); Meshuggah-NUNS!; Greetings!; John Loves Mary; Lost in Yonkers; Love in E-flat; Inspecting Carol; I Hate Hamlet; The Drawer Boy; Don't Dress for Dinner; Over the Tavern and Our Lady of the Tortilla. He has also spent a number of years working various "behind the scenes" jobs for such venues as Theatre On The Lake, Winnetka Theatre, Glenview Theater and DesPlaines Theatre Guild. (of Chicago)
JERI SOLOMON (Stage Crew) is reprising her role as "temp tech" at Attic Playhouse having helped as an Assistant Director and Lighting Tech for several past shows. Her main theatre connection is with Theatre in the Woods (TIW) where she has played a combination of many roles backstage in all of their productions: Stage Manager, Co-Producer, Director, Assistant Director and Technical Director. Jeri performed on stage as "Officer Pudney" in TIW's production of Rumors; as Maude Dunlop with Peoria Players in The Music Man. She has also been the "Voice Offstage" in several productions and sound tech with Oak Park Players. (of Northbrook)
Bella Spewack (Playwright) was born in Bucharest, Romania on March 25, 1899. The youngest of three children, Bella immigrated to Manhattan's Lower East Side with her siblings and single mother. She graduated from Washington Irving High School and began her career as a journalist for various socialist and pacifist newspapers. Her work brought her to the attention of another young journalist, Samuel Spewack, whom she married in 1922. The Spewacks worked together for four years as news correspondents in Moscow. On their return to the United States, they settled in New Hope, Pennsylvania and began collaborating on plays as Samuel and Bella Spewack, writing the scripts for a number of comedies for both stage and screen. The two wrote several plays and screenplays for movies throughout the 1930s and 1940s, earning an Academy Award nomination for Best Original Story for My Favorite Wife in 1940. They also penned a 1945 remake of Grand Hotel, entitled Week-End at the Waldorf, which starred Ginger Rogers. Always known as a turbulent couple, the Spewacks were in the midst of their own marital woes in 1948 when they were approached to write the book for Kiss Me, Kate, which centered on a once-married couple of thespians who use the stage on which they're performing as a battling ground. Bella initially began working with composer Cole Porter on her own, but theatrical necessity overcame maritAl Sparks, and the Spewacks completed the project together. It yielded each of them two Tony Awards, one for Best Musical, the other for Best Author of a Musical. It proved to be their most successful work. In later years, Bella was a successful publicist for the Camp Fire Girls and Girl Scouts of the USA, and claims to have introduced the idea of selling cookies for the latter as a means of raising revenue for the organization. A Letter to Sam from Bella, a one-act play by Broadway director Aaron Frankel, is based on the Spewacks' personal papers from the Theater Arts Collection of Columbia University's Rare Book and Manuscript Library. Their best known straight play was My Three Angels, was adapted as the film We're No Angels. Additional Broadway credits include: The War Song (1928); Poppa (1928); Clear All Wires (1932); Spring Song (1934); Boy Meets Girl (1935); Leave It to Me! (1938); Miss Swan Expects (1939); Woman Bits Dog (1946); Two Blind Mice (1949); The Golden State (1950); My Three Angels (1953); Festival (1955) and Once There Was a Russian (1961). Bella Spewack died in New York City on April 27, 1990.
SAMUEL SPEWACK (Playwright) was born on September 16, 1899 in Ukraine and raised in the U.S. He attended Stuyvesant High School in New York City and received his Bachelor degree from Columbia College. Spewack worked as a journalist for the New York World where he met Bella Cohen. They married in 1922 and worked together for four years as news correspondents in Moscow. On their return to the United States the couple settled in New Hope, Pennsylvania and began collaborating on plays, soon writing the scripts for a number of comedies for both stage and screen. In the latter part of the decade, Samuel also wrote several novels, including Mon Paul, The Skyscraper Murder, and The Murder in the Gilded Cage, on his own. The two wrote several plays and screenplays for movies throughout the 1930s and 1940s, earning an Academy Award nomination for Best Original Story for My Favorite Wife in 1940. They also penned a 1945 remake of Grand Hotel, entitled Week-End at the Waldorf, which starred Ginger Rogers. During WWII, Spewack created the 1942 documentary The World at War for the Office of War Information. Later he worked as an information officer at the Moscow branch of the U.S. Embassy. Always known as a turbulent couple, the Spewacks were in the midst of their own marital woes in 1948 when they were approached to write the book for Kiss Me, Kate, which centered on a once-married couple of thespians who use the stage on which they're performing as a battling ground. Bella initially began working with composer Cole Porter on her own, but theatrical necessity overcame maritAl Sparks, and the Spewacks completed the project together. It yielded each of them two Tony Awards, one for Best Musical, the other for Best Author of a Musical. It proved to be their most successful work. In 1965, Sam collaborated with Frank Loesser on a musical adaptation of the 1961 Spewack play Once There Was a Russian. Entitled Pleasures and Palaces. A Letter to Sam from Bella, a one-act play by Broadway director Aaron Frankel, is based on the Spewacks' personal papers from the Theater Arts Collection of Columbia University's Rare Book and Manuscript Library. Their best known straight play was My Three Angels, was adapted as the film We're No Angels. Additional Broadway credits: The War Song (1928); Poppa (1928); Clear All Wires (1932); Spring Song (1934); Boy Meets Girl (1935); Leave It to Me! (1938); Miss Swan Expects (1939); Woman Bits Dog (1946); Two Blind Mice (1949); The Golden State (1950); My Three Angels (1953); Festival (1955) and Once There Was a Russian (1961). Samuel Spewack died on October 14, 1971.
Albert Husson (Original Playwright) was a French dramatic author and playwright of La Cuisine Des Anges - the original script My Three Angels was based on. There have been quite a number of adaptations of his work for television and the theatre. Albert Husson was director of Théâtre des Célestins in Lyon, and was also a member of the Academy of Sciences, Humanities and Arts in Lyon. (1912-1978)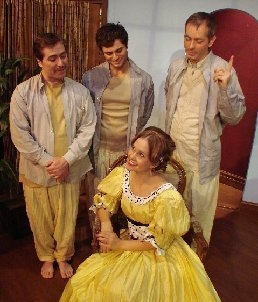 Brendan Hutt, Jacob Alexander, Abbey Molyneux & Evan Voboril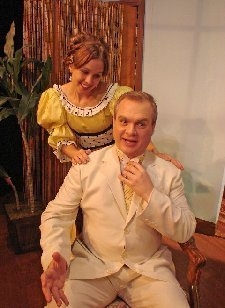 Abbey Molyneux & Will Hare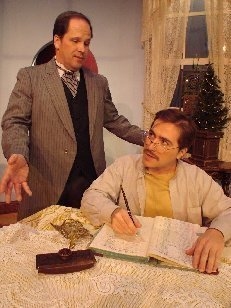 Mike Weaver & Brendan Hutt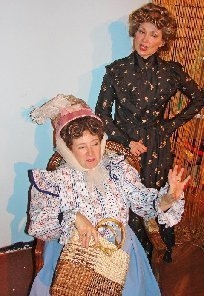 NIcola Howard & Barb Stasiw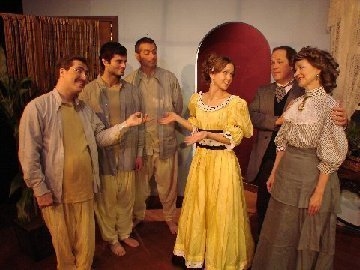 Brendan Hutt, Jacob Alexander, Evan Voboril, Abbey Molyneux, Mike Weaver & Barb Stasiw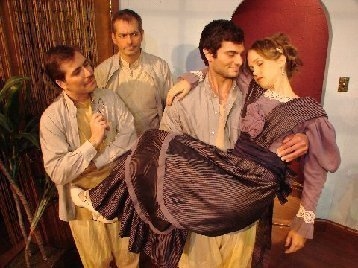 Brendan Hutt, Evan Voboril, Jacob Alexander & Abbey Molyneux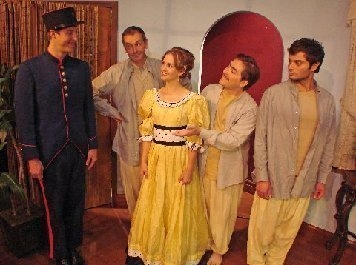 Daniel Byshenk, Evan Voboril, Abbey Molyneux, Brendan Hutt & Jacob Alexander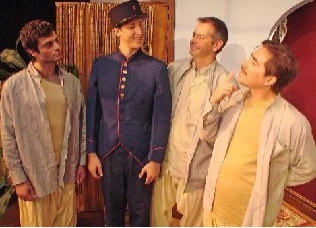 Jacob Alexander, Daniel Byshenk, Evan Voboril & Brendan Hutt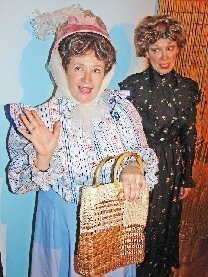 Nicola Howard & Barb Stasiw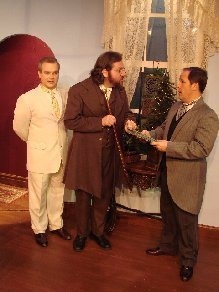 Will Hare, Joshua Harris & Mike Weaver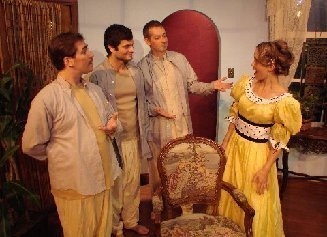 Brendan Hutt, Jacob Alexander, Evan Voboril & Abbey Molyneux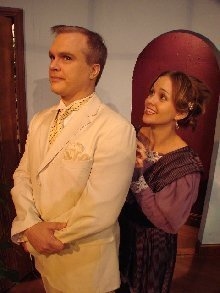 Will Hare & Abbey Molyneux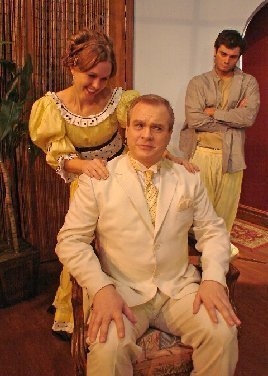 Abbey Molyneux, Will Hare & Jacob Alexander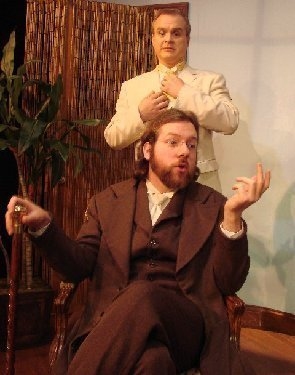 Will Hare & Joshua Harris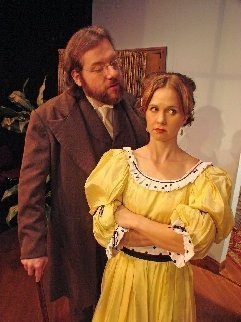 Joshua Harris & Abbey Molyneux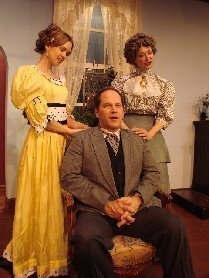 Abbey Molyneux, Mike Weaver & Barb Stasiw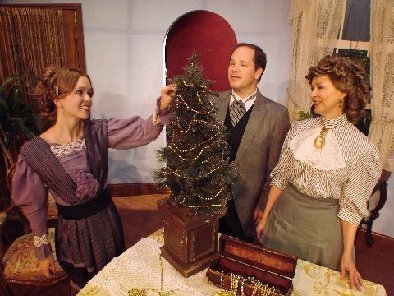 Abbey Molyneux, Mike Weaver & Barb Stasiw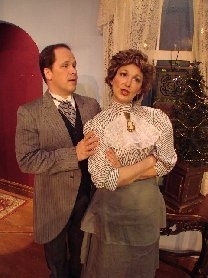 Mike Weaver & Barb Stasiw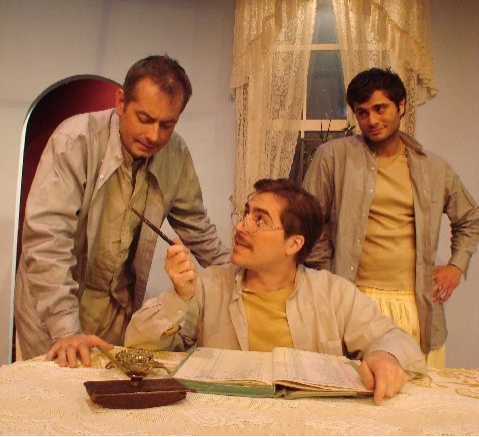 Evan Voboril, Brendan Hutt, Jacob Alexander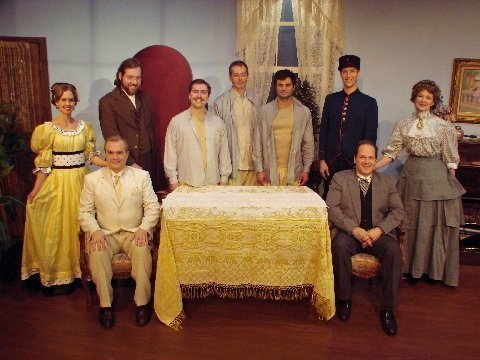 Abbey Molyneux, Will Hare, Joshua Harris, Brendan Hutt, Evan Voboril, Jacob Alexander, Daniel Byshenk, Mike Weaver and Barb Stasiw