Photo Flash: Kokandy Productions' ASSASSINS Celebrates Opening Night
Kokandy Productions present their Season 2014 closer - ASSASSINS, directed by Rachel Edwards Harvith with music direction by Kory Danielson and choreography by Mike Ford. ASSASSINS opened on Saturday, June 14 at 8:00pm, and runs at Theater Wit, 1229 W. Belmont in Chicago, and continues through Sunday, July 20, 2014. Scroll down for photos from the show's opening night celebrations!
Glitteringly dark, unflinchingly funny, and completely unapologetic, ASSASSINS bends time to bring together America's most notorious presidential assassins. Riding a careful balance between explaining its subjects and exposing them, ASSASSINS asks us to consider what, if anything, separates those who resort to violence from those who don't.
Kokandy's ASSASSINS will also utilize staging choices to explore themes of marginalization and community, giving the audience an outlet to recognize the humanity in the play's outcasts. In a society where gun violence-as-statement becomes more and more commonplace each year, ASSASSINS offers a unique opportunity to examine where we've been as a nation, and where we might be headed in the future - if, in fact, "Everybody's got the right to be happy."
The ASSASSINS cast features Neala Barron (Sara Jane Moore), Patrick Byrnes (Leon Czolgosz), Cole Doman (Balladeer), Greg Foster (Charles Guiteau), Nathan Gardner (Lee Harvey Oswald), Alex Heika (Giuseppe Zangara), Allison Hendrix (Lynette "Squeaky" Fromme), Eric Lindahl (John Wilkes Booth), Jeff Meyer (Proprietor), Michael Potsic (John Hinckley, Jr.), and Jason Richards (Samuel Byck).
The creative team includes Johnny Buranosky (Properties Designer); Kory Danielson (Music Director); Rachel Edwards Harvith (Director); Mike Ford (Choreographer); Zachary Gipson (Scenic Designer); Kate Setzer Kamphausen (Costume Designer); Mikey Moran (Sound Designer); JC Widman (Stage Manager); and Brandon Wardell (Lighting Designer).
Founded in 2010, Kokandy Productions seeks to leverage the heightened reality of musical theater to tell complex and challenging stories, with a focus on contributing to the development of Chicago-based musical theater artists, and raising the profile of Chicago's non-Equity musical theater community.
Regular run tickets are $38. Tickets are available online at www.theaterwit.org/boxoffice; by phone at 773-975-8150; or at the Theater Wit box office at 1229 W Belmont Avenue in Chicago. For more ticketing information and box office hours, visit www.theaterwit.org. Theater Wit has complimentary parking behind Cooper's restaurant across the street. Valet parking is also offered for $10, starting two hours before showtime. Limited non-metered street parking is available on Belmont and on Lakewood. For more information about the company, visit www.kokandyproductions.com.
Photo Credit: Benjamin T. Hinc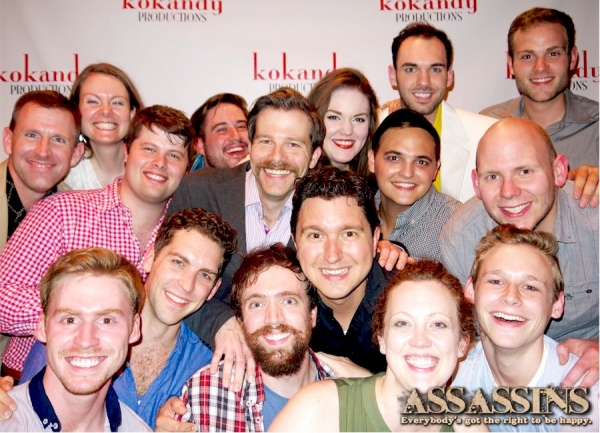 The cast and crew of Kokandy Productions' ASSASSINS. Back Row: Mike Ford, Rachel Edwards Harvith, Kory Danielson, Tommy Bullington, Eric Lindahl, Neala Barron, Alex Heika, Patrick Brynes, Michael Potsic, Andrew Sickel. Front Row: Jeff Meyer, Nathan Garder, Greg Foster, Jason Richards, Allison Hendrix, and Cole Doman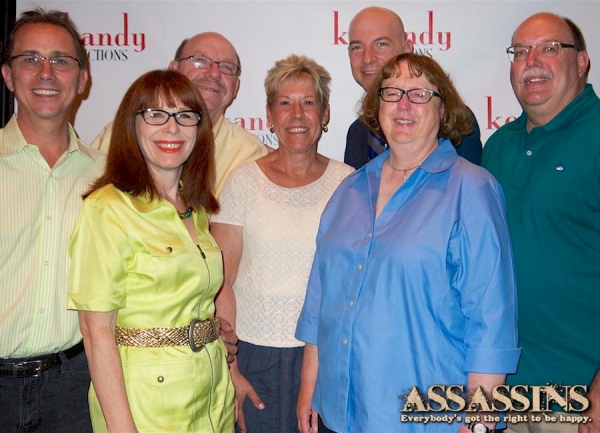 Producers of Kokandy Productions' ASSASSINS Don Bellile, Ann Bellile, Tom Kokandy, Jan Kokandy, Scot T. Kokandy, Susan Bellile, and Dell Bellile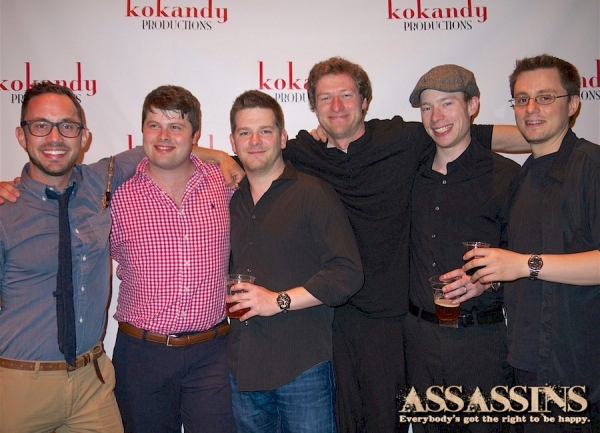 The ASSASSINS orchestra: Mike Matlock, Kory Danielson, Kyle McCullough, Scott Simon, Jered Montgomery, and David Orlicz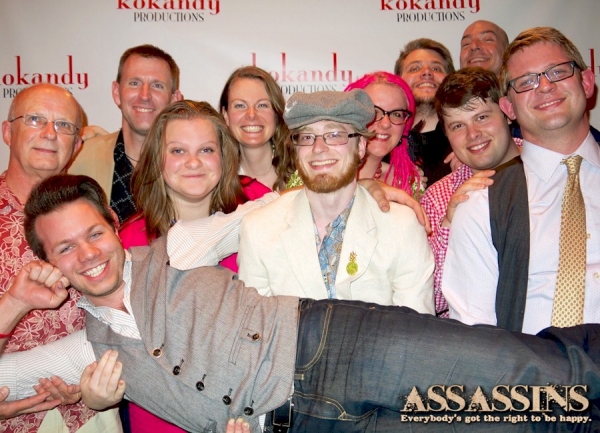 The crew of ASSASSINS. Back Row: Mark McColley, Mike Ford, Rachel Edwards Harvith, Kate Setzer Kamphausen, Dustin Barclay, Soct T. Kokandy. Front Row: Zachary Gipson, JC Widman, Mikey Moran, Kory Danielson, Brandon Wardell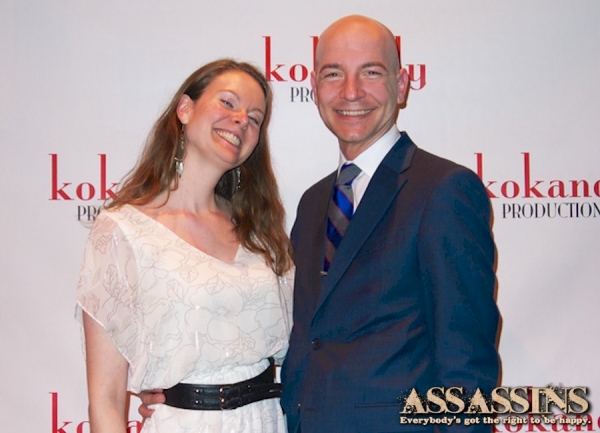 ASSASSINS director Rachel Edwards Harvith withKokandy Productions Executive Producer Scot Kokandy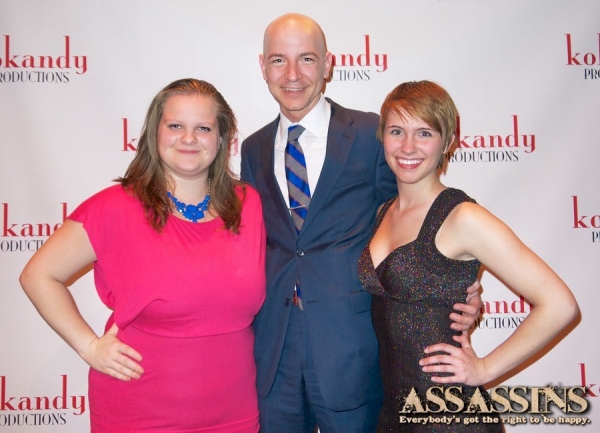 ASSASSINS Stage Manager J.C. Widman, Kokandy Productions Executive Producer Scot Kokandy, and Assistant Stage Manager India Van Camp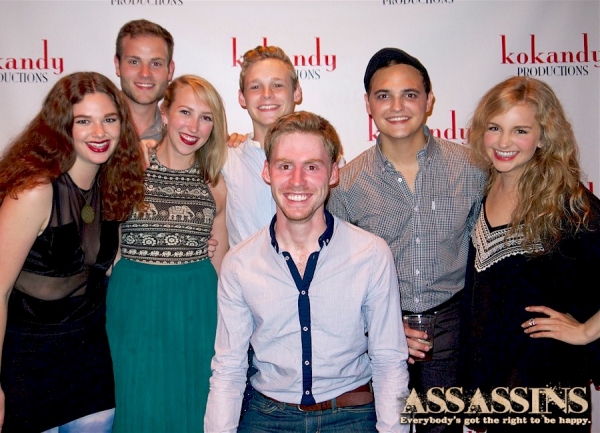 ASSASSINS castmembers Andrew Sickel, Cole Doman, Jeff Meyer, and Alex Heika, with actress Kim Green and friends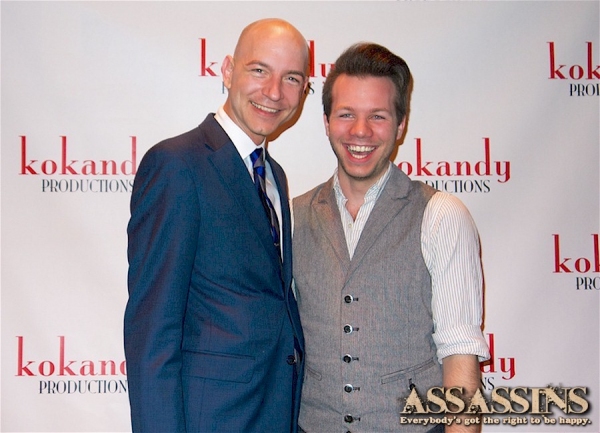 Kokandy Productions Executive Producer Scot Kokandy with ASSASSINS scenic designer Zachary Gipson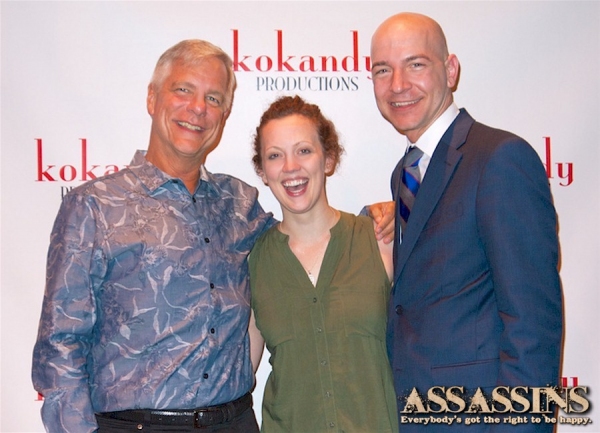 Kokandy Productions Co-Artiostic Directords John D. Glover and Allison Hendrix with Executive Producer Scot Kokandy