Photo Flash: Inside the Dramatists Guild's Chicago Intensive
From September 12 through September 15, the Dramatists Guild of America hosted its second annual Chicago Fellowship Program at Northwestern University led by the Tony Award-winning team of Lynn Ahrens and Stephen Flaherty, creators of Once On This Island, Seussical, and the recent Broadway revival of Ragtime. Now in its eleventh year (the first were held in New York), the Dramatists Guild Fellowship Program augments the training of emerging American dramatists and enhances the sense of community among them. Selected participants each contributed to planning and goal-setting sessions, master classes and discussions led by Ahrens, Flaherty and additional guests. 
Dramatists Guild President Stephen Schwartz met with the musical writers one-on-one and spoke to the whole group about the Guild and their craft. "I was so glad I had a chance to work with the Dramatists Guild Writers Intensive when I was in Chicago," said Schwartz. "They seem like an exceptionally talented group, and to me it is one of the Guild's best programs that we are able to encourage, inform, and inspire these talented playwrights, composers, and lyricists."
The selected participants were: Nambi E. Kelley, Chelsea Marcantel, Lily Mooney, Bruce Murphy, Gwendolyn Rice, Gloria Bond Clunie, Steve and Karen Multer and
Ethan Deppe
. During the Intensive, Andrea Lepcio moderated a panel entitled "Living and Working in Today's Theater: A Conversation with Eight Award-Winning Dramatists". During this public event, the Intensive's master teachers and guests including Ahrens, Flaherty,
Rebecca Gilman
(author of Magnolia, Spinning into Butter, and Blue Surge), Laura Schellhardt (The K of D),
Douglas Post
(Earth and Sky, Murder in Green Meadows, The Wind in the Willows), Zayd Dohrn (Want, Outside People), and Thomas Bradshaw (Burning, The Bereaved) engaged in a roundtable discussion about living and working in the theater today. These composers, lyricists and playwrights shared how they got their starts, developed their careers, and how they face the many challenges of writing for the contemporary American theater. Said Ahrens, "With a lot of laughter and hard work, learning to write for the stage may have been boiled down to its essence at our unique four-day dramatic writing program...I was fortunate enough to sit at a table with friends and colleagues
Stephen Flaherty
,
Carol Hall
,
Rebecca Gilman
, Laura Schellhardt and Doug Post, working with writers from the Chicago area on the craft and the business of theater. Thanks to Northwestern for being such generous hosts, and to our writers for opening their hearts and minds to our presence." Founded in 1851,
Northwestern University
is one of the country's leading private research and teaching universities. At Northwestern, the
Dramatists Guild
Chicago Intensive will be hosted by the Department of Theatre; the Department of Radio, Television and Film's MFA in Writing for the Stage and Screen; and the American Music Theatre Project.The
Dramatists Guild
of America was established over 80 years ago and is the only professional association that advances the interests of playwrights, composers, lyricists and librettists writing for the living stage. The Guild has over 6,000 members nationwide, from beginning writers to the most prominent authors represented on Broadway, Off-Broadway and in regional theatres.For more information on the
Dramatists Guild
, please visit:
www.dramatistsguild.com
Photo Credit: Tari Stratton, Justin Barbin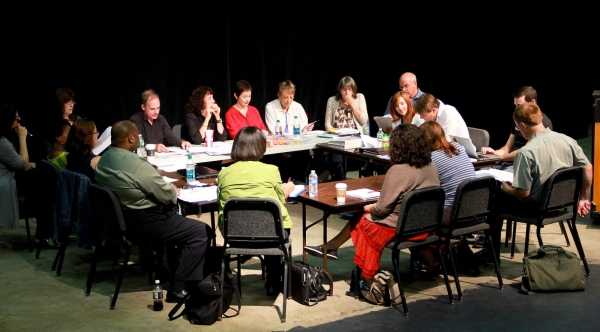 selected participants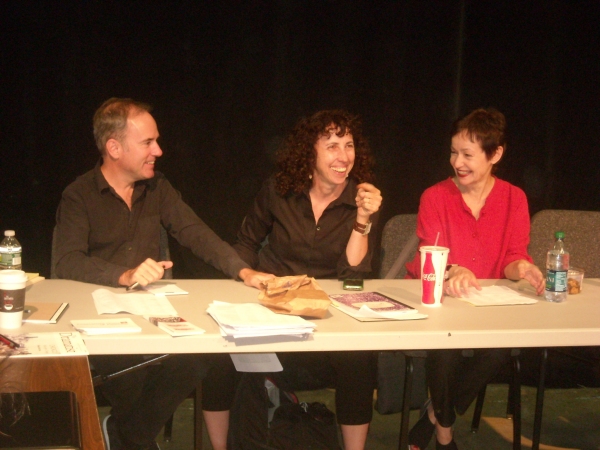 Stephen Flaherty, Andrea Lepcio, Lynn Ahrens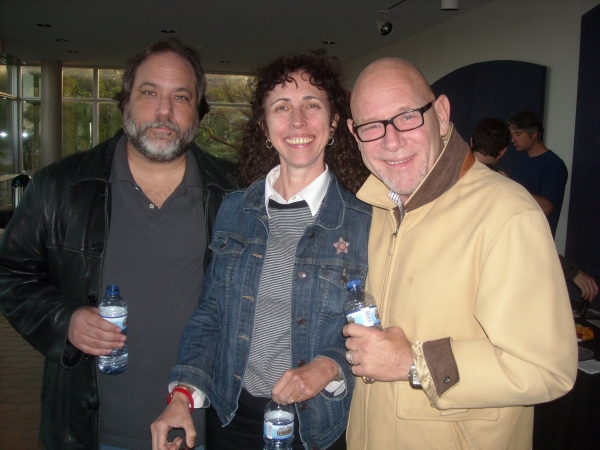 Guild Executive Directors Ralph Sevush and Gary Garrison, along with program director Andrea Lepcio

Steve Multer, Karen Multer and Ethan Deppe