Photos: terraNOVA and The Playground's DON CHIPOTLE Opens Tonight
terraNOVA Collective and The Playground Theater, in association with the Chicago Department of Cultural Affairs and Special Events, present the world premiere of DON CHIPOTLE by Juan Francisco Villa (Empanada for a Dream), directed by Jo Cattell. A new Latino superhero is born in this epic coming-of-age adventure, told through theatre, puppetry, animation, music and a children's choir. DON CHIPOTLE will play through September 27, 2015 at the Storefront Theater, 66 E. Randolph St. in Chicago. Press performances are tonight, August 29 at 7:30 pm and tomorrow, August 30 at 2 pm. BroadwayWorld has a look at the cast in action below!
DON CHIPOTLE will feature Lorena Diaz, Wendy Mateo, Isabel Quintero, Karen Rodriguez and Angelica Roque. The children's choir includes Esme Ayvar-Perez, Maggie Baker, Angelina Bill, Isabel Bravo, Abigail Caruga, Lillian Crespo, Jessica Farfan, Alex Gegax, Janet Rios and Audrey Webb.
DON CHIPOTLE is a magical adventure, in which two eleven-year-old boys cross a vast metropolis in order to put the world right. Inspired by the classic story of Don Quixote and Juan Francisco Villa's experience growing up in an immensely violent environment, this coming-of-age play explores cultural identity, violence, death, family and friendship and the importance of imagination and hope in any child's ability to survive.
The production team for DON CHIPOTLE includes Joanna Wanicka (set designer), Izumi Inaba (costume designer), Erik Barry (lighting designer), Sara Engel (props designer), Taylor Bibat and Rachel Singer (animation and puppet designers), Preyas Roy (composer), Jenny Lynn Chritoffersen (choir composer and choir director), Ali Drumm (production manager) and Denise Savas (assistant director/associate producer) and Jennifer Aparicio (stage manager).
Tickets are currently available at tix.com. For additional information, visit www.theadventuresofdonchipotle.com.
Photo Credit: Joel Maisonet

Karen Rodriguez, Angelica Roque and Isabel Quintero

Angelica Roque (center, left to right) Audrey Webb, Jessica Farfan, Abigail Caruga, Janet Russo, Esme Ayvar-Perez, Alex Gegax, Maggie Baker, Angelina Bill, Lillian Crespo and Isabel Bravo and (back) Lorena Diaz

Angelica Roque, Karen Rodriguez, Wendy Mateo and Lorena Diaz

Isabel Quintero, Rachel Singer (puppeteer) and Angelica Roque

Lorena Diaz and Angelica Roque

Isabel Quintero, Wendy Mateo and Lorena Diaz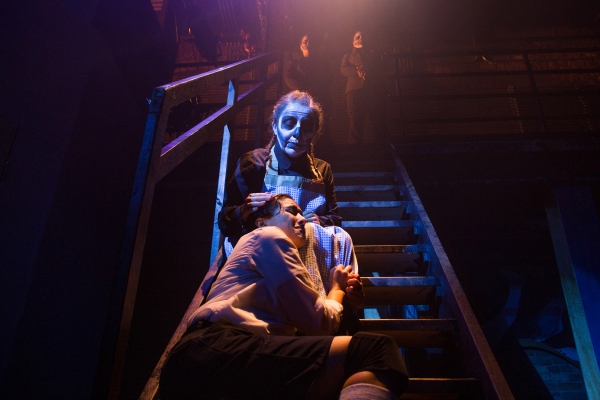 Angelica Roque and Isabel Quintero with (back, left to right) Lorena Diaz and Wendy Mateo