Photo Flash: First Look at Underscore Theatre's HAYMARKET: THE ANARCHIST'S SONGBOOK World Premiere
The true story of Chicago's infamous Haymarket massacre comes to life in Underscore Theatre Company's world premiere musical HAYMARKET: THE ANARCHIST'S SONGBOOK, with book and lyrics by Alex Higgin-Houser, music by David Kornfeld, directed by Elizabeth Margolius with music direction by Robert Ollis and Tyler Merle Thompson. Commemorating the 130th anniversary of the deadly bombing and riot at Haymarket Square, this stirring new musical will play now through June 12, 2016 at Chicago new performance venue, The Edge Theater at 5451 N. Broadway in Chicago. The press opening is tomorrow, May 17, and BroadwayWorld has a first look at the cast in action below!
HAYMARKET: THE ANARCHIST'S SONGBOOK will feature LaKecia Harris, Summer Hofford, David Kaplinsky, Royen Kent, Mike Mazzocca, Victoria Olivier, Khaki Pixley, James Smart and Tyler Merle Thompson.
HAYMARKET: THE ANARCHIST'S SONGBOOK is a true Chicago story - the story of Lucy Parsons, daughter of a slave and widow of anarchist martyr Albert Parsons who, on the last day of her life, revisits the Haymarket Affair and the unjust trial that followed it in an attempt to make peace with her past. Like Underscore's production of Borderlands, HAYMARKET is a folk musical in which the actors accompany themselves, with influences ranging from circus to protest songs to roots Americana.
The production team for HAYMARKET: THE ANARCHIST'S SONGBOOK includes: Kurtis Boetcher (scenic designer), Carolyn Cristofani (costume designer), Erik Barry (lighting designer) Aaron Stephenson (sound designer) Mealah Heidenreich (props designer), Josh Prisching (technical director), Damian Wille (production manager), Taryn Wood (casting director) and JC Widman (stage manager).
Tickets are currently available at www.underscoretheatre.org or by calling (312) 646-0975.
Photo Credit: Evan Hanover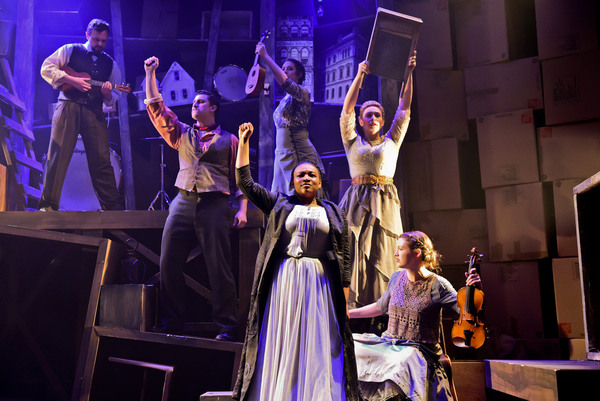 LaKecia Harris with Tyler Merle Thompson, David Kaplinsky, Victoria Olivier, Khaki Pixley and Summer Hofford

LaKecia Harris with Khaki Pixley, Mike Mazzocca, Victoria Olivier, David Kaplinsky, Summer Hofford and James Smart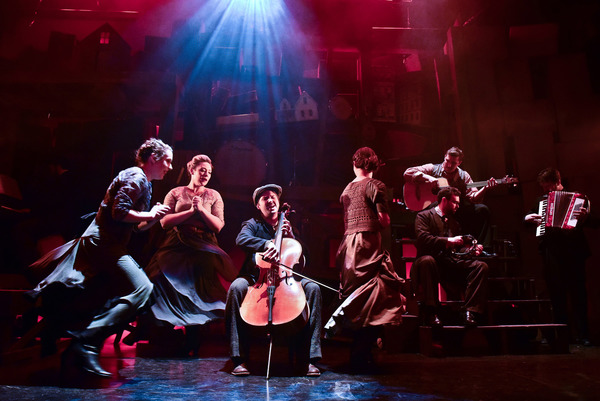 Victoria Olivier, Khaki Pixley, Royen Kent (center) Summer Hofford, David Kaplinsky, Tyler Merle Thompson and Mike Mazzocca

James Smart, LaKecia Harris and Mike Mazzocca

Royen Kent and James Smart with Summer Hofford, Tyler Merle Thompson, Mike Mazzocca, David Kaplinsky and LaKecia Harris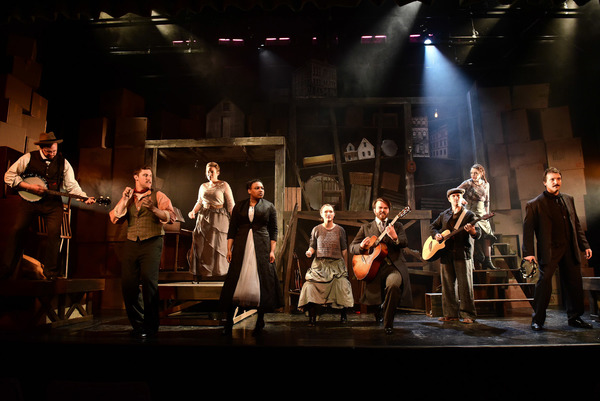 Tyler Merle Thompson, David Kaplinsky, Khaki Pixley, LaKecia Harris, Summer Hofford, James Smart, Royen Kent, Victoria Olivier and Mike Mazzocca

LaKecia Harris with the cast of HAYMARKET: THE ANARCHIST'S SONGBOOK
More Hot Stories For You