Click Here for More Articles on SHAKESPEARE SPOTLIGHT
Photo Flash: First Look at SHORT SHAKESPEARE! A MIDSUMMER NIGHT'S DREAM at Chicago Shakes
Chicago Shakespeare Theater (CST) presents Short Shakespeare! A Midsummer Night's Dream, a 75-minute abridged production of William Shakespeare's whimsical comedy of misplaced young passions and magical mischief. Short Shakespeare! A Midsummer Night's Dream will be performed for the public Saturdays at 11:00 a.m. from February 22 to March 22 in CST's Courtyard Theater. After each performance, the actors remain on stage for a brief question-and-answer session, before joining the audience in the Lobby for one-on-one conversations and photo opportunities. BroadwayWorld has a first look at the cast in action below!
This new adaptation by Jeff Award-winning director David H. Bell provides a quality, family-friendly introduction to Shakespeare with special opportunities for audiences to interact with the actors at every performance. In addition to public performances each Saturday, this production will welcome 1,000 students each day to the Theater's home on Navy Pier during its five-week run in the Courtyard Theater, followed by a tour to schools across the Midwest.
A magical forest filled with a host of some of Shakespeare's most comedic characters make A Midsummer Night's Dream one of his best-loved plays. When young lovers cross with mischievous sprites in the freedom of the woods, a series of mishaps occur and nothing is what it seems. When a troupe of fumbling actors is added to the midst, chaos breaks loose.
Director David H. Bell's abridgment of Shakespeare's perennial favorite has been created with young audiences in mind and is a delightful encounter with Shakespeare for anyone. Bell has re-imagined the rag-tag Mechanicals, Athenian craftsmen who moonlight as amateur actors, as a group of students putting together a play. This troupe of students both relates directly to young audience members and embodies the joy of young people experiencing theater for the first time. A clever set by Scenic Designer Scott Davis uses inventive theatrical techniques to populate the rich world of an enchanted forest. Costumes by Melissa Torchia evoke the Edwardian period through a modern lens of contemporary fashion-pairing, for example, a period jacket with skinny jeans. Above all, the production speaks directly to today's teens by engaging vibrant imaginations and embracing the universal joys and follies of love.
Following the public and student performances in the Theater at Navy Pier, the abridgment will launch into a tour to urban, suburban and rural schools across the Midwest for an additional five weeks. With a crew of eight and a 20 foot-long box truck, the production's theater magic will transform each venue with high caliber staging and design, giving students the experience of a fully realized professional performance. This Short Shakespeare! series of student-focused abridged versions of Shakespeare is an essential component of CST's celebrated Team Shakespeare education program. Chicago Shakespeare offers exclusive access to its celebrated productions by removing financial barriers to participation with subsidized tickets for school groups. At the heart of this comprehensive effort is a conviction that Shakespeare's plays are best appreciated when they are experienced as the playwright intended: performed live for a widely diverse audience.
Audiences of Short Shakespeare! A Midsummer Night's Dream at CST and in schools around the Midwest will be treated to a stellar cast of actors, many of whom have performed on Chicago Shakespeare stages in recent seasons. Lanise Antoine Shelley appears as the fairy queen Titania, doubling as Hippolyta, while Eric Parks performs the proud Oberon, as well as Theseus. The young lovers are brought to life by Tiffany Yvonne Cox as Hermia and Cristina Panfilio as Helena, with Ryan Hallahan as Demetrius and Nate Burger as Lysander, the bumbling suitors. Steven Lee Johnson performs the role of the mischievous sprite Puck. Alex Weisman performs Bottom, the eager dramatist who is transformed into an ass and becomes the object of Titania's affections. Don Forston plays both Egeus and Quince of the Mechanicals. Playing the rest of the gang of the Mechanicals are Wesley Daniel (Flute/Thisbe), Justin Cornwell (Starveling/Fairy), Max Fabian (Snout/Fairy) and Michael Finley (Snug/Fairy).
The seasoned creative team features Scenic Designer Scott Davis, Costume Designer Melissa Torchia, Lighting Designer Lee Fiskness, and CST's Resident Wig and Make-up Designer Melissa Veal. Ethan Deppe has composed original music for the production and serves as the sound designer. Ross Lehman acts as the production's text coach.
Chicago Shakespeare Theater's Short Shakespeare! A Midsummer Night's Dream will be performed for the public on Saturdays at 11:00 a.m. from February 22 through March 22, 2014 in CST's Courtyard Theater. Tickets are on sale now for $16-$20 with special discounts available for groups of 10 or more. All patrons receive a 40% discount on guaranteed parking in Navy Pier garages. For more information or to purchase tickets, contact Chicago Shakespeare Theater's Box Office at 312.595.5600 or visit the Theater's website at www.chicagoshakes.com.
Photo Credit: Michael Brosilow

As queen and king of the fairy kingdom, Titania (Lanise Antoine Shelley) and Oberon (Eric Parks) share passion both in love and in conflict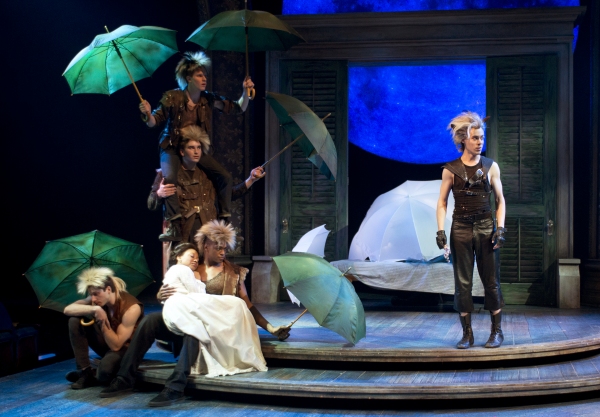 Puck (far right: Steven Lee Johnson) concocts magical mischief in the woods while Hermia (Tiffany Yvonne Cox) sleeps in the boughs of a tree created by fairies

Hermia (left: Tiffany Yvonne Cox) finds tables are turned when Helena (top: Cristina Panfilio) becomes the object of affection for both Lysander (left: Nate Burger) and Demetrius (right: Ryan Hallahan)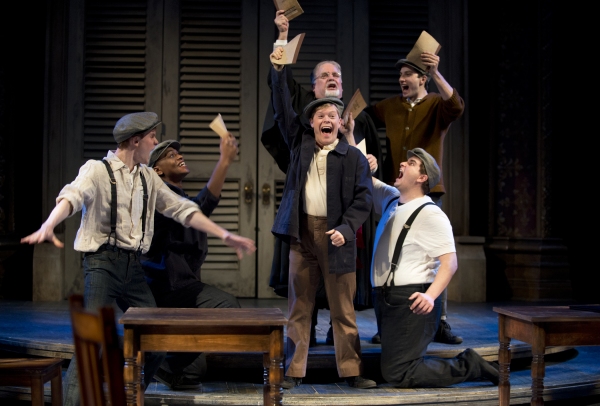 Bottom (center: Alex Weisman) eagerly leads the Mechanicals (left to right: Michael Finley, Justin Cornwell, Don Forston, Wesley Daniel, Max Fabian) in putting on a play for Theseus' nuptials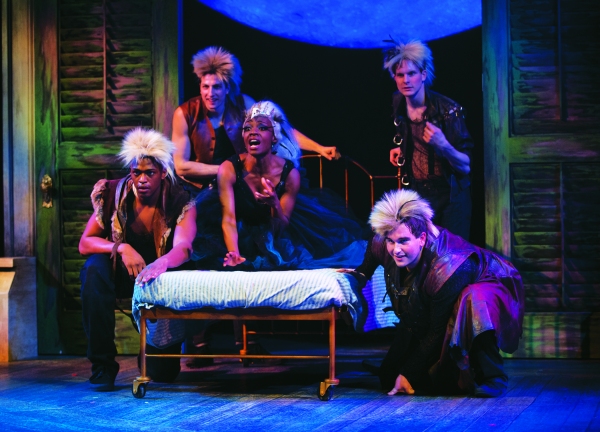 Surrounded by her fairy attendants (left to right: Justin Cornwell, Wesley Daniel, Michael Finley, Max Fabian), Titania (Lanise Antoine Shelley) is enchanted by a love potion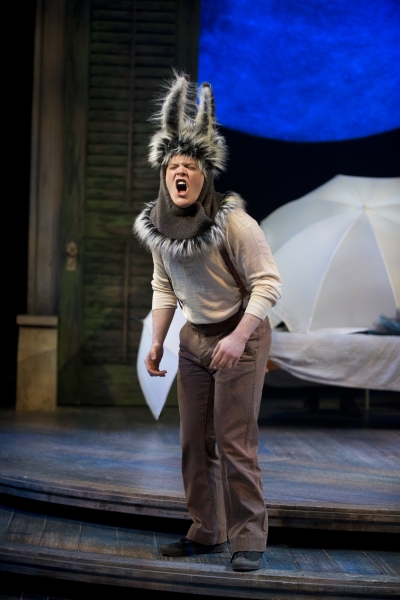 Bewitched by a fairy's spell, Bottom (Alex Weisman) is transformed into an ass