Photo Flash: First Look at Lifeline Theatre's THE KILLER ANGELS
Commemorating the 150th anniversary of the Battle of Gettysburg, Lifeline Theatre presents Karen Tarjan's adaptation of Michael Shaara's Pulitzer Prize-winning Civil War novel, The Killer Angels (originally commissioned by Lifeline in 2004). The production will be directed by Matt Miller, who joins Lifeline Theatre as a director for the first time. ?A cast of ten actors brings over twenty historical characters to life, led by returning artist Don Benderas General Robert E. Lee, along with Lifeline Theatre ensemble member Chris Hainsworth. The Killer Angels runs now through October 27, with opening night set for Monday, September 16.
The show is currently in previews, and BroadwayWorld has a first look at the cast in action below! It's the third summer of the Civil War. General
Robert E. Lee
leads the Army of Northern Virginia into the North and the Army of the Potomac has no choice but to pursue. Over the course of three historic days, beside campfires and amidst firefights, a remarkable group of soldiers wrestle with their doubts, their fears, and their hopes for a shattered nation. Cemetery Hill, Culp's Hill, Little Round Top, and Pickett's charge come to vibrant life through the indelible stories of the men who fought the legendary battles.
The complete cast and production team for The Killer Angels includes:
CAST: Lifeline Theatre ensemble member Chris Hainsworth (Buford); with guest artists Don Bender (Lee),Matt Fletcher (Troubadour), Joe Flynn (Fremantle), Tom Hickey (Longstreet), Zach Livingston (Tom), Niall McGinty(Armistead), Michael McKeogh (Chamberlain), Steve O'Connell (Pickett), and Sean Sinitski (Ewell). With understudies Luke Daigle, Volen Iliev, Eddy Karch, Royen Kent and Dan Maxon.
CREW: Lifeline Theatre ensemble members Alan Donahue (Scenic & Properties Designer), Elise Kauzlaric(Dialect Coach), and Elizabeth Wislar (Costume Designer); with guest artists Benjamin W. Dawson (Production Manager), Shelby Glasgow (Stage Manager), Matt Miller (Director), Clare O'Connor (Assistant Director), Danny Osburn (Master Electrician), Julian Pike (Lighting Designer), Greg Poljacik (Fight Choreography), Mike Przygoda(Music Director), Stephen Ptacek (Sound Designer), Joe Schermoly (Technical Director), and Karen Tarjan (Adaptor).
Ticket prices are $40 for regular single tickets, $30 for seniors, $20 for students (with I.D.), $20 for rush tickets (available half hour before show time, subject to availability), and $20 for previews. Group rate for 12 or more is available upon request. Tickets may be purchased at the Lifeline Theatre Box Office, 773.761.4477, or by visiting www.lifelinetheatre.com.
Photo Credit: Suzanne Plunkett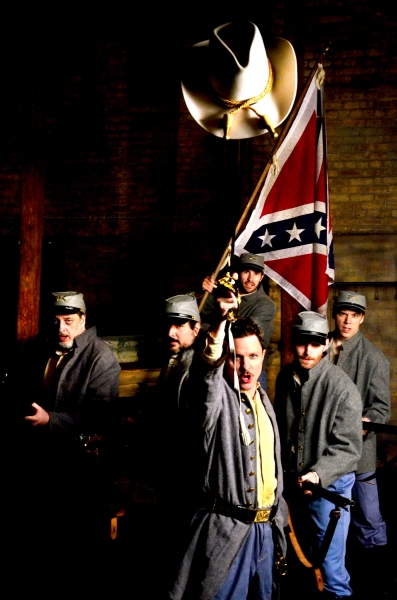 (Foreground) Niall McGinty as Brigadier GenerAl Lewis A. Armistead and (background, L to R) Sean Sinitski, Chris Hainsworth, Michael McKeogh, Joe Flynn, and Zach Livingston as Confederate soldiers

(Top) Michael McKeogh as Colonel Joshua Lawrence Chamberlain and (bottom, L to R) Matt Fletcher, Sean Sinitski, Tom Hickey, Niall McGinty, Zach Livingston, and Joe Flynn as Union soldiers

Zach Livingston as Major General James E. B. Stuart and Don Bender as General Robert E. Lee

Niall McGinty as Colonel Thomas C. Devin and Chris Hainsworth as General John Buford