Photo Flash: 500 CLOWN AND THE ELEPHANT DEAL Runs At Steppenwolf 6/25-7/11
500 Clown Theater, a Chicago non-profit that believes "life is worth the risk," presents "500 Clown and the Elephant Deal" - a musical missile aimed at the tenuous border between fiction and reality - as part of Steppenwolf Theatre Company's Visiting Company Initiative. Run time will be approximately 90 minutes, and post-show discussions will follow Wednesday and Thursday performances (free with paid ticket).
"500 Clown and the Elephant Deal" is an original theater production with music for adults, co-created with composer and lyricist John Fournier, who also collaborated on "500 Clown Christmas." A rocking three-piece band, an alluring Mistress of Ceremonies, and a daring stage crew have everything they need for a fabulous evening of cabaret. But soon, the players find themselves on a collision course with a fierce runaway tale, which is riddled with spontaneous characters and dangerous stunts, utilizing a steel truss as cabaret stage and obstacle course (outfitted with custom-designed weight-bearing pulleys and lots of rope). Inspired by (not based on) Bertolt Brecht's "Man is Man," this subversive cabaret gone awry promises to be a thrilling evening of theater fueled by the power of imagination.
At the Steppenwolf Upstairs Theatre, 1650 N. Halsted St., Chicago, IL 60614. Opens Thursday, June 25, 2009, 7:30 p.m. Gala opening with party on Friday, June 26, 7:30 p.m. Runs Wednesdays through Saturdays at 7:30 p.m. Closes July 11, 2009; no show on Saturday, July 4.
For tickets, call Steppenwolf Box Office at 312-335-1650 or visit www.steppenwolf.org/boxoffice. Tickets also on-line at www.goldstarevents.com and www.hottix.org.
June 26 tickets at http://500clownandtheelephantdealopeningnight.eventbrite.com/. $28 on Wednesdays, Thursdays and Saturdays (including opening on 6/25). $20 for Friday shows and previews. $15 for students (with ID) - not valid on 6/26, limited number on all shows. $23 per ticket for groups of ten or more (not valid on Fridays), groups call 312-654-5605
Tickets and sponsorships for the June 26 opening range from $50 to $5000, and packages of $50, $100, $250, $1000, $2500 and $5000 can include opening tickets or priority ticket blocks, special gifts (including High Tea with Clown Kevin, fly-fishing with Clown Shank, and sidecar scooter ride with Clown Bruce), 500 Clown Web site listing, and added admission to a July 12 garden party at board member/ chef Rick Bayless' home - see above eventbrite link for breakdown.
500 Clown Company Members Molly Brennan (as Madame Barker) and Adrian Danzig (as Bruce) and Paul Kalina (as Shank), with Matt Hawkins (as Cheetah) and Jessica Hudson (as Viola). The band includes John Fournier (piano, saxophone, vocals), Gerald Dowd (percussion), and Matt Thompson (bass). Understudies are Jay Torrence and Kristie Vuocolo.
The company developed and first performed "500 Clown and the Elephant Deal" in 2008, following a successful run in 2006 of "500 Clown Macbeth" at the prestigious Clarice Smith Performing Arts Center at University of Maryland, College Park. The Center offered 500 Clown a commission and long-term residency to develop a new production, and cast theater and dance department students to observe and participate in rehearsals and performance. To further support this partnership, 500 Clown received an Ensemble Theater Collaborations Grant from the Association of Performing Arts Presenters, recognizing 500 Clown for doing leading ensemble theater work in the country. Early research for the production was conducted as part of a three-year residency at University of Chicago as Presidential Fellow in the Arts. 500 Clown last performed at Steppenwolf in summer 2007 with their "Frankenstein" and "Macbeth" productions in repertory. Since then, 500 Clown has brought its productions to PS 122, NYC; Orange County Performing Arts Center, CA; North Central College, Naperville, IL; Bowdoin College, ME; and the State Theater of New Jersey; plus participated in The Kennedy Centers Page to Stage New Play Festival, Washington, DC. In Chicago this year, 500 Clown performed "Macbeth" benefit shows at Galaxie on May 6 and 7, and "Madame Barker's Cabaret" at Prop Thtr on February 28 and May 23.
Steppenwolf's Visiting Company Initiative provides the opportunity for other theater companies to present work in all three of the Steppenwolf theaters. These residencies are supported by the artists and staff at Steppenwolf. In creating relationships with Visiting Companies, Steppenwolf enriches the artistic dialogue among its artists and audiences.
500 Clown's signature style of clown-theater features high-energy playfulness, exhilarating physical action, rough-style acrobatics, humor, tragedy, and intellect to tell long-form dramatic stories that catapult the performers into taking physical and emotional risks. The work shifts the audience from passive to active observers and creates a charged environment that celebrates the unpredictable power of the moment. Performers rapidly move between planned elements and improvisation, leaving their audiences excitedly uncertain as to what is and is not planned. 500 Clown theater is raw, bold, and generous with audiences in accessibility and spirit. The company members are also educators, offering classes and workshops for professionals, nonprofessionals, college and high schools students. For information on 500 Clown workshops in the Chicago area, please contact molly@500clown.com.
Photos by Michael Brosilow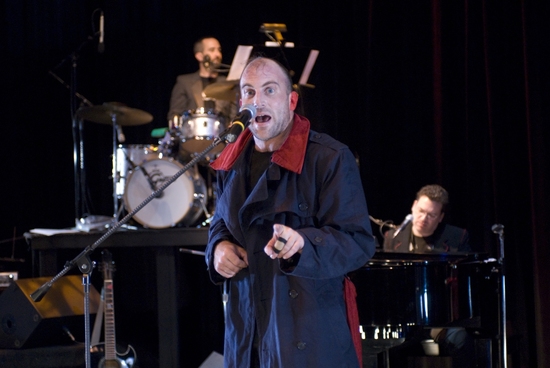 Paul Kalina, Gerald Dowd (drums), and John Fournier (piano)

Adrian Danzig and Paul Kalina

Adrian Danzig, Matt Hawkins, Jessica Hudson, and Matt Thompson (bass/ukelele)

Molly Brennan