New Year's Shows, Holiday Extravaganza and More Coming Up at City Winery Chicago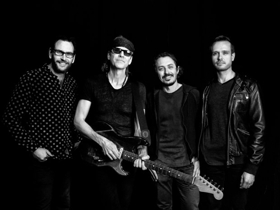 City Winery Chicago, 1200 W. Randolph Street, announces New Year's shows with Milwaukee-bred rock band BoDeans ("Closer to Free"), R&B artist Avery*Sunshine, and more.
The following shows go on sale to the public on Thursday, September 28 at noon at citywinery.com/chicago.
---
Sunday, December 31; 7:30 p.m. & 11:00 p.m.
$65/$75/$80/$85
Monday, January 1; 5:00 p.m. & 8:00 p.m.
$45/$50/$55/$60
BoDeans celebrates the end of one year and the beginning of another with four shows at City Winery Chicago. BoDeans' accessible adult alternative sound has achieved many milestones, including a permanent installation at the Rock & Roll Hall of Fame Museum in Cleveland as part of their Midwest Artists exhibit. The group has made appearances at festivals including Farm Aid, Summerfest and ACL Festival along with TV appearances on Saturday Night Live, Letterman, Today, Imus, CNN, and ESPN. Currently, BoDeans' music is featured throughout the Netflix original series "The Ranch" starring Ashton Kutcher, Danny Masterson, Debra Winger, and Sam Elliott.
Thursday, December 21; 7:00 p.m. & 9:30 p.m.
$38/$45/$48/$52
Soul, R&B, and gospel singer/songwriter Avery*Sunshine, with thunderous pipes and heart-to-heart songs, is known for her invigorating and combustible live performances, compelling and revealingly honest songwriting, and her impeccable vocal instrument. Her life-inspired music is meant to spread joy and encouragement and to honor both human and spiritual relationships. "I want people to get my music. I don't want them to have to decipher some code in order to understand where I'm coming from," says Avery.
Avery*Sunshine's music is inspired by such diverse iconic figures as Nina Simone, Gladys Knight, The Doobie Brothers, Curtis Blow, B.B. King and John Coltrane to Parliament & Funkadelic, The Clark Sisters, Madonna, MiLes Davis, Earth, Wind & Fire and?James Brown. In 2005, the singer lent her voice to the soundtrack for Paramount Pictures' The Fighting Temptations. In 2007, she was sought out by Grammy- and Tony Award-winning vocal powerhouse Jennifer Holliday to be choral director for the theatrical production of "Dreamgirls" during the National Black Arts Festival in Atlanta. Avery*Sunshine has also had the distinction of performing at the Democratic National Convention in Denver, CO and at private events during the 2009 Inauguration of President Barack Obama.
Badfinger's Straight Up featuring Joey Molland
Monday, November 20
$25/$28/$30/$32
Badfinger's legendary guitarist, songwriter, and vocalist Joey Molland brings the 45th anniversary celebration of Badfinger's 1972 classic album Straight Up to City Winery Chicago with a complete performance of the album and more. Straight up features five tracks written by Molland and four tracks produced by George Harrison. The album stayed on the Billboard Top Pop Albums chart for 32 weeks.
Rhett Miller with Matthew Ryan
Thursday, November 30
$25/$28/$32/$35
Old 97's frontman Rhett Miller returns to City Winery Chicago for his annual, solo holiday extravaganza. In addition to his 9 studio albums with the Old 97's, Miller has released 7 solo albums: Mythologies (1989), The Instigator (2002), The Believer (2006), Rhett Miller (2009), a live covers album The Interpreter Live at Largo (2011), The Dreamer (2012), and The Traveler (2015). Miller has also written short stories, essays, and articles that have appeared in Rolling Stone, Sports Illustrated, The Atlantic, and Salon.
Alan Doyle with Donovan Woods
Friday, March 2
$22/$25/$28/$32
Musician and actor Alan Doyle - best known as the lead singer of Canadian folk-rock band Great Big Sea - returns to City Winery Chicago with a full band on his "Come Out with Me" tour in support of his upcoming album A Week At The Warehouse. He'll be joined by Donovan Woods.
City Winery also announces Robert Rolfe Feddersen opens for Fastball on Oct. 8.
---
All City Winery events are open to all ages and start at 8 p.m., unless noted.
Tickets go on sale to the general public on Thursday, September 28 at noon. Only members of City Winery Chicago's signature VinoFile program have access to ticket sales today in addition to receiving: a waiver of ticket service fees; free valet parking; Restaurant Loyalty Rewards, such as a free pair of VIP concert tickets for every $500 spent on food & beverage in the restaurant; exclusive membership-only events; and access to the proprietary City Winery Virtual Sommelier, which helps make suggestions for wines one might enjoy based on past consumption at the venue.
BoDeans, Avery*Sunshine, Joey Molland, Rhett Miller, Alan Doyle, Matthew Ryan, Donovan Woods and Robert Rolfe Feddersen join a diverse mix of the most respected names in pop, rock, jazz, blues, world music, theater, dance, spoken word and comedy presented at City Winery Chicago, including previously announced headliners and supporting acts Ben Ottewell with Buddy (Sept. 27); Rik Emmett of Triumph (Sept. 28); Isaac Mizrahi: Does This Song Make Me Look Fat? (Sept. 29, 7:30pm); Wasabassco Burlesque (Sept. 29; 10:30pm); Arlo Guthrie (Oct. 1-3); HONEYHONEY (Oct. 4); John Popper with Katrina Woolverton (Oct. 6); Death of a Cannoli Salesman (Oct. 8, 12pm); Fastball (Oct. 8); Tommy Fleming (Oct. 9); The City Church of the Reverend Horton Heat (Oct. 11- 15); Incognito (Oct. 16, 7 & 9:30pm); An Evening with Randy Newman (Oct. 18-19); Henhouse Prowlers with Old Salt Union (Oct. 20); The Dayna Clay Band (Oct. 22, 1pm); Susan Werner (Oct. 22, 7pm); Craig Finn & the Uptown Controllers with John K. Samson (Oct. 23); Teedra Moses (Oct. 24); Poco featuring Rusty Young (Oct. 25); Jeff Daniels with The Ben Daniels Band (Oct. 26, 7pm); Dave Alvin & Jimmie Dale Gilmore (Oct. 27); Betches of Comedy Brunch (Oct. 28; 1pm); Drew Holcomb and The Neighbors with Lewis Watson (Oct. 28, 7 & 10pm); Chicago Philharmonic Brunch - Music of Latin America (Oct. 29, 12pm); Sons of the Never Wrong with Jonas Friddle (Oct. 29, 7 pm); David Crosby & Friends (Oct. 30-31); Lizz Wright with Lyric (Nov. 1-2); Tim Reynolds & TR3 (Nov. 3); Jackie Greene & Anders Osborne with Cris Jacobs (Nov. 4; 5 & 8pm) The Accidentals with Jake Allen (Nov. 5, 11:30am); Victor Wooten Trio (Nov. 5, 5 & 8pm); An Evening with Herb Alpert & Lani Hall (Nov. 6-7); Mariza (Nov. 8); Ryan Montbleau Band with The DuPont Brothers (Nov. 9); The Revelers (Nov. 12, 1pm); Black Violin (Nov. 12, 5:30 & 8pm); Sharon Shannon (Nov. 13); Take Me to the River (Nov. 14); Loudon Wainwright III (Nov. 15); Kandace Springs (Nov. 16); Loose Ends (Nov. 17, 7pm); Mike Doughty (Nov. 18); Chicago Philharmonic Brunch - True Crime Radio Stories (Nov. 19, 12pm); Jackopierce with Marie Miller (Nov. 19, 7pm); Miki Howard (Nov. 21); Joshua Davis (Nov. 22); The Verve Pipe (Nov. 24); Marcus Johnson (Nov. 27); Earl Klugh (Nov. 29, 6:30 & 9pm); Kurt Elling: The Beautiful Day (Nov. 25-26, 5 & 8pm); Ms. Lisa Fischer & Grand Baton (Dec. 2); Jeffrey Foucault & Kris Delmhorst (Dec. 3); The Secret Sisters with Brian Dunne (Dec. 4); Marc Roberge of O.A.R. (Dec. 5, 7 & 9:30pm); Joe Pug with Juanita Stein (Dec. 6); Chicago Philharmonic Brunch - FairyTale Noël (Dec. 10, 12pm); Los Lobos with Matt Andersen (Dec. 10-11); Los Lobos with Future Stuff (Dec. 12-13); Kris Allen (Dec. 18); Bebel Gilberto (Dec. 19-20); Michael McDermott with Heather Horton (Dec. 22); Michael McDermott (Dec. 23; 5 & 8pm); Poi Dog Pondering (Dec. 26-30); The Posies (Jan. 31) and 10,000 Maniacs (Feb. 9, 7:30 & 10pm; Feb. 10, 5 & 8pm).
Opened in 2012, City Winery Chicago is a fully operational winery, restaurant with outdoor patio, concert hall and private event space located in the heart of the West Loop at 1200 W. Randolph, in the historic urban Fulton Market district. Once a refrigerated food distribution warehouse, the 1911 building has been transformed into a contemporary 33,000 square foot haven for those passionate about wine, music and culinary arts. The décor evokes the romance of being in wine country, from the exposed stainless steel fermenting tanks and French oak barrels, to the aroma of fermenting grapes. Chicago's only fully operation winery has produced dozens of in-house wines sourced from vineyards in California, Oregon, Washington, Argentina and Chile, including a Wine Enthusiast 92-point 2015 Verna's Vineyard Reserve Pinot Noir. With more than 400 unique producers from around the world City Winery is recognized with 2014 and 2015 Best of Awards of Excellence "for having one of the most outstanding restaurant wine lists in the world" by Wine Spectator. The globally inspired, locally sourced, wine-focused food menu is conceived for pairing and sharing. The concert hall accommodates up to 300 guests, all seated at tables with complete beverage and dining service, ensuring a comfortable "listening room" experience enhanced by a state-of-the-art Meyer Sound system. Riedel is the official and exclusive provider of glassware, showing City Winery's commitment to enjoying quality wine in a quality vessel. American Airlines is the Official Airline and Virgin Hotels Chicago is the Official Hotel of City Winery. For more information, visit www.citywinery.com.