EDGE OF LIFE Makes World Premiere in Chicago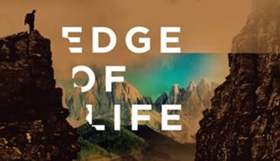 Today, the Athenaeum Theatre, 2936 North Southport, and Inglis Hall Productions announce the World Premiere of EDGE OF LIFE, a timely production focusing on the right to die and the choices we are left with at the end of our lives. For most, the process of dying is a topic not openly discussed, but EDGE OF LIFE spotlights the ever-evolving issues surrounding what it might mean to die with dignity and will leave audience members with the question of "what will I do?" EDGE OF LIFE will preview October 1 - 7 and open October 11, running through November 3.
EDGE OF LIFE highlights the extremes with which society deals with the act of dying in its literal juxtaposition of Bill Erickson, whose cancer has progressed to the point that he has determined to end the ineffective chemotherapy which has made his existence a living hell against the elderly and essentially comatose Gertrude Hall. Bill, retaining his faculties, is able to speak for himself and must convince his family and physicians that further treatment is futile and that his choice to enter into hospice is the right one for him, while Gertrude, stuck in the purgatory of life support, must await an advocate who will speak truth for her. Caught firmly in the middle between Bill, who happens to be his old football coach, his new love interest, Nurse Heather Jennings and the medical establishment, in the form of the intimidating and dogmatic Dr. Gus Clark, is surgeon Jake Forest as he struggles with his own cynicism in the aftermath of a difficult divorce, nascent alcoholism and the conflicting responsibilities of his job as opposed to his obligations as a physician.
"This play rose out of my experiences as, on the one hand, my grandmother approached death without much in the way of warning and on the other, while my mother-in-law determined that she had had enough, pushing to be allowed to enter hospice," said playwright Joel Z. Cornfield. "EDGE OF LIFE is a testimonial to their strength and a study of the options, or lack, left them."
Director Brian McKnight is a well-respected member of the Chicago theater scene, recently appearing in Frost Nixon and The Fantastiks, and taught theater at DePaul for many years. This is the second play written by Joel Z. Cornfield to be produced by Inglis Hall Productions and Glass Apple Theatre. EDGE OF LIFE stars Danny Dauphin (Jake), Aziza Macklin (Heather), Buzz Leer (Bill), Lori Lee (Millie), Darren Brown (Kurt), Travis Monroe Neese (Ira), and Ronny Stein (Gus).
Tickets are $37 for adults and $27 for seniors, military and children, and are available for purchase at the Athenaeum Theatre box office or online.
Related Articles View More Chicago

Stories

Shows
More Hot Stories For You