Casting Announced for NightBlue's BULLETS OVER BROADWAY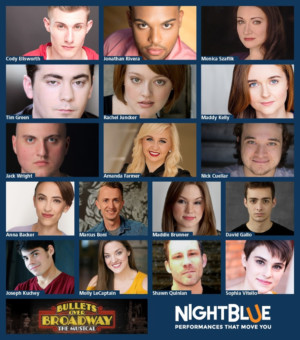 Woody Allen's stage musical based on his Academy Award-winning film - a hilarious and high stepping homage to both the gangster films and movie musicals of the 1930's - will be staged for the first time by a Chicago company when NightBlue Performing Arts opens its production of the musical on Monday, September 11, following previews from Friday, September 8 through Sunday, September 10. Press opening is Monday, September 11 at 7:30 pm. BULLETS OVER BROADWAY will run through Sunday, October 8 at Stage 773, 1225 W. Belmont Ave., Chicago.
In 2014, the musical was nominated for six Tony Awards, including one for its dances by director-choreographer
Susan Stroman
. The musical follows the film's story of a young playwright,
David Shay
ne, whose first Broadway play is financed by a gangster who insists on casting his untalented girlfriend in a key role. When the gangster's henchman becomes involved in artistic decisions, events take unexpected and hilarious turns. Allen punctuates his script with classic songs from the 1920s, including
Cole Porter
's "Let's Misbehave," and
Hoagy Carmichael
's "Up a Lazy River" with the music offering multiple opportunities for exuberant dance numbers. NightBlue's production will be directed and choreographed by five-time Jeff Award-winner
Kevin Bellie
, who had similar duties on the company's production of DISNEY'S TARZAN earlier this year and choreographed MARY POPPINS for the company in 2016. Bellie's credits include direction and choreography for dozens of productions by Chicago companies, including Circle Theatre,
Light Opera Works
, Porchlight and Mercury Theater. Carolyn Brady Riley, who was music director for Circle Theatre's productions of THE WEDDING SINGER, the Jeff-Nominated THE WHO'S TOMMY and MEET ME IN ST. LOUIS will be music director. Bellie's cast will be led by Cody Ellsworth as the playwright
David Shay
ne, Monica Szaflik as the diva
Helen Sinclair
, Tim Green as the gangster Nick Valenti and Jonathan Rivera as his henchman, Cheech.
Rachel Juncker
will play Valenti's girlfriend Olive Neal and Nick Cuellar will be the play-within-a-play's beleaguered producer Julian Marx. Also in the cast are Anna Backer, Marcus Boni, Maddie Brunner, Amanda Farmer,
David Gallo
, Maddy Kelly, Joseph Kuchey,
Molly LeCaptain
,
Shawn Quinlan
, Sophia Vitello, and
Jack Wright
. The design team for BULLETS OVER BROADWAY will include
Bob Knuth
(Scenic Designer), Dustin L. Derry (Lighting Designer),
David Walter
s (Costume Designer), Paul Packer (Properties Designer). Kara Schoenhofer will be Co-Choreographer and Ken Schumacher is Technical Director.
David Walter
s, NightBlue's Artistic Director and Producer of BULLETS OVER BROADWAY said this about the production: "NightBlue's production of BULLETS will be a high-octane night of comedic fun that will put the "roar" back in the "Roaring 20s" in an intimate and engaging theater setting. The BULLETS cast is made up of some energetic and exciting fresh faces on the Chicago theater scene and a few alumni making their first return to NightBlue in several years. The cast and production really celebrate everything that is NightBlue and are a great addition to our 10th Anniversary season." BULLETS OVER BROADWAY will run September 8, 2017 through October 8, 2017. Press night is Monday, September 11 at 7:30 p.m. Tickets are $35 general, $30 seniors, and $27 for students. For tickets visit
www.Stage773.com
or call the box office at
773-327-5252
. Following BULLETS OVER BROADWAY, NightBlue's 10th Anniversary season will conclude with the musical IF/THEN (February 21, 2018 through March 25, 2018) also presented at Stage773, 1225 W. Belmont, in Chicago.
Featured This Week on Stage Door
Shoutouts, Classes, and More from Your Favorite Broadway Stars

More Hot Stories For You