Casting Announced For Stone Soup Shakespeare's 2019 Tour: TWELFTH NIGHT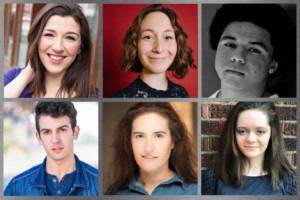 Stone Soup Shakespeare announces Casting for Twelfth Night
Announcing casting for Stone Soup Shakespeare's ninth regional Midwest tour. This Spring Twelfth Night is touring throughout the Midwest, bringing Shakespeare in the Park to communities for free from May to July.
This season's actors hail from Chicago, St. Louis and Carbondale. The actors will work in residence in Carbondale, IL for the second half of April. They, along with creatives, will take the adapted script from page to stage. The company purposefully keeps the ensemble for its touring shows small, creating a frenetic energy in production as the actors swap hats and characters in the role doubling that takes place. The ensemble of six will create a musical landscape with some found and some existing instruments, and dance to the music of Shakespeare (with a few nods to David Bowie as well) while crafting a story that is easy to follow, using Shakespeare's language, simple props and the setting of the parks they travel to.
Hasanah Brown - Andrew/Ensemble
Hasanah Brown is a 17 year old homeschooler from Southern Illinois. She has been involved in theatre since she was 6 and did her first Shakespeare play when she was 8. She has been participating in Stone Soup Shakespeare's workshops and readings since she was 9 years old. Some of her favorite roles include Viola (Twelfth Night), Ursula (Much Ado About Nothing) and Gollum (The Hobbit). She hopes to continue her theatre education as a BFA student in a university or conservatory. She's so excited and great full for this opportunity and would like to thank Julia Stemper, Sammie Jo, her family and this amazing cast!
Angie Fisher - Olivia/Ensemble
Angie Fisher is a professional actor and singer/songwriter, born and raised in Southern Illinois. She received her BFA in Musical Theater from Southern Illinois University. She has been able to travel the country the past few years working at regional theaters such as The Barter Theater and The Round Barn Theater and while on tour with The Barter Players and as the Dyanne u/s in the National Tour of Million Dollar Quartet. She's so happy to be returning to do theater where it all began for her in Southern Illinois and then to get to explore working more in her new found residency of the big ole Windy City. Endless thanks to her big funny ridiculously supportive family.
Josh Pennington - Antonio/Feste/Ensemble
Josh Pennington is over the moon to be touring with Stone Soup Shakespeare again (last seen in the 2017 tour of Julius Caesar) and also performing in his favorite Shakespeare comedy: Twelfth Night. This is Josh's fourth time journeying to Illyria but first time ever as either Antonio or Feste! Josh is a Chicago based performer and has worked with numerous companies including: (re)discover theatre, Imposter's Theatre, Theatre Evolve, E.D.G.E. Theatre, Shakespeare All Stars, Madkap Productions, Trap Door Theatre, ColorBox Theatre, and the Illinois Shakespeare Festival. Josh is a proud ensemble member of Trap Door Theatre, The Living Canvas and Mercury Hamlet. Outside of theatre he loves cooking, acrobatics, painting, music, dancing, fashion and traveling the world!
Julia Stemper - Orsino/Maria/Ensemble
Julia Stemper returns for her ninth tour with Stone Soup Shakespeare. Stemper, a Chicago theater artist, was last seen working with the Shakespeare Project of Chicago in their Fall reading of Pericles. Other Chicago credits include Some Like It Red, Ubu II, The Epic of Gilgamesh, and belladonna luna sonata (The Plagiarists), Lydie Breeze (Ka-Tet Theatre), Commedia King John (Chicago dell'Arte), Naked Mole Rat Gets Dressed (Lifeline), Romeo and Juliet (First Folio), and in Spring of 2016 Julia played Prospera at Hope College (Holland, MI) in The Tempest where she was a Visiting Guest Artist. Stemper serves as the Artistic Director of Stone Soup Shakespeare and is a company member with The Plagiarists. Prior to arriving in Chicago she performed extensively in DC. She holds an MFA from the Royal Conservatoire of Scotland
Travis Wiggins - Sebastian/Toby/Ensemble
Travis Wiggins is coming from a short hiatus from theatre to join this fabulous tour. You may know him from the short film Mother of Calamity as the robot man, Greg. Travis has also played a blurred out baseball player for a New Balance commercial and the British husband of a catering cook in Act Two Theatre's production of Don't Dress For Dinner. Travis is a Libra and a practicing chaos magician. He hopes you have a wonderful day!
Theo Zucker - Viola/Ensemble
Theo is a Chicago-based actor and writer, and she is thrilled to be touring with Stone Soup for a second time! She was previously a part of their 2017 production of Julius Caesar. Since then, she has concentrated primarily on her playwriting. Her script Alive! was recently a part of the Rockwell Theatre Bandits inaugural reading series. She cannot wait to share Twelfth Night, her favorite of Shakespeare's plays, with you!
The tour officially opens on Friday, May 3 at Scratch Brewery (Ava, IL) and will travel throughout Illinois, Indiana, Missouri and Wisconsin. Shakespeare's classic tale of twins shipwrecked on the shores of Illyria, both imagining the other drowned, will be set in a world inspired by fame and the fantastical spectacle David Bowie's music and persona created.
In keeping with the spirit of the children's story Stone Soup, from which the company takes its name, audience members are encouraged to bring non-perishable food items, which will be collected and donated, to local food banks in the tour region. In addition to bringing food to donate we also encourage audiences to bring their own picnics to share with their friends and family while enjoying the evening of entertainment and community.
Creatives: Samie Jo Johnson (director), Molly Bunder (music director), Mel McCray (choreography), Eric Mercado (dramaturgy)
Script Adaptation: Nicole Goeden, Samie Jo Johnson, Zed Menard, Eric Mercado, Julia Stemper and Ensemble
STONE SOUP SHAKESPEARE
Jeffrey Golde and Julia Stemper founded Stone Soup Shakespeare in 2010. Its mission is to bring free professional theater to areas without access to it. Developed during Ms. Stemper's time studying at the Royal Scottish Academy of Music and Drama, the company continues to present theater events in both the US and UK. Stone Soup's first tour was a production of Romeo and Juliet in 2011. It was seen in 3 states during a one-week tour and included professional actors from England, Scotland, New York, Chicago and the Southern Illinois region who have appeared off-Broadway, Regionally and on National and International tours. The subsequent tours have expanded the company's reach and artistic partners, increased audience size and expanded its educational programs nearly 400%.
Twelfth Night Tour Schedule
Fri, May 3, 7:00PM Scratch Brewing Company (Ava, IL)
Sat, May 4, 6:00PM Cape Girardeau Public Library (Cape Girardeau, MO)
Sun, May 5, 6:00PM Cole Memorial Park; In partnership with Chester Public Library (Chester, IL)
Mon, May 6, 6:00PM John A. Logan Museum (Murphysboro, IL)
Wed, May 8, 6:00PM Anne West Lindsey District Library (Carterville)
Thur, May 9, 6:00PM Nashville Memorial Park; In partnership with the Washington Arts Council (Nashville, IL)
Fri, May 10, 6:00PM Carondelet Park (St. Louis, MO)
Sat, May 11, 6:00PM Tower Grove Park, Pool Pavilion (St. Louis, MO)
Mon, May 13, 6:00PM Harrisburg District Library; In partnership with Friends of Harrisburg Library and the Shakespeare Reading Group (Harrisburg, IL)
Tue, May 14, 6:30PM Working Men's Institute Museum & Library (New Harmony, IN)
Sat, May 18, 6:00PM Hickory Lodge - lawn; In partnership with Carbondale Park District (Carbondale, IL)
Sun, May 19, 6:00PM Evergreen Park; in partnership with Carbondale Park District (Carbondale, IL)
Fri, May 24, 6:30PM Chapel of the Good Shepherd - lawn; In partnership with Food Finders (West Lafayette, IN)
Thur, May 30, 6:30PM Nelson Park (Decatur, IL)
Fri, May 31, 6:00PM Huntley Park; in partnership with DeKalb Public Library (DeKalb, IL)
Sat, June 1, 6:00PM Twin Lakes Park; In partnership with the Paris Public Library and the Friends of the Paris Public Library (Paris, IL)
Sat, June 8, 6:00PM Shorewood Public Library (Shorewood, WI)
Sat, July 6, 6:00PM Island Park (Geneva, IL) presented by the Geneva Cultural Arts Commission
Additional performances and locations still to be announced
All performances are free to the public, no seating is provided (audience is encouraged to bring blankets or lawn chairs)
Performances are subject to change based on inclement weather (updates are posted on social media)
Performances may also be added. For the most up-to-date schedule please visit our website at www.stonesoupshakespeare.com