Cast Announced For Promethean's GROSS INDECENCY: THREE TRIALS OF OSCAR WILDE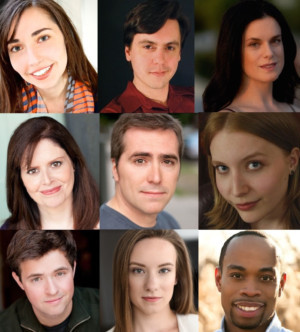 Promethean's critically-acclaimed production of Moisés Kaufman's historical drama GROSS INDECENCY: THE THREE TRIALS OF Oscar Wilde, which enjoyed a two-week run in December 2016, will be remounted from February 15 through March 24, 2019 at Strawdog Theatre, 1809 W. Berenice. GROSS INDECENCY, which Promethean Artistic Director Brian Pastor will again direct, will be performed with cross-gender casting in some roles, as it was in the company's earlier production. Promethean Ensemble Member Jamie Bragg will reprise her leading role as Oscar Wilde.

Pastor announced the full cast today. Also returning from the 2016 cast are Promethean Ensemble Members Cameron Feagin (Edward Carson and Narrator 5), Heather Kae Smith (Lord Alfred Douglas), and Kevin Sheehan (Sir Edward Clark and others); as well as guest artists Jennifer Mickelson (Narrator 2, Atkins, Wright & Others), and Kat Evans (Narrator 3, Parker, Harris & Others). New to the remount are Promethean Ensemble Members Jared Dennis (Queensberry, Gill, Lockwood & Narrator 8) and Brendan Hutt (Narrator 1, George Bernard Shaw, Moises Kaufman & Others) and guest artist Johnard Washington (Narrator 4, Mayor, Marvin Taylor & Others).
The production team will include Ensemble Members Jeremiah Barr (set and properties designer), visiting artists Uriel Gomez (costume designer), Jonathan Guillen (sound designer and composer), Lyndsay Kane (movement coordinator), and Max Colvill (assistant director). Promethean Artistic Associate Catherine Gillespie will be the production's dialect coach.

Kaufman's play examines the persecution and prosecution of Wilde for his homosexuality in late 19th Century Britain. In Promethean's production, Kaufman's 1997 meta-theatrical play is structured with the entire cast of nine serving as narrators who go on to assume the roles of the people in this historical story. The genders of Wilde, Douglas and Carson are not changed, but the narrators assuming those roles are women.

Pastor explained how this non-traditional casting broadens the play's message. As they said in 2016, "GROSS INDECENCY is still, and always will be, a play for the LBGTQ community: an examination of an early gay icon. But at its core, this is a play about being one's self; and, frankly, about whether or not the government, society, or anyone else has the right to tell us if that's okay. When push came to shove, despite unspeakable consequences, Oscar took his own advice: 'Just be yourself. Everybody else is taken.'"

Moisés Kaufman (playwright). Co-founder in 1991 of Tectonic Theater Project. Kaufman's writing debut, GROSS INDECENCY: THE THREE TRIALS OF Oscar Wilde won an Outer Critics Circle Award for outstanding Off-Broadway play. Kaufman and his troupe then began work on THE LARAMIE PROJECT (a work that examined the reactions of residents of the small Wyoming city in which gay college student Matthew Shepard had been brutally murdered).

In 2003 Kaufman directed Doug Wright's I AM MY OWN WIFE, the story of a gay transvestite who survived life in Nazi Germany and Soviet East Berlin. It was critically acclaimed and resulted in a Tony Award nomination for Kaufman. He also directed his own play 33 VARIATIONS (first performed in 2007), starring Jane Fonda as a musicologist obsessed with Beethoven's Diabelli Variations, and received another Tony nomination. He is currently represented on Broadway with his direction of Harvey Fierstein's TORCH SONG.

Brian Pastor is the Artistic Director of Promethean Theatre Ensemble, where they directed THE LION IN WINTER, THE WINTER'S TALE, and GROSS INDECENCY: THE THREE TRIALS OF Oscar Wilde (all Broadway World Award Nominated - Best Director), as well as HENRY V, and THE DARK SIDE OF THE BARD. For City Lit Theater, they directed Shaw's ARMS AND THE MAN and Archibald MacLeish's J.B., earning two more BroadwayWorld Award nominations as Best Director for those productions. Their acting credits include HAUPTMANN for City Lit, FUTURE ECHOES for WildClaw, and THE LARK and A STUDY IN SCARLET for Promethean. After serving City Lit Theater as Managing Director for nine of their ten and one-half years there on staff, Brian was the Executive Director at Raven Theatre. They are also a former board and company member of The Mime Company and a founding company member of Chicago dell'Arte.

For more information: www.prometheantheatre.org
More Hot Stories For You