Brendan Coyle To Star In A Revival Of Conor McPherson's ST. NICHOLAS At Goodman Theatre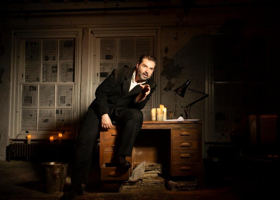 Goodman Theatre adds to its 2018/2019 Season a limited engagement of St. Nicholas-an internationally-acclaimed major revival by London's Donmar Warehouse of Conor McPherson's 1997 intimate thriller, directed by Simon Evans. The monologue play stars Olivier Award-winning actor Brendan Coyle ("Mr. Bates" of the smash sensation Downton Abbey, for which he earned an Emmy Award nomination) in "a superlative, mesmerizing performance that's simply not to be missed" (The Arts Review). The U.S. premiere, which appears in the Goodman's 350-seat flexible Owen Theatre, follows two acclaimed recent appearances at The Donmar Warehouse and the Dublin Theatre Festival.
The creative team includes Peter McKintosh (Set), Matt Daw (Lighting) and Christopher Shutt (Sound). Goodman Theatre's limited engagement of St. Nicholas appears January 9 - 27, 2019 in the Owen Theatre (170 N. Dearborn). Tickets are available now ONLY with the purchase of a new Classic Membership (4-play packages start at $80). Individual tickets ($25 - $60; subject to change) go on sale Friday, November 9. For tickets and more information, visit GoodmanTheatre.org/StNicholas or call the box office (312.443.3800, 12 noon - 5pm daily).
"It's thrilling to welcome back Conor McPherson, one of today's most vivid and poetic storytellers, to the Goodman with Simon Evans' remarkable new production of St. Nicholas," said Artistic Director Robert Falls, who directed McPherson's Shining City on Broadway in a 2006 Tony Award-nominated production, as well as its Chicago premiere at the Goodman (2008). "We are excited to work for the first time with Brendan Coyle-an actor of extraordinary range and depth, whom I've long admired-and give the entire creative team a warm Chicago welcome this January."
Added Donmar Warehouse Artistic Director Josie Rourke, "The Donmar Warehouse is delighted that St. Nicholas is coming to the Goodman. It's long been an ambition to bring our work to Chicago, and to partner with the Goodman. Brendan's exceptional performance in Conor's enthralling monologue is one of the highlights of my time as Artistic Director."
"When I was a boy, I was afraid of the dark... What was there. And maybe one of the things I thought was there was vampires." When a jaded Dublin theater critic (Coyle) abandons his ordinary life in pursuit of a beautiful young actress, his desires lead him to strike an irreversible bargain with a band of modern-day vampires. Inspired by a dream the playwright experienced-in which he was bitten by a vampire and given two painkillers-St. Nicholas is a "spellbinding, chilling vampire monologue (over) two mesmerizing hours" (Time Out London) "directed with empathy and self-awareness by Simon Evans and supported by Peter McKintosh's atmospheric set; what's not to enjoy?" (The Times). "A marvellous new production ... an object lesson in stage-craft' (Independent). The play premiered two decades ago at London's Bush Theatre; the new production, featuring Coyle, recently concluded a sold-out engagement at The Donmar Warehouse's intimate studio space, and currently makes its Irish premiere at the Smock Alley Theatre-where its extended run (closes October 20) was hailed as "Dublin Theatre Festival's crowning glory" (The Reviews Hub).
"I am really excited to bring St. Nicholas to Chicago," said actor Brendan Coyle, who starred in the original production of McPherson's The Weir at London's Royal Court, in the West End and on Broadway, earning both the Olivier Award for Best Supporting Actor and New York Critics' Circle Award for Outstanding Broadway Debut. "The Goodman is one of my favourite American theatres, and I can't wait to perform this beautiful play for its audiences this winter."
ABOUT THE ARTISTS
In addition to The Weir, Brendan Coyle's theater credits include The Price (Theatre Royal Bath), Mojo (Harold Pinter), Chain Play II, The Late Henry Moss, The Silver Tassie (Almeida), The Bear (Gate Theatre), Buried Child, Battle Royal (National Theatre), The Dead Eye Boy (Hampstead), The Changing Room (Duke of York's), A Love Song For Ulster (Tricycle Theatre), Philadelphia, Here I Come! (Wyndham's), Pygmies In The Ruins (Royal Court), The Plough And The Stars (Olympia), The Playboy Of The Western World, Over The Bridge (Lyric Theatre Belfast), Rat In The Skull (Gate Theatre) and The Ragged Trousered Philanthropists (Sheffield Crucible). His selected television credits include Requiem (BBC/Netflix), 12 Monkeys (SyFy), Spotless (Canal +/Netflix), Downton Abbey, which won three SAG Awards for Outstanding Ensemble and for which Brendan was nominated for a Primetime Emmy, BAFTA and IFTA for Best Supporting Actor (ITV), Common Ground (Sky), Starlings (Sky), Lark Rise To Candleford (BBC), Prime Suspect: The Final Act (ITV), North and South (BBC), McCready and Daughter (BBC), Paths to Freedom (RTE), Thief Takers (Carlton TV), OMAGH (Channel 4) and Conspiracy: The Meeting At Wansee (HBO). Film credits include Mary Queen of Scots, Unless, Me Before You, Noble, The Raven, Perrier's Bounty, The Mark of Cain, Offside, The Jacket and Allegiance.
Hailed as "the finest playwright of his generation" (The New York Times), Conor McPherson wrote The Weir which was performed at the Donmar in 2013 and in the same year he both wrote and directed The Night Alive. His other credits as writer include The Dance of Death, Dublin Carol, an adaptation of Kroetz's The Nest, Girl from the North Country, The Veil, The Seafarer, The Birds, Shining City, St Nicholas, This Lime Tree Bower, Port Authority, The Good Thief and Rum & Vodka. McPherson's directing credits also include Poor Beast In The Rain. His TV credits include Paula and Quirke; film credits include Artemis Fowl and The Eclipse.
Director Simon Evans directed The Donmar Warehouse revival of The Resistible Rise of Arturo Ui in 2017 and The Silence of the Sea for the Donmar's season at the Trafalgar Studios in 2013. As Resident Assistant Director at the Donmar, he worked on productions including Richard II, Inadmissible Evidence, Anna Christie, Schiller's Luise Miller, Moonlight, The 25th Annual Putnam County Spelling Bee. Evans' other directing credits include Killer Joe (Trafalgar Studios), The Best Man (Playhouse Theatre), The Dazzle, Bug, Fool For Love (Found 111), Alligators (Hampstead Theatre), A Midsummer Night's Dream (Southwark Playhouse), The Vanishing Man, The Extinction Event-co-directed and co-written with David Aula (Edinburgh/Vaults/UK Tour), Almost, Maine (Park Theatre), Thom Pain (Based on Nothing) (Print Room), The Separation (Theatre503), Hannah (Unicorn Theatre), The Speed Twins, Apple Pie, Hours till Autumn (Riverside Studios), Madness in Valencia (Trafalgar Studios), The Shawshank Redemption, Laura Marling - Live, Miller's Crossing (Secret Cinema), Cyrano De Bergerac, The Misanthrope (White Bear) and Skyscraper (Public Theater, NY). Evans is the Artistic Director of Myriad & Co.
ABOUT The Donmar Warehouse
Led by Artistic Director Josie Rourke, the Donmar is an intimate 251-seat, subsidised theatre in Covent Garden; right at the heart of London's West End. It is internationally renowned as one of the world's principal producing theatres, having won over 100 major awards during its 24-year history. The Donmar is London's home for leading artists to make world-class theatre that engages, inspires and entertains. We share our work with as broad an audience as possible.
Our intimate space offers actors and audiences a theatrical experience unlike any other, whilst our transfers, tours, and digital distribution enable audiences to enjoy our work worldwide. The theatre we make is always in conversation with the world today. We celebrate variety on our stage, re-energising the canon, reviving modern classics, and commissioning great new work. We always prize diversity and freedom of expression, and with each new production we seek to innovate and spark debate. Our exceptional education work empowers young people and cultivates a new generation of artists, audiences and active citizens, whilst our creative development programme invites the best established and emerging artists to push themselves and the boundaries of theatre-making.
ABOUT Goodman Theatre
AMERICA'S "BEST REGIONAL THEATRE" (Time magazine), Goodman Theatre is a premier not-for-profit organization distinguished by the excellence and scope of its artistic programming and civic engagement. Led by Artistic Director Robert Falls and Executive Director Roche Schulfer, the theater's artistic priorities include new play development (more than 150 world or American premieres), large scale musical theater works and reimagined classics (celebrated revivals include Falls' productions of Death of a Salesman and The Iceman Cometh). Goodman Theatre artists and productions have earned two Pulitzer Prizes, 22 Tony Awards, over 160 Jeff Awards and many more accolades. In addition, the Goodman is the first theater in the world to produce all 10 plays in August Wilson's "American Century Cycle;" and its annual holiday tradition A Christmas Carol, which marked its 40th anniversary in 2017, has created a new generation of theatergoers. The Goodman also frequently serves as a production partner with local off-Loop theaters and national and international companies by providing financial support or physical space for a variety of artistic endeavors.
Committed to three core values of Quality, Diversity and Community, the Goodman proactively makes inclusion the fabric of the institution and develops education and community engagement programs that support arts as education. This practice uses the process of artistic creation to inspire and empower youth, lifelong learners and audiences to find and/or enhance their voices, stories and abilities. The Goodman's Alice Rapoport Center for Education and Engagement is the home of such programming, most offered free of charge, and has vastly expanded the theater's ability to touch the lives of Chicagoland citizens (with 85% of youth participants coming from underserved communities) since its 2016 opening.
Goodman Theatre was founded by William O. Goodman and his family in honor of their son Kenneth, an important figure in Chicago's cultural renaissance in the early 1900s. The Goodman family's legacy lives on through the continued work and dedication of Kenneth's family, including Albert Ivar Goodman, who with his late mother, Edith-Marie Appleton, contributed the necessary funds for the creation of the new Goodman center in 2000.
Today, Goodman Theatre leadership also includes the distinguished members of the Artistic Collective: Brian Dennehy, Rebecca Gilman, Henry Godinez, Dael Orlandersmith, Steve Scott, Chuck Smith, Regina Taylor, Henry Wishcamper and Mary Zimmerman. David W. Fox, Jr. is Chair of Goodman Theatre's Board of Trustees, Denise Stefan Ginascol is Women's Board President and Megan McCarthy Hayes is President of the Scenemakers Board for young professionals.