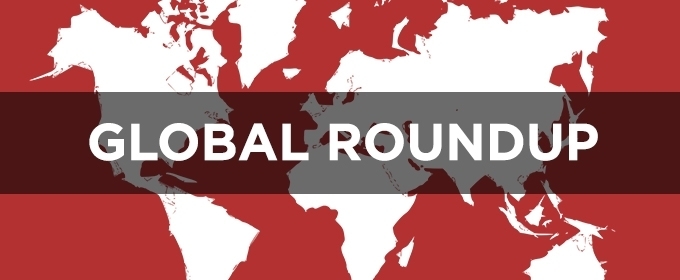 BWW Review: LEGALLY BLONDE at Paramount Theatre
Paramount Theatre's production of LEGALLY BLONDE-THE MUSICAL lands the familiar tale of sorority-girl-turned-lawyer Elle Woods firmly in 2018, and it works well. Based on the 2001 movie, the musical premiered on Broadway in 2007, and, unlike some stage adaptations of beloved chick flicks, still resonates in today's post-Weinstein world. A strong female protagonist, working hard to achieve her goals, leaves behind toxic relationships and surrounds herself with people who believe in building each other up. While the narrative is empowering, LEGALLY BLONDE never lets the tone get too serious, with plenty of humor, larger-than-life characters, impressive dance numbers, and all the glitz, glam, and "Omigod"s that one would expect from the women of UCLA's Delta Nu.
As Elle Woods, Casey Shuler puts her own stamp on the role made famous by Reese Witherspoon, finding fresh deliveries for well-known lines and commanding the stage with all the confidence of a sorority president. Vocally, she leads a cast of bona fide belters through Laurence O'Keefe and Nell Benjamin's rock-infused score with apparent ease. Tyler Lain is suitably shallow and foppish as Warner Huntington III, Elle's ex-fiance whose rejection compels her to attend Harvard in the hopes of winning him back. Lain's rich prep-boy character serves as a foil to Elle's new friend Emmett Forrest (Gerald Caesar), the hard-working, kind teaching assistant who brings out the best in her, both personally and professionally.
A large cast of talented women stands alongside Elle, beginning with her Delta Nu sisters. Lucy Godínez, Sara Reinecke, and Kyrie Courter lead the ensemble of sorority women who follow Elle to Harvard (if only in her head) as a toga-clad 'Greek chorus', singing and dancing her through the tribulations of law school. At Harvard, Elle meets fellow law students Enid Hoopes-an outspoken, lesbian, social justice activist portrayed by Teressa LaGamba-and Vivienne Kensington (Jacquelyne Jones), a serious, driven woman and Elle's rival for Warner's heart. In the second act, Jenna Coker-Jones jump-ropes onto the stage with astonishing energy as Brooke Wyndham, the fitness coach on trial for murder in Elle's first case. It's a show with an abundance of great roles for women, and this production makes the most of it.
Heather Hach's book is full of gags, some of which work better than others, although the opening night crowd was more than forgiving and enthusiastic. In terms of humor, Sophie Grimm and James Doherty steal the show as downtrodden hairdresser Paulette and her sexy UPS man, Kyle B. O'Boyle, whose love story involves the iconic "Bend and Snap" scene. Also memorable, though with less stage time, are Anthony Sullivan Jr. as Nikos, the "gay AND European" pool boy, and his boyfriend, Carlos (Yando Lopez), the couple whose outed relationship forms the turning point in Brooke's trial. Finally, it would be remiss not to mention the adorable crowd-pleasers Frankie and Romeo, who respectively star as Elle's lively pup, Bruiser, and Paulette's plodding bulldog, Rufus.
The creative team, under the direction of Trent Stork, finds clever ways to update the setting to present-day America, although the loud colors and flashy visuals of early 2000s Greek culture don't require much alteration for the class of 2018. Jeffery D. Kmiec's set centers around four imposing pillars, which seamlessly transition between a UCLA sorority house, a Harvard classroom, and a courtroom. Nick Belley's lighting bathes the elegant, off-white set in various bold pastels, neon accents, and rock-concert effects. Mike Tutaj's projections lend the most obviously modern aspect to the design, with a giant smartphone that periodically descends center stage to depict a group chat (complete with emojis and gifs), a FaceTime conversation, a Lyft ride, a YouTube fitness video, and more. With the Delta Nu sisters sipping pumpkin spice lattes and snapping selfies (yes, there is a selfie stick), the picture of a modern college campus is complete. LEGALLY BLONDE isn't exactly a tale as old as time, but it's a fun, girl-power story that makes the transition from screen to stage-and from 2001 to 2018-remarkably well.
LEGALLY BLONDE plays through October 21 at the Paramount Theatre, 23 East Galena Boulevard, Aurora, IL 60506. Tickets are available at 630-896-6666 or paramountaurora.com.
Photo credit: Liz Lauren
Related Articles