Emily McClanathan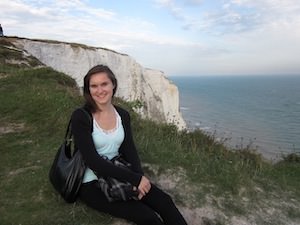 Emily McClanathan works as Manager of Strategic Development Communications for the Chicago Symphony Orchestra Association. She was a 2020 National Critics Institute fellow at the Eugene O'Neill Theater Center and holds a Master of Arts in Modern History (King's College London) and a Bachelor of Arts in Music and History (Wheaton College). Previous experience includes working at Chicago Shakespeare Theater and the Ravinia Festival. When she's not at the theater, her hobbies include reading, traveling, binge-watching British TV shows, and tracking down the perfect cup of tea. 
MOST POPULAR ARTICLES
LAST 30 DAYS
LAST 365 DAYS
BWW Review: TITANIC (SCENES FROM THE BRITISH WRECK COMMISSIONER'S INQUIRY, 1912) at Court Theatre

June 17, 2021

In TITANIC (SCENES FROM THE BRITISH WRECK COMMISSIONER'S INQUIRY, 1912), playwright Owen McCafferty poignantly dramatizes eyewitness accounts of the Titanic's sinking. Based on the British investigation into the shipwreck, the play allows the viewer to observe history unfold as if in real time.
---
BWW Review: GOODS at Artemisia Theatre

May 8, 2021

No talking about politics: this is the rule by which Marla and Sam abide. For them, it's no mere nicety to ease their way through a holiday dinner with relatives. After 20 years of traveling through space together collecting trash, they're genuinely trying not to drive each other mad.
---
BWW Review: TEENAGE DICK at Theater Wit

March 21, 2020

What does live theater look like during a pandemic? As Americans adjust to the new realities of social distancing and sheltering in place to slow the spread of COVID-19, many theaters across the nation and the world are dark. Though live performances have been canceled, Theater Wit offers an innovative remote viewing alternative for its Chicago premiere of Mike Lew's TEENAGE DICK, directed by Brian Balcom.
---
BWW Review: MIDDLE PASSAGE at Lifeline Theatre

February 27, 2020

In Lifeline Theatre's MIDDLE PASSAGE, the intimate Rogers Park venue transforms into the scene of a 19th century maritime epic. Artistic Director Ilesa Duncan and David Barr III adapt Charles Johnson's award-winning 1990 novel for the stage, and Duncan directs. The sprawling tale follows a recently freed slave as he journeys from the gambling dens of New Orleans to the heart of the African slave trade and back again.
---
BWW Review: AN AMERICAN IN PARIS at Drury Lane Theatre

February 9, 2020

a?oeHow can you feel liberated when your city's been crushed?a?? In the post-WWII setting of AN AMERICAN IN PARIS, this is the dilemma faced by the people who call the City of Light home--through birth, choice, or the displacement of war. For the young protagonists, healing comes through art, friendship, and love.
---
BWW Review: THE MOUSETRAP at Court Theatre a Fresh Take on Agatha Christie's Record-breaking Mystery

January 26, 2020

How do you put a new spin on the world's longest-running play? At Court Theatre, director Sean Graney takes on this challenge with Agatha Christie's classic murder mystery, THE MOUSETRAP. Running continuously in London's West End since 1952, the original production currently clocks in at over 28,000 performancesa?'certainly a jewel in the crown of one of the world's most successful mystery writers. While the London production has only updated its set design twice since its premiere, here in Chicago, Graney and team breathe fresh life into the popular mystery with fascinating designs, hilarious character actors and an honest approach to Christie's insightful exploration of human nature.
---
BWW Review: GREASE at Marriott Theatre

January 25, 2020

The Marriott Theatre opens its 45th season with director Scott Weinstein's staging of GREASE, the 1971 musical that was born in Chicago and became a Broadway hit, a famous film and a perennial favorite of theaters across the country. With book, music and lyrics by Jim Jacobs and Warren Casey, the show follows sheltered Sandy Dumbrowski (Leryn Turlington) as she navigates social life at Rydell High School, where she's the new girl in the class of 1959. Befriended by a world-wise clique called the Pink Ladies, Sandy soon discovers that her boyfriend of the previous summer, Danny Zuko (Jimmy Nicholas) also attends Rydell and is the leader of a leather-clad gang of a?oegreasers.a?? Can innocent Sandy and tough-guy Danny rekindle their summer romance in the complicated social scene of Rydell High?
---
BWW Review: MARY POPPINS at Drury Lane Theatre

December 2, 2019

This holiday season, Drury Lane Theatre presents DISNEY AND CAMERON MACKINTOSH'S MARY POPPINS, the 2004 musical based on the stories of P.L. Travers and the 1964 Walt Disney film and co-created by Cameron Mackintosh. Marcia Milgrom Dodge directs and choreographs this classic tale about a magical nanny who appears just in time to help the families who need her most. Leading a strong ensemble, Led by Emilie Lynn with a Broadway-worthy performance in the title role, a strong ensemble delivers this hopeful show about family harmony and second chances.
---
BWW Review: RUTHERFORD AND SON at TimeLine Theatre a Chicago Premiere 107 Years in the Making

November 19, 2019

It's rare that modern theatergoers can catch the Chicago premiere of a ground-breaking play written more than a century ago, but TimeLine Theatre is offering this chance with its searing production of Githa Sowerby's RUTHERFORD AND SON. Set in a factory town in northern England, this tense family drama addresses issues of misogyny, classism and industrial unrest in the years leading up to WWI. Though it played to great acclaim in its 1912 London premiere, the backlash following the discovery that playwright a?oeK.G. Sowerbya?? was a woman contributed to its falling out of favor. Following recent revivals over the past several decades, primarily in the UK, Mechelle Moe directs the Chicago premiere of what is now recognized as one of the major plays of the 20th century.
---
BWW Review: OLIVER! at Marriott Theatre

November 10, 2019

Tis' the season that many theaters turn to Dickensian fare, but at Marriott Theatre, young Oliver Twist rather than Tiny Tim takes the stage. Nick Bowling directs Lionel Bart's OLIVER!, the 1960 musical based on Charles Dickens' Oliver Twist. With music direction by Ryan T. Nelson and choreography by Brenda Didier, a talented cast of child and adult actors delivers Bart's eminently hummable, if not groundbreaking, tunes. Though certain aspects of the material are irremediably dated, this is an entertaining revival of a (mostly) family-friendly show.
---
BWW Review: AN EVENING WITH C.S. LEWIS at Broadway Playhouse

October 24, 2019

In Broadway in Chicago and Emery Entertainment's AN EVENING WITH C.S. LEWIS, we encounter the famed author of THE CHRONICLES OF NARNIA in the cozy setting of his home in a village outside Oxford. David Payne writes, directs, and stars as Lewis, or a?oeJacka?? to his family, in this one-man show. Under the premise that the audience is a group of American writers visiting Lewis, Payne reclines in an armchair, sips tea, and regales his guests with tales of Jack's childhood, literary career, and late-in-life romance.
---
BWW Review: Science Meets Family Dysfunction in MOSQUITOES at Steep Theatre

October 15, 2019

Olivier Award-winning British playwright Lucy Kirkwood pulls no punches when it comes to examining family dysfunction on stage. Her 2017 play MOSQUITOES, which premiered at the National Theatre of Great Britain, features three generations of family members who are so fundamentally disconnected from each other that they barely speak the same language. Penned in response to Brexit, Kirkwood's family drama presents a microcosm of the wider societal divides in her country. This theme is equally relatable in the play's U.S. premiere at Steep Theatre, directed by Jaclynn Juttinga?'a production that marks the storefront theatre's debut as an Equity company. With a scientific subplot about the experiments that confirmed the existence of the Higgs Boson, or a?oeGoda?? particle, Kirkwood's wordy yet fast-paced play evokes the intellectual rigor of Tom Stoppard and the relational angst of Tennessee Williams.
---
BWW Review: THE BARBER OF SEVILLE at Lyric Opera Of Chicago

October 2, 2019

Lyric Opera of Chicago opens its 65th season with Gioachino's Rossini's romantic comedy, THE BARBER OF SEVILLE. Tara Faircloth directs this exuberant revival of Lyric's 2013/14 production, originally directed by Rob Ashford, while Sir Andrew Davis conducts the Lyric Opera Orchestra and Michael Black serves as chorus master. Beautifully designed and masterfully sung, this production leans into the farcical comedy that ensues when Figaro, the eponymous barber, plays matchmaker for a wealthy count and a witty young woman.
---
BWW Review: WHOSE BODY? at Lifeline Theatre

September 22, 2019

The first hints of autumn weather have barely touched Chicago, but with its season opener, Lifeline Theatre turns to that coziest of genres: the classic British murder mystery. Jess Hutchinson directs a revival of WHOSE BODY?, adapted by Frances Limoncelli from the 1923 novel by Dorothy Sayers. Though the English author and scholar is not exactly a household name for modern American audiences, Sayers counted C.S. Lewis among her friends and was one of the first women to graduate from Oxford University. WHOSE BODY? marks the debut of her best-known character, Lord Peter Wimsey, a quirky aristocrat with impeccable taste in antique books, classical music, and fine winea?'as well as a penchant for amateur sleuthing.
---
BWW Review: DANA H. at Goodman Theatre

September 21, 2019

Lucas Hnath's DANA H., now in its world premiere at the Goodman Theatre, recounts a harrowing trauma experienced by the playwright's mother, Dana Higginbotham. In 1997, she was working as a hospice chaplain in Florida when a former patient, a mentally ill ex-convict, kidnapped her for five months. Hnath tells this deeply personal story through a riveting device: actress Deirdre O'Connell lip-syncs to recordings of interviews with the real Dana, conducted by Steve Cosson nearly two decades after the recalled events. Under the direction of Les Waters, this uniquely intimate encounter between audience and narrator offers a terrifying glimpse into the mental and emotional realities of being a survivor of abuse.
---
BWW Review: NEWSIES at Paramount Theatre

September 15, 2019

Paramount Theatre's production of DISNEY'S NEWSIES THE MUSICAL, directed by Jim Corti, offers a spirited, heartfelt take on the popular Tony Award winner. Originally a 1992 Disney movie musical, the cult favorite has attracted a whole new fandom since the stage adaptation opened on Broadway in 2012, with music by Alan Menken, lyrics by Jack Feldman, and book by Harvey Fierstein. Based on the true story of the 1899 New York City newsboys' strike, NEWSIES is best known for its rousing tunes and jaw-dropping dancing. With music direction by Tom Vendafreddo and choreography by Joshua Blake Carter, Corti's production nails these essential elements, while the cast give moving, layered performances as the ragtag band of brothers who faced down the giants of the 19th century press.
---
BWW Review: MIDSUMMER (A PLAY WITH SONGS) at Greenhouse Theater Center

September 9, 2019

On Midsummer's Eve, two 35-year-olds drink alone in an Edinburgh dive bar. Helena, a well-dressed divorce lawyer, sips a £40 bottle of wine while waiting for her married lover to arrive. Bob, a petty criminal, waits for a colleague to transfer the keys of a stolen car. When Helena's date stands her up and she impulsively asks Bob to help her finish the wine, the stage is set for an unconventional, thoroughly Scottish romantic comedy by playwright David Greig, with a folk-pop score by indie singer-songwriter Gordon McIntyre. Despite its lack of fairies and forests, MIDSUMMER (A PLAY WITH SONGS) captures the wild freedom of its Shakespearean namesake and channels the Celtic knack for pairing dry, self-deprecating humor with poetic, poignant truths.
---
BWW Review: Get Thee to SOMETHING ROTTEN! at Marriott Theatre

September 7, 2019

Chicagoans, lend me your ears: SOMETHING ROTTEN! has landed in Lincolnshire (the one due north of Chicago, not the one due east of Liverpool), and Marriott Theatre's regional premiere is a must-see for fans of musicals, Shakespeare, and comedy. Nominated for ten Tony Awards when it opened on Broadway in 2015, this madcap musical by Karey Kirkpatrick, John O'Farrell, and Wayne Kirkpatrick is in excellent hands with director Scott Weinstein, choreographer Alex Sanchez, and music director Ryan T. Nelson.
---
BWW Review: Gary Griffin's Enchanting INTO THE WOODS at Writers Theatre

August 24, 2019

Writers Theatre opens its 2019/20 season with INTO THE WOODS, Stephen Sondheim and James Lapine's beloved fairy tale mash-up, directed by Olivier Award-winning Sondheim interpreter Gary Griffin. Staged in the round in the larger of the Glencoe theater's two venues, Griffin makes the most of the intimate configuration to showcase his talented cast, a mix of Chicago veterans and younger talents. With impressive comedic instincts, dramatic acting chops, and vocal facility with Sondheim's difficult score, these are just the kind of people you'll want to get lost in a forest with for a couple of hours.
---
BWW Review: Agatha Christie's AND THEN THERE WERE NONE Thrills at Drury Lane Theatre

July 30, 2019

Agatha Christie, the a?oeQueen of Mystery.a?? The numbers speak for themselves: best-selling novelist of all time (more than two billion sold), most-translated author (more than 100 languages), and author of the world's longest running play (THE MOUSETRAP has played in the West End since the year Queen Elizabeth II took the throne). Christie originated countless murder mystery tropes, and her formidable talent for weaving intricate plots shines in AND THEN THERE WERE NONE, her best-selling novel and the world's best-selling mystery. Adapted for the stage by the author herself in 1943, the iconic thriller is now playing at Drury Lane Theatre in an intriguing new production directed by Jessica Fisch.
---