Emily McClanathan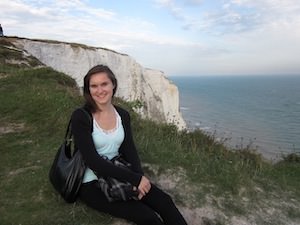 Emily McClanathan works in theater administration in Chicago and holds a Master of Arts in Modern History from King's College London. When she's not at the theater, her hobbies include reading, traveling, binge-watching British TV series, and tracking down the perfect cup of tea.
MOST POPULAR ARTICLES
LAST 30 DAYS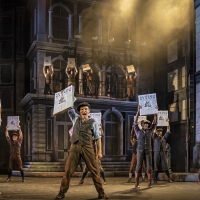 BWW Review: NEWSIES at Paramount Theatre
Posted: Sep. 15, 2019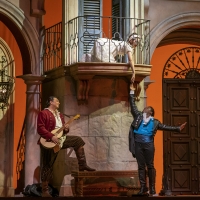 BWW Review: THE BARBER OF SEVILLE at Lyric Opera Of Chicago
Posted: Oct. 2, 2019


BWW Review: WHOSE BODY? at Lifeline Theatre
Posted: Sep. 22, 2019


BWW Review: DANA H. at Goodman Theatre
Posted: Sep. 21, 2019


LAST 365 DAYS
BWW Review: BEAUTY AND THE BEAST at Drury Lane Theatre
Posted: Nov. 18, 2018



BWW Review: THE PRODUCERS at Paramount Theatre
Posted: Feb. 16, 2019



BWW Interview: Jess LeProtto on the humor and heart of HELLO, DOLLY!
Posted: Oct. 20, 2018



BWW Review: A NUMBER at Writers Theatre
Posted: Apr. 2, 2019



BWW Review: FIDDLER ON THE ROOF at Cadillac Palace Theatre
Posted: Dec. 26, 2018


BWW Interview: Chicago actor Christine Bunuan returns in MISS SAIGON national tour
Posted: Nov. 11, 2018



BWW Review: LA TRAVIATA at Lyric Opera Of Chicago
Posted: Feb. 17, 2019


BWW Review: THE BARBER OF SEVILLE at Lyric Opera Of Chicago

October 2, 2019

Lyric Opera of Chicago opens its 65th season with Gioachino's Rossini's romantic comedy, THE BARBER OF SEVILLE. Tara Faircloth directs this exuberant revival of Lyric's 2013/14 production, originally directed by Rob Ashford, while Sir Andrew Davis conducts the Lyric Opera Orchestra and Michael Black serves as chorus master. Beautifully designed and masterfully sung, this production leans into the farcical comedy that ensues when Figaro, the eponymous barber, plays matchmaker for a wealthy count and a witty young woman.
---
BWW Review: WHOSE BODY? at Lifeline Theatre

September 22, 2019

The first hints of autumn weather have barely touched Chicago, but with its season opener, Lifeline Theatre turns to that coziest of genres: the classic British murder mystery. Jess Hutchinson directs a revival of WHOSE BODY?, adapted by Frances Limoncelli from the 1923 novel by Dorothy Sayers. Though the English author and scholar is not exactly a household name for modern American audiences, Sayers counted C.S. Lewis among her friends and was one of the first women to graduate from Oxford University. WHOSE BODY? marks the debut of her best-known character, Lord Peter Wimsey, a quirky aristocrat with impeccable taste in antique books, classical music, and fine winea?'as well as a penchant for amateur sleuthing.
---
BWW Review: DANA H. at Goodman Theatre

September 21, 2019

Lucas Hnath's DANA H., now in its world premiere at the Goodman Theatre, recounts a harrowing trauma experienced by the playwright's mother, Dana Higginbotham. In 1997, she was working as a hospice chaplain in Florida when a former patient, a mentally ill ex-convict, kidnapped her for five months. Hnath tells this deeply personal story through a riveting device: actress Deirdre O'Connell lip-syncs to recordings of interviews with the real Dana, conducted by Steve Cosson nearly two decades after the recalled events. Under the direction of Les Waters, this uniquely intimate encounter between audience and narrator offers a terrifying glimpse into the mental and emotional realities of being a survivor of abuse.
---
BWW Review: NEWSIES at Paramount Theatre

September 15, 2019

Paramount Theatre's production of DISNEY'S NEWSIES THE MUSICAL, directed by Jim Corti, offers a spirited, heartfelt take on the popular Tony Award winner. Originally a 1992 Disney movie musical, the cult favorite has attracted a whole new fandom since the stage adaptation opened on Broadway in 2012, with music by Alan Menken, lyrics by Jack Feldman, and book by Harvey Fierstein. Based on the true story of the 1899 New York City newsboys' strike, NEWSIES is best known for its rousing tunes and jaw-dropping dancing. With music direction by Tom Vendafreddo and choreography by Joshua Blake Carter, Corti's production nails these essential elements, while the cast give moving, layered performances as the ragtag band of brothers who faced down the giants of the 19th century press.
---
BWW Review: MIDSUMMER (A PLAY WITH SONGS) at Greenhouse Theater Center

September 9, 2019

On Midsummer's Eve, two 35-year-olds drink alone in an Edinburgh dive bar. Helena, a well-dressed divorce lawyer, sips a £40 bottle of wine while waiting for her married lover to arrive. Bob, a petty criminal, waits for a colleague to transfer the keys of a stolen car. When Helena's date stands her up and she impulsively asks Bob to help her finish the wine, the stage is set for an unconventional, thoroughly Scottish romantic comedy by playwright David Greig, with a folk-pop score by indie singer-songwriter Gordon McIntyre. Despite its lack of fairies and forests, MIDSUMMER (A PLAY WITH SONGS) captures the wild freedom of its Shakespearean namesake and channels the Celtic knack for pairing dry, self-deprecating humor with poetic, poignant truths.
---
BWW Review: Get Thee to SOMETHING ROTTEN! at Marriott Theatre

September 7, 2019

Chicagoans, lend me your ears: SOMETHING ROTTEN! has landed in Lincolnshire (the one due north of Chicago, not the one due east of Liverpool), and Marriott Theatre's regional premiere is a must-see for fans of musicals, Shakespeare, and comedy. Nominated for ten Tony Awards when it opened on Broadway in 2015, this madcap musical by Karey Kirkpatrick, John O'Farrell, and Wayne Kirkpatrick is in excellent hands with director Scott Weinstein, choreographer Alex Sanchez, and music director Ryan T. Nelson.
---
BWW Review: Gary Griffin's Enchanting INTO THE WOODS at Writers Theatre

August 24, 2019

Writers Theatre opens its 2019/20 season with INTO THE WOODS, Stephen Sondheim and James Lapine's beloved fairy tale mash-up, directed by Olivier Award-winning Sondheim interpreter Gary Griffin. Staged in the round in the larger of the Glencoe theater's two venues, Griffin makes the most of the intimate configuration to showcase his talented cast, a mix of Chicago veterans and younger talents. With impressive comedic instincts, dramatic acting chops, and vocal facility with Sondheim's difficult score, these are just the kind of people you'll want to get lost in a forest with for a couple of hours.
---
BWW Review: Agatha Christie's AND THEN THERE WERE NONE Thrills at Drury Lane Theatre

July 30, 2019

Agatha Christie, the a?oeQueen of Mystery.a?? The numbers speak for themselves: best-selling novelist of all time (more than two billion sold), most-translated author (more than 100 languages), and author of the world's longest running play (THE MOUSETRAP has played in the West End since the year Queen Elizabeth II took the throne). Christie originated countless murder mystery tropes, and her formidable talent for weaving intricate plots shines in AND THEN THERE WERE NONE, her best-selling novel and the world's best-selling mystery. Adapted for the stage by the author herself in 1943, the iconic thriller is now playing at Drury Lane Theatre in an intriguing new production directed by Jessica Fisch.
---
BWW Review: Dave Malloy's GHOST QUARTET with Black Button Eyes Productions at Stage 773

July 22, 2019

Dave Malloy's staged song cycle GHOST QUARTET is a madcap romp through seven centuries of mythology, folk tales, gothic horror stories, murder ballads, and more. Described in the lyrics as a 'circular story,' the nonlinear plot follows four friends through interweaving stories that include two sisters in a murderous love triangle, a modern-day subway platform homicide, and retellings of Arabian Nights and Edgar Allen Poe's The Fall of the House of Usher. Malloy's musical influences are as eclectic as his literary sources, and fans will recognize many of the styles present in his best-known work, the Tony Award-winning NATASHA, PIERRE & THE GREAT COMET OF 1812.
---
BWW Review: Marriott Theatre's DARLING GRENADINE a Bittersweet Reflection of Life's Complicated Realities

July 18, 2019

Daniel Zaitchik's new musical DARLING GRENADINE delicately balances sentimentality and realism in a heartfelt look at one man's struggle with addiction and its effect on those who love him. In its Midwest premiere at Marriott Theatre, Aaron Thielen directs a stellar cast who do equal justice to Zaitchik's charming score and to his imperfect, lovable characters.
---
BWW Review: THE RECOMMENDATION at Windy City Playhouse

July 16, 2019

Upon arrival at Windy City Playhouse's flagship venue in Irving Park, audience members are handed an acceptance letter welcoming them to Brown University's class of 2011. Thus begins an intimate journey through the world of THE RECOMMENDATION, written by Jonathan Caren and directed by Jonathan Wilson. For its Chicago premiere, Windy City Playhouse artistic director Amy Rubenstein has overseen a revised script and a new concept that stages Caren's play in the theater's signature immersive style. Audiences follow the actors from room to room and even drink alongside them, from slurping Jello shots in a college dorm to sipping sake in a Hollywood lounge.
---
BWW Review: THE RIVER at BoHo Theatre

June 27, 2019

In THE RIVER, Tony Award-winning playwright Jez Butterworth spins an atmospheric tale with as many twists and turns as its namesake. Following its 2012 premiere in London and subsequent Broadway run, Jerrell L. Henderson directs the Chicago premiere by BoHo Theatre, now a resident company at the Greenhouse Theater Center.
---
BWW Review: EMMA at Lifeline Theatre

June 9, 2019

'I am going to take a heroine whom no one but myself will much like.' So Jane Austen famously prefaced the vivacious Emma Woodhouse, whom she describes as 'handsome, clever, and rich' in the opening words of her 1815 novel. Indeed, Emma, the meddlesome, would-be matchmaker is arguably the most controversial among Austen's canon of beloved protagonists. Yet, love or hate the leading lady, EMMA features many of Austen's most amusing supporting characters, and here is where Lifeline Theatre's production of this romantic comedy thrives.
---
BWW Review: MARY SHELLEY'S FRANKENSTEIN at Lookingglass Theatre Company

May 30, 2019

With Lookingglass Theatre Company being the fourth Chicago theater to produce a Frankenstein adaptation over the past year in celebration of the novel's 200th anniversary, audiences may well ask what more can be said about this classic tale. Rest assured: in MARY SHELLEY'S FRANKENSTEIN, writer and director David Catlin offers a unique and poignant perspective by placing the author herself, a highly imaginative and emotionally vulnerable teenager, center stage. Artist and artwork become intricately entwined as Mary Shelley (Cordelia Dewdney) pours her personal pain into a work of fiction that has captivated readers for centuries.
---
BWW Review: ROALD DAHL'S MATILDA THE MUSICAL at Drury Lane Theatre

May 5, 2019

British novelist Roald Dahl possessed that rare quality in an author of children's books: the ability to captivate the imaginations of his young readers and simultaneously entertain their parents. His distinctive witty prose, dark humor, and eccentric characters are beloved worldwide: a daunting precedent for the Royal Shakespeare Company when it premiered the musical adaptation of MATILDA in 2010, with a book by Dennis Kelly and music and lyrics by Tim Minchin. This production proved wildly successful in the West End (where it is still running), on Broadway, and internationally. Now, Drury Lane Theatre presents the regional premiere, directed and choreographed by Mitch Sebastian.
---
BWW Review: FOOTLOOSE at Marriott Theatre

April 30, 2019

Marriott Theatre's FOOTLOOSE is a fun-filled throwback to the '80s, with a strong ensemble cast that does full justice to the original film's chart-topping hits. Directed by Gary Griffin and choreographed by William Carlos Angulo, this production radiates infectious energy.
---
BWW Review: HANNAH AND MARTIN at Shattered Globe Theatre

April 21, 2019

A thought-provoking blend of philosophy, politics, and personal ethics, Kate Fodor's HANNAH AND MARTIN explores the fall-out of one German intellectual's entanglement with the Nazi party. Now playing at Shattered Globe Theatre under the direction of Louis Contey, Fodor's historical drama recreates the love affair between the eponymous characters, German-Jewish political theorist Hannah Arendt (Christina Gorman) and her mentor, philosopher Martin Heidegger (Lawrence Grimm). Following their relationship from Arendt's time as a student in the 1920s, the crux of the play centers around her moral crisis post-World War II, when she must decide whether to help the disgraced Heidegger rebuild a semblance of a career following his long-time support of Hitler's regime.
---
BWW Review: A NUMBER at Writers Theatre

April 2, 2019

In true science fiction fashion, British playwright Caryl Churchill's gripping two-hander, A NUMBER, raises more questions than it answers. Set in the near future and structured as a series of tense encounters between a father and his grown son(s), the play premiered at the Royal Court Theatre in 2002 during the height of the debate over the ethics of cloning. Now playing at Writers Theatre, family dynamics take the foreground as director Robin Witt explores the devastating effects of a father's choices in the lives of his offspring.
---
BWW Review: LA TRAVIATA at Lyric Opera Of Chicago

February 17, 2019

As with most tales of doomed romance, Giuseppe Verdi's LA TRAVIATA highlights the contrasts between two social spheres and the difficulties faced by lovers who try to bridge this chasm. In this 1853 opera, based on a play by Alexandre Dumas, fils, the beautiful courtesan Violetta Valery (Albina Shagimuratova) tries to escape her past life among the hedonistic upper classes of Paris to settle down with her true love, Alfredo Germont (Giorgio Berrugi). After a brief period of bliss, the couple is driven apart by the strict bourgeois morality of Alfredo's family, in particular his father, who refuses to overlook Violetta's shameful past until she is on her deathbed.
---
BWW Review: THE PRODUCERS at Paramount Theatre

February 16, 2019

Before attending THE PRODUCERS at Paramount Theatre, I had a disturbing dream in which this production cut everything deemed offensive or politically incorrect from the original: tap-dancing Nazis, sex-crazed old ladies, grossly stereotyped portrayals of, well, everyone. 'But what will they have left?' my dream-self protested. Fortunately, my fears were allayed upon seeing Paramount's production; director Jim Corti stages a madcap romp that revels in the irreverent humor of Mel Brooks.
---
1