AstonRep Presents THE LARAMIE PROJECT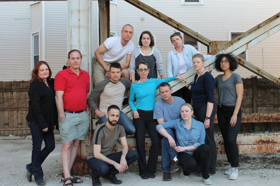 AstonRep Theatre Company is pleased to conclude its 2017-18 season with THE LARAMIE PROJECT, a community's deeply-moving response to the 1998 murder of gay University of Wyoming student Matthew Shepard, written by Moisés Kaufman and the Members of Tectonic Theater Project and directed by Associate Artistic Director Derek Bertelsen. THE LARAMIE PROJECT will play June 7 - July 8, 2018 at The Raven Theatre (West Stage), 6157 N. Clark St. in Chicago. Tickets are currently available at www.astonrep.com or by calling (773) 828-9129.
THE LARAMIE PROJECT features an ensemble cast including Dana Anderson*, Alexandra Bennett*, Liz Cloud, Rob Frankel, Matt Harris*, Roberto Jay, Amy Kasper*, Ray Kasper*, Erin O'Brien, Sara Pavlak McGuire*, Peter Surma and Chelsea Turner.
THE LARAMIE PROJECT presents a deeply complex portrait of a community's response to the 1998 murder of Matthew Shepard, a young gay man living in Laramie, Wyoming. In a series of poignant reflections, the residents of Laramie react to the hate crime and surrounding media storm with anger, bewilderment and sorrow. The play portrays the seismic and deeply personal impact Matthew's death had on this small town while also demonstrating the power of the human spirit to triumph over bigotry and violence. As we near the twentieth anniversary, Matthew Shepard's story still reverberates, urging us on with its clarion call to confront the destructive power of bullying and hate, in all forms.
The production team for THE LARAMIE PROJECT includes Jeremiah Barr* (scenic design, props design, technical director), Uriel Gomez (costume design), Samantha Barr* (lighting design, production manager), Robert Tobin* (sound design), Krista Hansen (dialect coach), Aja Wiltshire* (music director), Sara Pavlak McGuire* (assistant director), Dana Anderson* (assistant director, dramaturg), Melanie Thompson (assistant production manager) and Kendal Romero (stage manager).
*Denotes AstonRep Company Members.
About the Director
Derek Bertelsen (Director) currently serves as Associate Artistic Director for AstonRep Theatre Company. Previous directing credits with AstonRep include Eleemosynary (co-director with Jeremiah Barr), The Black Slot, The Lyons, Lieutenant of Inishmore, Wit, Next Fall and Doubt. Other Chicago directing credits include Prelude To A Kiss, Mary-Kate Olsen Is In Love (The Comrades, where is serves as Artistic Director), Design for Living, The Children's Hour (Pride Films & Plays), God of Carnage, The Dinner Party (BrightSide Theater). Regional credits include Brighton Beach Memoirs (Festival 56), The Wizard of Oz (Shawnee Summer Theater), and five seasons at Timber Lake Playhouse including Rumors, Boeing-Boeing, and Monty Python's Spamalot. Assistant directing credits include RACE (Goodman), Angry Fags (Steppenwolf Garage), and Bloody Bloody Andrew Jackson (Bailiwick Chicago).
About AstonRep Theatre Company:
AstonRep Theatre Company was formed in the summer of 2008. Since then, the company has produced 21 full-length productions and nine annual Writers' Series. AstonRep Theatre Company is an ensemble of artists committed to creating exciting, intimate theatrical experiences that go beyond the front door to challenge audiences and spark discussion where the show is not the end of the experience: it is just the beginning.
Photo: The cast of AstonRep Theatre's production of THE LARAMIE PROJECT (front, l to r) Matt Harris, Ray Kasper, Sara Pavlak McGuire (middle, l to r) Amy Kasper, Rob Frankel, Roberto Jay, Liz Cloud, Alexandra Bennett, Chelsea Turner (back l to r) Peter Surma, Dana Anderson and Erin O'Brien. Photo by Derek Bertelsen.