Photo Flash: Trustus Theatre Presents THE GREAT AMERICAN TRAILER PARK MUSICAL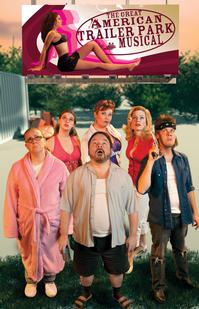 While other groups are putting up Christmas lights, filling the air with fake snow, and producing classic holiday entertainment fare for December; the cast of Trustus Theatre's "The Great American Trailer Park Musical" will be basting in self- tanner, donning mullets, and discussing the nutritional value of SPAM. This hilarious musical, which just finished a successful run Off-Broadway, comes to Columbia leaving audiences exhausted from laughing; a refreshing change in entertainment options this holiday season. The Great American Trailer Park Musical barrels onto the Trustus Main Stage Friday December 3rd at 8:00pm, leaving road-kill in its wake.
Trustus Associate Artistic Director Dewey Scott-Wiley has wanted the theatre to produce The Great American Trailer Park Musical for a few seasons. "I originally saw this show in Charleston," said Scott-Wiley. "The comedy in the show was exceptional...still one of the funniest musicals I've ever seen." Trustus wanted to produce a musical- comedy during the holidays to give Columbia a unique entertainment option, and The Great American Trailer Park Musical was the perfect fit. "We always like to produce something unexpected at the holidays," commenTEd Scott-Wiley. "We still strive to bring an uplifting and energizing show to Columbia during the winter, and this show is a treat...the perfect Trustus show for the holidays."
With music and lyrics by David Nehls and a book by Betsy Kelso, The Great American Trailer Park Musical follows the residents of Armadillo Acres, a manufactured housing community in Starke, Florida. A Trailer Park "Greek Chorus", a group of residents named Betty, Linoleum, and Pickles, introduce us to Norbert and Jeannie, a couple that's about to celebrate their 20th wedding Anniversary. Norbert wants to take Jeannie out for a classy evening at the Ice Capades. However Jeannie's Agoraphobia (fear of the outdoors) keeps her inside the trailer, afraid of the world outside ever since her son's kidnapping outside of a Super-Cuts. Norbert's disappointment leads him to a night out with the guys, which lands him in the local Gentlemen's Club where he meets Pippi, a sexy stripper who's just moved next door to him. Their affair begins to brew while Pippi's murderous marker-sniffing ex-boyfriend, Duke, high-tails it to Starke willing to kill anyone who gets in his way. All the while, Jeannie is trying to learn to step off her trailer porch so she can make it to the Ice Capades with Norbert. Undoubtedly, the residents of Armadillo Acres are in a bind when the news of Norbert and Pippi's affair and Duke's oncoming rampage comes to the trailer park.
Trustus Company Member Robin Gottlieb, known for her performances in Rent, Cabaret, and Evita, was asked to helm the production as director. "I am so excited to work on this production because it's ridiculous fun!" said Gottlieb. "These characters are hilarious and The Situations they get in are even funnier...and I love how it has some touching moments as well. It's a great evening of entertainment; people are going to love it!" Gottlieb saw a production of the show in Charlotte, and agreed that it was one of the funniest evenings she had experienced. "I was laughing so hard I was crying," admitted Gottlieb. "Nothing makes you feel better than a good laugh though...you just leave the theatre feeling energized; feeling great!"
Director Robin Gottlieb assembled a wonderful mix of familiar faces from the Columbia theatre scene along with some new talents to bring the residents of Armadillo Acres to life on stage. Portraying troubled couple Norbert and Jeannie will be Matthew DeGuire (The Producers, Nunsense, Amen) and Kim Harne (Doubt). Playing stripping vixen Pippi will be a new face on the Trustus stage, Elissa Horrell (Forbidden Broadway). Chad Henderson (Hair, Reefer Madness: The Musical) will be donning a mullet and wielding a gun as Duke, Pippi's murderous ex-boyfriend. Playing the trailer park "Greek Chorus" Betty, Linoleum, and the hysterically pregnant Pickles will be Vicky Saye Henderson (Putnam County Spelling Bee, The Thing About Men), Catherine Bailey (Gypsy, Hair), and Shelby Sessler respectively.
RAndy Moore will musically direct the production, bringing all of the fun of the rock, country, and disco-infused score to the air waves. Terrance Henderson, artistic director of Vibrations Dance Company, will be choreographing the residents of Armadillo Acres.
The Great American Trailer Park Musical will be the most unique entertainment option this holiday season. One of the most hilarious shows patrons will see this year, Betsy Kelso and David Nehl's The Great American Trailer Park Musical will open Friday December 3rd at 8:00pm, and run through December 12, 2010. Trustus will be closed December 13th through January 3rd. After the New Year, the show will return on January 6th at 7:30pm and run through January 22, 2011.
Trustus Theatre is located at 520 Lady Street, behind the Gervais St. Publix. Parking is available on Lady St. and on Pulaski St. The main stage entrance is located on the Publix side of the building. Shows start at 7:30pm on Thursdays, 8:00pm on Fridays and Saturdays, and 3:00pm on Sundays.
For more information or reservations call the box office Tuesdays through Saturdays 1-6 pm at 803-254-9732. Visit www.trustus.org for all show information and season info.
Photo Credit: Jason Steelman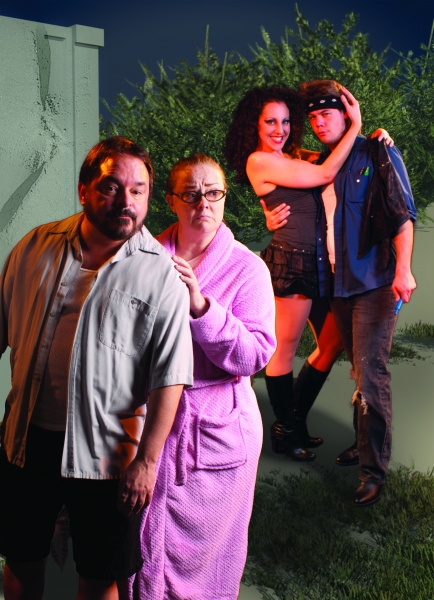 Kim Harne, Matthew DeGuire, Elissa Horrell, & Chad Henderson

Kim Harne, Matthew DeGuire, Chad Henderson, Shelby Sessler, Catherine Bailey, Vicky Saye Henderson, & Elissa Horrell


Related Articles View More Charlotte

Stories

Shows
More Hot Stories For You