Photo Flash: Flat Rock Playhouse Welcomes the Holidays with A FLAT ROCK PLAYHOUSE CHRISTMAS
It's that time of year, when the Playhouse décor hangs quite full of cheer and onstage... music, dancing, Christmas-time romancing brings... classic songs to mind, love and hope combine, in a Flat Rock holiday revue! That's right, folks! Tis' the season for frosted windowpanes, candy canes, sleigh rides and chestnuts roasting on an open fire - holiday traditions made extra special by experiencing them with loved ones! But before the calendar is full with the fun and festivities of the season, add a NEW holiday tradition to this year's Christmas schedule, A Flat Rock Playhouse Christmas! In an original revue with holiday favorites for the whole family, Flat Rock Playhouse brings the spirit and magic of Christmas to life onstage - Vagabond style! A Flat Rock Playhouse Christmas will run November 25th through December 22nd on the Flat Rock Playhouse Mainstage.
A Flat Rock Playhouse Christmas will transport audiences through the era of Charles Dickens, Santa's Toy Shop and even North Carolina's own, Blue Ridge Mountains, in a snow and holly filled journey of the season. Beginning with a host of traditional carols, and songs and dances from holiday classics including the Polar Express and White Christmas, A Flat Rock Playhouse Christmas will also take audiences on an exciting adventure to modern day Santa's Toy Shop, where Vagabond celebrities, Scott Treadway and Preston Dyar, will fill the theatre with he-he-he's and ho-ho-ho's in a secret musical showstopper. In Santa's Toy Shop audiences will enjoy classic tunes like "Man with the Bag", "Jingle Bells", and "Sleigh Ride". Act II will settle right here at home in the beautiful Blue Ridge Mountains with those seasonal country and blue grass hits including Dolly Parton and Kenny Roger's "I'll Be Home With Bells On", and "Mary Did You Know". A Flat Rock Playhouse Christmas will feature everyone's holiday favorites, finishing up with those two songs no Christmas show can be without, "O Holy Night" and "Joy to the World".
Flat Rock Playhouse favorites from near and far will take the stage in this Christmas revue. Last seen in the Playhouse's The Buddy Holly Story(Buddy) and the 2007 production of Joseph and the Amazing Technicolor (Joseph), Ben Hope will return to the Playhouse stage alongside wife, Katie Barton (past-apprentice at Flat Rock Playhouse). Having performed on Broadway and across the nation, Hope and Barton will bring exceptional musical prowess to the stage in A Flat Rock Playhouse Christmas. Playhouse celebrities Scott Treadway and Preston Dyar will also take the stage alongside familiar faces that include: Erin Rubico (Marian, The Music Man), Maddie Franke (Lily St. Regis, Annie), Matthew Glover (Writer, Director and Choreographer), Claire Griffin (Chasing Rainbows; Glinda, The Wizard of Oz), Nathan Fister (2016 apprentice) and Blair Ely (2017 apprentice). Also in the ensemble, Kendra Jo Brook will make her Flat Rock Playhouse debut.
This original revue, written, directed and choreographed by Matthew Glover (whose choreography, music direction and direction could be seen this season in The Little Mermaid, Charlie Brown and Pinkalicious, respectively), will present a cast of over sixty performers including the ensemble, local dancers from Pat's School of Dance and the Flat Rock Playhouse Chorus, last seen in Music of the Night: The Songs of Andrew Lloyd Webber (also directed by Glover). A Flat Rock Playhouse Christmas will feature Scenic Design by Dennis C. Maulden, Costume Design by Rebecca Conway, Lighting Design by CJ Barnwell, Sound Design by Kurt Conway, and Props by Paul Feraldi. Ethan Andersen will Music Direct and Maddie Franke will assist Glover as Assistant Director/Choreographer. Adam Goodrum and Christopher Simpson will serve as Production Manager and Technical Director, respectively.
The Executive Producer of A Flat Rock Playhouse Christmas is Pardee Hospital. Flat Rock Playhouse 2017 Sponsors include: Mainstage Series Sponsor, Henderson County Tourism Development Authority; Opening Night Sponsor, BMW of Asheville; Official Transportation Sponsor, Hunter Automotive Group.
As a celebration of the season, this original holiday revue will be a delight for the whole family... enough to inspire Scrooge to deck the halls or cause the Grinch's heart to grow more than 3 sizes in one day! Join the Vagabonds as The State Theatre of North Carolina wishes A ("merry")Flat Rock Playhouse Christmas to all, "and to all a good night"!
TICKETS AND SCHEDULE
A Flat Rock Playhouse Christmas will run from November 25th through December 22nd on the Flat Rock Playhouse Mainstage in the Village of Flat Rock. Performances Wednesday and Thursday evenings (11/30, 12/20 & 12/21) at 7:30PM, Friday and Saturday evenings at 8:00PM, and Wednesday, Thursday, Saturday, and Sunday afternoons at 2:00PM (matinée). Tickets are available for ­$15 - $50 and can be purchased by calling the Playhouse Box Office at 828-693-0731 or online at www.flatrockplayhouse.org. Flat Rock Playhouse is located at 2661 Greenville Hwy, Flat Rock, NC 28731.
Another opportunity for holiday fun at Flat Rock Playhouse, The Studio 52 Family Series production of The Best Christmas Pageant Ever will run at this time, from November 30th - December 17th, at the Playhouse Downtown.
Photo Credit: Treadshots


The cast of A Flat Rock Playhouse Christmas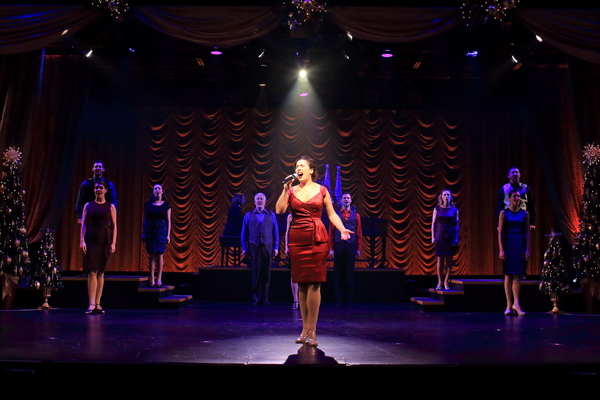 Erin Rubico and the cast of A Flat Rock Playhouse Christmas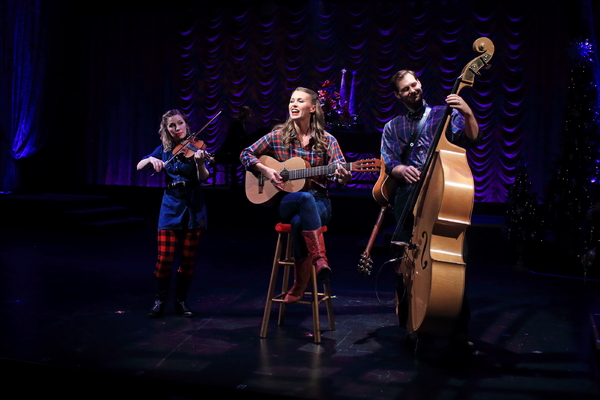 Kendra Jo Brook, Katie Barton and Ben Hope in A Flat Rock Playhouse Christmas

The cast of A Flat Rock Playhouse Christmas

Dancers from Pat's School of Dance in A Flat Rock Playhouse Christmas