Photo Flash: NACL Theatre's COURAGE Plays Sold-Out Run at Apple Pond Farm
In preparation for a premiere on Governors Island in New York City in 2017, NACL Theatre, based in Highland Park, NY, presented a site-specific "Walk-In-Progress," COURAGE, at Apple Pond Farm (Callicoon Center, NY) on July 22-24 to capacity audiences. BroadwayWorld has a first look at the cast in action below!
Inspired by Bertolt Brecht's Mother Courage and Her Children, this original play looks at the struggle for survival in a dystopian world, and advocates for compassion in an era of fear and war. The entire farm was used as a backdrop for the play, and Audience members walked from outdoor scene to scene in an immersive experience as "visitors" to a refugee camp during "the Crisis," until the play's culmination inside a two-pole circus tent.
Conceived and directed by NACL Theatre co-artistic director, Tannis Kowalchuk (STRUCK, THE WEATHER PROJECT), with music composed by Rima Fand (DON CRISTÓBAL, BILLY-CLUB MAN, Luminescent Orchestrii) and text by Mark Dunau (GLASS, THE WEATHER PROJECT), Melissa Bell (DEVIL AND THE DEEP), Tannis Kowalchuk, and the NACL ensemble, COURAGE featured the NACL professional ensemble of actors and musicians, with community members who perform in the NACL Stilt Corps and Chorus.
The 30-member cast included actors Jessica Barkl, Michael Chojnicki, Bradley Diuguid, Conrado Falco, Rima Fand, Tannis Kowalchuk, Keith McHenry, Brian Ritchey, Yurika Sase, Sajda Waite, and Peter Walsh. Chorus members included Melissa Bell, Tracy Broyles, Laylage Courie, Annie Hat, Ginny Hack, Lizzy Heck, and Nancy Peterman; the Stilt Corps included Rocky Davis, Gregg Erickson, Brett Hughes, Mark Keoppen, Desmond Oxford McDaniel, John Roth, Jon Jon Thomas, Sunny Thomas, and Tyler Young. Featuring musicians Hannah Temple and Doug Rogers. Costumes by Karen Flood, with props by Sue Currier and puppet design by Ramona Jan; technical direction by Zoot, and Brett Keyser on tech/web. Dramaturg and Assistant Director: Mimi McGurl. Brad Krumholz is the Co-Artistic Director of NACL.
In COURAGE, an audacious woman named Anna, a/k/a Courage (Kowalchuk), searches for her missing soldier son Billy (Ritchey) in a time of ongoing conflict. She is a modern-day, opportunistic peddler in business with her adopted daughter (Sase) selling goods from a golf cart at a camp for citizens displaced by the Crisis. The audience walks with Anna, refugees, and staff from location to location, and witnesses the songs and tales (some funny, some terrible) of a motley crew of survivors, as well as maneuvers of a stilt army ostensibly there to protect them. At journey's end the audience and actors gather inside a large tent for a rowdy Greek play by Aristophanes put on by camp residents for the newly arrived refugees. The event concludes with a community meal of bread and soup.
About NACL's newest production, NACL artistic director Tannis Kowalchuk writes: "I want to appeal to the emotional intelligence - the heart and mind - of each spectator. Our goal is to move audiences deftly from thoughts to feelings to positive action. Today, equality, justice, and peace are way too valuable to lose sight of in the current climate of fear. Our production calls for empathy, resilience, and yes, courage - the courage to envision and embody change."
For further information, visit NACL.org or call 845-557-0694.
Photos by Autumn Marie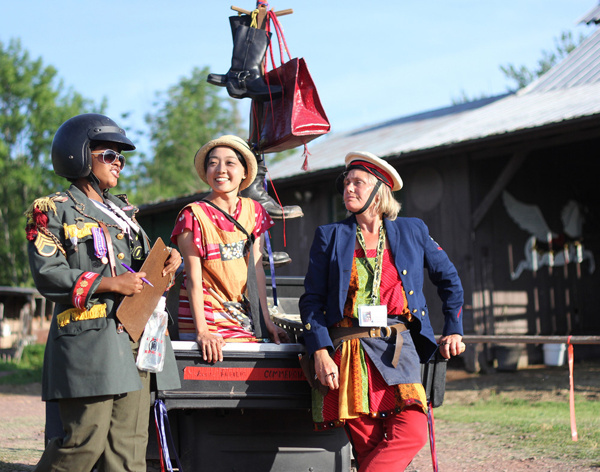 At a refugee camp, opportunistic entrepreneur COURAGE (Tannis Kowalchuk, R) and her daughter Kyoko (Yurika Sase, C) are cleared for commerce by a camp guard (Sajda Waite, L).

General Publik (John Roth), with stilt army in tow, addresses the camp visitors (the audience), sounding remarkably like a certain Presidential candidate . . . .

While his younger self (Simon Kowalchuk-Swartz) looks on, COURAGE's idealistic son Billy (Bryan Ritchey) practices martial arts. He's certain he can make the world better, and his family safer, through combating his government's enemies.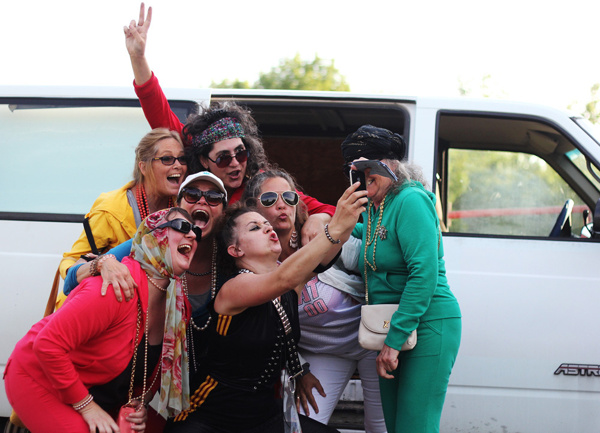 Newly arrived 'fugees take a selfie with Yvette (Jessica Barkl, C), who's smuggled them into the camp and saved their lives.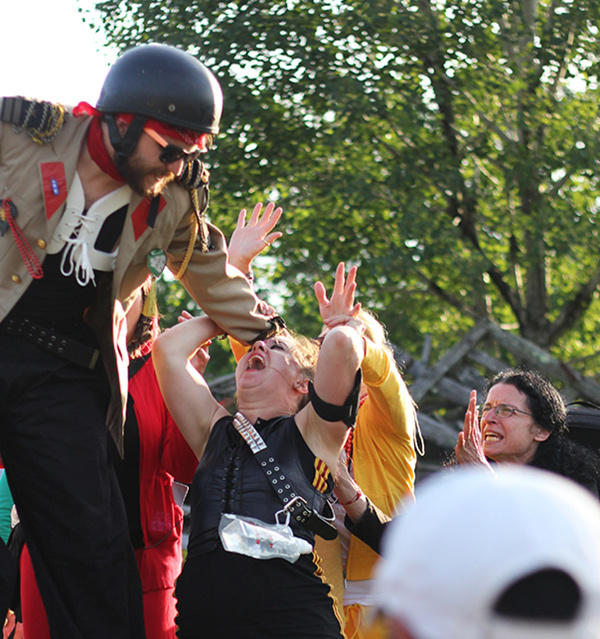 Yvette is arrested. A soldier (Conrado Falco) drags her away.

Distraught, COURAGE and Kyoko still persevere; they lead the visitors onward through the camp.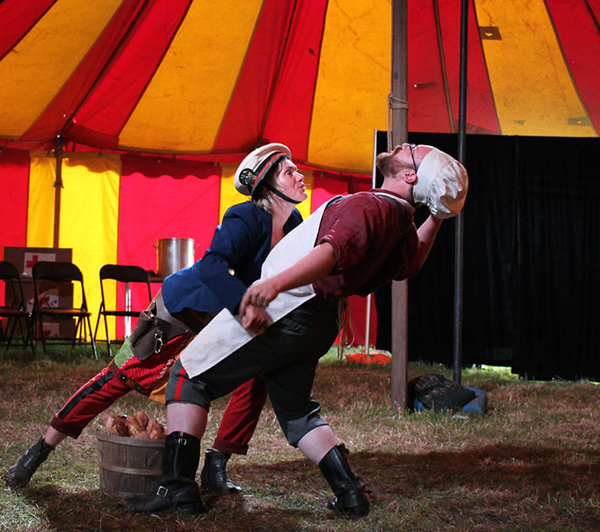 COURAGE and Cook (Bradley Diuguid), a former economics professor, dance and debate in Central Tent.

An entertainment for the visitors: Aristophanes' comedy, Peace. Sajda Waite as a servant, doing an impression of a giant dung beetle . . . !

The god Hermes (Keith McHenry) is persuaded by the chorus's flattery to help them release the goddess Peace from her Zeus-decreed interment.

Peace (Yurika Sase) and the chorus rejoice in Greece's salvation from war's destruction.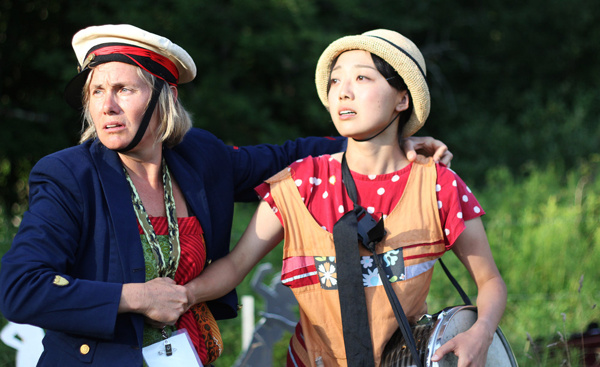 Mother and child go on, though COURAGE's son and Kyoko's brother Billy is killed in the Crisis.