Photo Flash: HOW TO PRAY Makes New York Premiere at Bridge Street Theatre
Upstate audiences are in for a rare treat as Michelle Carter's award-winning comedy "How to Pray" receives its second production ever September 14-24 at Catskill's Bridge Street Theatre.
Winner of the Susan Glaspell Contest for "Best New Play" and a PEN USA Award for Drama, this hilarious and thrillingly theatrical play received its world premiere at the Centenary Stage Company in Hackettstown, NJ in a production which featured actor Steven Patterson as a Cat, a Dog, a Ninety-Year-Old Cancer Patient, and a Karaoke-singing Pre-Op Transsexual Soup Kitchen Worker. "It's one of the most beautifully written and challenging roles I've ever had a chance to play," says Patterson, "and it's a true joy getting the chance to re-visit it again in this new production, the play's New York premiere"
When a young married couple find themselves unable to conceive a child, the husband's sister Faith reluctantly agrees to act as a surrogate. When complications ensue, she finds herself in an ethical and moral quandary for which prayer seems to be the only way out. But she finds she has no idea how to pray. Or to whom. Plenty of others seem to have their own answers to the question of how she should live her life. But in the end, could it be that the relentlessly optimistic dog she's rescued from a shelter is the only one that can teach her what really matters? Michelle Carter's initial inspiration for the play was her uncomfortable reaction to
Jason Reitman
's 2007 film "Juno". "In trying to figure out why I found the movie so dishonest and manipulative, I found myself thinking about ways in which women are being sold a bill of goods - not just by movies, but generally - about how they should live and what kinds of experiences they should find deep and fulfilling." As for the wildly theatrical style in which the play is written, she adds, "I think the kind of plays I Iove most are ones that can ONLY live on the stage. You can go to a play that's like a little movie or TV show episode and think, 'That was nice, but why did I have to shower and drive across town and pay X amount of dollars to have an experience I could have had at home with a streaming service?' My intention for 'How to Pray' - and for all my plays, I guess - is to give audiences an experience that they could only have sitting with other live human beings in one space, together. That experience, for me, can be transcendent in a way that few others can. I guess I'm just interested in exploring how theatre can do things that other arts and media can't." Ms. Carter will be in residence at the theatre during the final week of rehearsals and will be in the audience for the play's September 14th preview and its opening night on September 15th. Appearing alongside
Mr. Patterson
in the cast are NYC actors
Susan Slotoroff
as Faith and Morgan Hooper as Brother, Lover, Kid, NewMommy.com, a Man at a Dog Park, and a Clergyman, with a cameo appearance (on video) as "Alexis" by Bridge Street Theatre favorite
Roxanne Fay
. The production is directed and designed by John Sowle, with costumes by Michelle Rogers, and sound by
Carmen Borgia
. The Production Stage Manager is Caedmon Holland.
Painfully funny and genuinely thought-provoking, "How to Pray" will be presented on the Bridge Street Theatre Mainstage Thursdays-Saturdays at 7:30pm and Sundays at 2:00pm from September 14-24. TheThursday September 14 preview and the Sunday September 17 matinee are both "Pay-What-You-Will" performances. Advance tickets available at http://howtopray.brownpapertickets.com or by calling 800-838-3006. Tickets can also be purchased at the door prior to each performance (on a space available basis) for $25. Students age 21 and under are always $10. The theatre is located at 44 West Bridge Street in the Village of Catskill, NY.
Events at Bridge Street Theatre are supported in part by
The New York
State Council on the Arts with the support of Governor Andrew M. Cuomo and
The New York
State Legislature and by Public Funds from the Greene County Legislature through the Cultural Fund administered in Greene County by the Greene County Council on the Arts. For more information, visit the theatre online at
BridgeSt.org
.
Photo Credit: John Sowle


Steven Patterson as Judi and Susan Slotoroff as Faith in HOW TO PRAY

Susan Slotoroff as Faith and Morgan Hooper as Bill in HOW TO PRAY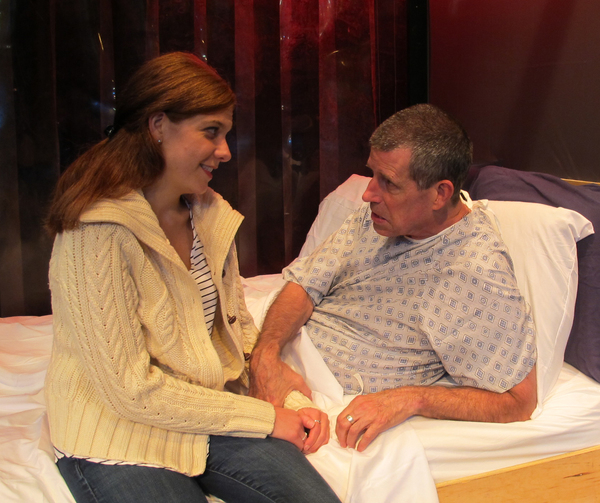 Susan Slotoroff as Faith and Steven Patterson as Frank in HOW TO PRAY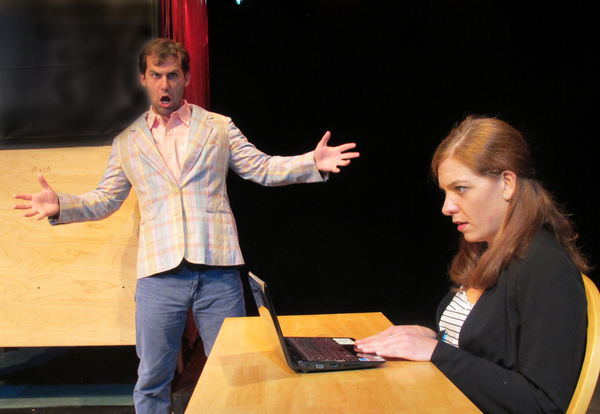 Morgan Hooper as NewMommy.com and Susan Slotoroff as Faith in How to Pray