Photo Flash: Cortland Repertory Theatre's CATS Opens Tonight, 7/11
For the third production in their 41st annual summer season, Cortland Repertory Theatre presents the magical mystical musical "Cats", based on the poetry of T. S. Eliot with music by Andrew Lloyd Webber. The show runs tonight, July 11 through July 28, 2012. Preview the production in the photos below!
From Eliot's book of poems "Old Possum's Book of Practical Cats", this crowd-pleasing musical first opened in London in 1981 and then on Broadway in 1982; it won numerous awards, including both the Laurence Olivier Award and the Tony Award for Best Musical. The London production ran for twenty-one years and the Broadway production ran for eighteen, both setting long-run records. It is now the second longest-running show in Broadway history, and the fourth longest-running West End musical. It has been performed around the world and has been translated into more than 20 languages.
This exciting and unique show is unlike any other in the world of musical theatre. Told entirely in song and dance, it introduces a tribe of "cat characters" called "The Jellicles", who prove to be as distinctive and full of personality as the animals are in real life. On the night of the Jellicle Ball when the cats gather together in the back alley outside an abandoned theatre, they make "the Jellicle choice", which is to decide which cat will ascend to the Heaviside Layer and come back to a new life. A large grey tabby called Munkustrap explains that they are waiting for their leader, the wise Old Deuteronomy, to make this final decision. One by one, the cats step forward to introduce themselves. Trouble starts when the villainous Macavity appears and "cat-naps" Old Deuteronomy. The tribe calls on the magical Mr. Mistoffelees to find their leader, and soon under the light of a full moon, one cat is chosen to be reborn. Best known for the song "Memory", the show contains a variety of musical styles and beautiful dance numbers.
Directing and choreographing this challenging production is Barbara Hartwig, making her CRT debut. Hartwig is currently the resident artist and choreographer at Coastal Carolina University, and also works as a professional actress, singer and dancer. She has performed on Broadway, danced with the San Antonio Ballet Company and with Baryshnikov at the White House and at the Kennedy Center, and has toured both nationally and in Europe. She has served as a staging specialist for Walt Disney World and has directed and choreographed over 60 productions professionally. "Cats" music direction is handled by Joel Gelpe, who is the current musical director and accompanist at Ithaca College. Gelpe served as Music Director for the national tours of "Evita", "42nd Street", and "A Chorus Line" and has played keyboards for Broadway and Disney productions. He is also the composer and lyricist of many original musicals.
"Cats" cast members include a mix of returnees to CRT and many young dancers/singers making their CRT debuts. Playing Grisabella is Emily Brockway, last seen as leading lady Fiona in CRT's "Brigadoon", for which she was nominated for a SALT Award. Homer resident Kim Hubbard, also seen in "Brigadoon" and a long-time director of the "CRT Kids" shows will play Asparagus (or "Gus"), the theatre cat. Rin Allen, last seen as Rizzo in "Grease" and as a SALT Award nominee for "Chicago", will play Bombalurina. Matt Couvillon, last seen in CRT's "Pajama Game" and "Brigadoon" will play Skimbleshanks the Railway Cat. CRT's Performing Interns step into the spotlight, after having last been seen in "Grease": Alexander Hulett as Munkustrap, Parker Slaybaugh as Mr. Mistoffelees, Alexa Shanahan as Jennyanydots, Avery Epstein as Victoria, Abby Sheridan as Sillabub, and Chris Collins as Tumblebrutus. Actors currently being seen in CRT's "Grease" who will also be in "Cats" include Abigail Gatlin as Demeter, Ryan Shaefer as Rum Tum Tugger and Maria Cristina Slye as Rumpleteazer. Making their CRT debuts are Richard Wagoner as both Old Deuteronomy and Bustopher Jones, Stephen Brower as Alonzo, Katherine Margo Brown as Cassandra, Conor DeVoe as Mungojerrie, Jonathan-Blake Flemings as Pouncival, Amanda Lee Myers as Jellylorum, and James Wells as both Plato and Macavity.
Stage Manager Eric Behnke leads the production staff, which includes returnees from CRT's "Grease" including Scenic Designer Jason Bolan, Costume Designer Jimmy Johansmeyer, Lighting Designer Shawn Boyle, Sound Designer Seth Asa Sengel, and Props Mistress Danielle Hodgin. Patrick McGovern continues as Technical Director as does Natasha Thompson as Assistant Stage Manager.
For tickets and more information, visit www.cortlandrep.org.
Photos courtesy Cortland Repertory Theatre.


The Cast of CRT's CATS

Avery Epstein as Victoria, Maria Cristina Slye as Rumpleteazer, Ryan Shaefer as Rum Tum Tugger, Katherine Margo Brown as Cassandra and Abby Sheridan as Sillabub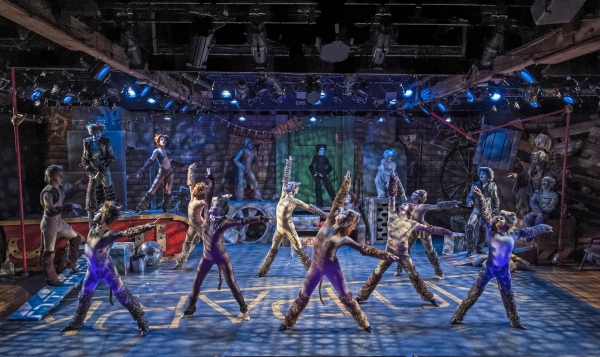 The Cast of CRT's CATS

Amanda Lee Myers as Jellylorum, Kim Hubbard as Gus the Theatre Cat, and Abby Sheridan as Sillabub

Emily Brockway as Grizabella

More Hot Stories For You