Photo Flash: André De Shields Honored at 34th Annual OZ-Stravaganza
Two-time Tony Award nominee André De Shields, who created the title role in the hit Broadway musical THE WIZ, has just returned from Chittenango, New York where he was a Special Guest of Honor at the 34th Annual OZ-Stravaganza weekend. This village, just outside Syracuse, New York, is the birthplace of L. Frank Baum who is best known for writing The Wonderful Wizard of Oz, which became the classic 1939 MGM film starring Judy Garland.
Check out photos from the event below!
This annual event in the author's hometown is designed to educate Oz fans in the writings of L. Frank Baum and other Oz authors; promote research about authors, illustrators, other works related to Oz; encourage original writing and other forms of expression about Oz; and honor L. Frank Baum as Chittenango's hometown treasure.
In his capacity as Special Guest, De Shields brought along the original costume he wore in the 1975 Broadway production (body-hugging white jumpsuit; aviator cap and glasses, 5" high white platform boots) – in mint condition – which he donned for the Parade. He also donated some of his WIZ memorabilia to the towns All Things Oz Museum, including his Emerald Green WIZ glasses, a one-of-a-kind WIZ t-shirt and baseball cap, signed autographs and mingled with thousands of international Oz fans of all ages.
THE WIZ originally opened at Broadway's Majestic Theatre in January, 1975 and won Seven Tony Awards including Best Musical. De Shields is now on a mission to remind the world of the potent legacy of THE WIZ and preserve its place in history as a classic musical. He has begun to assemble materials for a book.
De Shields met the other special guests at the event – including one of the last surviving original Munchkins, 89 year old Margaret Pellegrini "The Flower Pot Munchkin," Munchkin-by-marriage Myrna Swensen (her late husband Clarence Swensen was a Munchkin soldier); Caren Marsh-Doll (Judy Garland's stand-in for the MGM film); and Robert and Clare Baum (Robert Is the great grandson of L. Frank Baum). Also attending was Gregory Maguire, author of the original Wicked book (on which the Broadway musical by Stephen Schwartz is based), who served as Grand Marshall.
The Oz-Stravaganza is an annual event. To learn more about the event and the All Things Oz Museum, visit www.oz-stravaganza.com. And for more about De Shields, visit www.andredeshields.com.
Photo credit:
Merle Frimark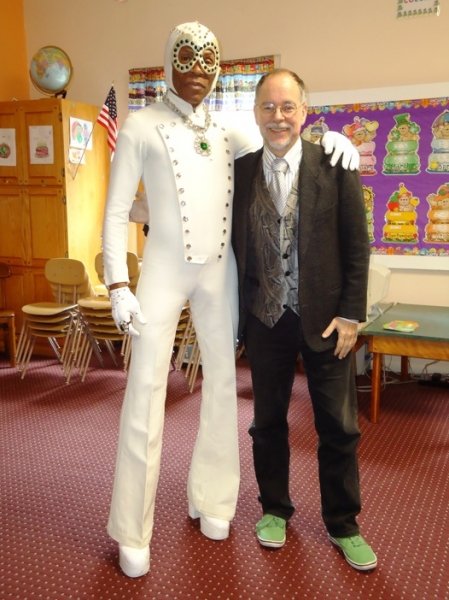 Andre De Shields in WIZ Costume and WICKED author Gregory Maguire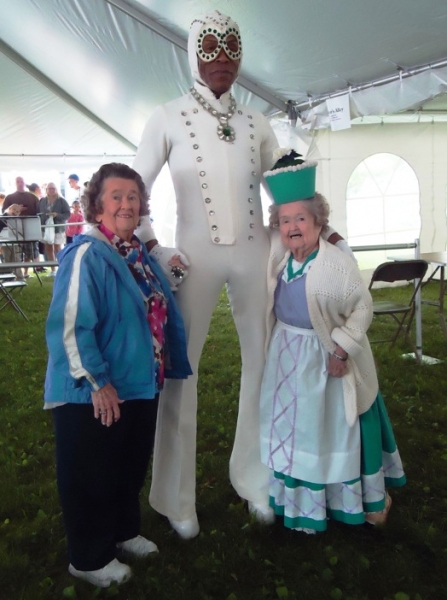 Andre De Shields with Munchkins Margaret Pellegrini and Myrna Swensen