OUR TOWN Comes to Syracuse Stage Next Month
Performances run Wednesday, March 29 through Sunday, April 16 at Syracuse Stage in the Archbold Theatre.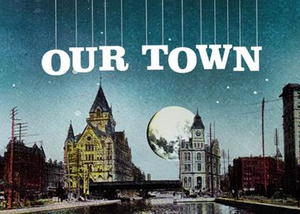 Syracuse Stage Artistic Director Robert Hupp and Managing Director Jill Anderson announced the next production in their 2022/2023 season, and it's one for the ages. Thornton Wilder's cherished and frequently produced play, Our Town, runs Wednesday, March 29 through Sunday, April 16 at Syracuse Stage in the Archbold Theatre. Robert Hupp will direct the production.
Noted actor of stage, TV, and film, Jim True-Frost will play the seminal role of the Stage Manager in Our Town. Best known for his portrayal of Roland "Prez" Pryzbylewski in the HBO series The Wire, True-Frost also starred as James Woodrow in Treme and as George Buxton in Homicide: Life on the Street. He's appeared in such films as Singles, The Hudsucker Proxy, and Affliction, and is a company member at the famed Steppenwolf Theatre Company. Jim True-Frost and his family are current residents of Syracuse, New York.
An American masterpiece, Our Town is described by the Wilder as, "an attempt to find value above all price for the smallest events in our daily life." The playwright succeeded with this graceful and poetic play that reminds us to cherish every moment we're together and to embrace the true wonder (and brevity) of being alive. Famous actors of stage and screen have taken on the challenging role of the Stage Manager, including Paul Newman, Spalding Gray, Henry Fonda, and Helen Hunt.
Syracuse Stage Artistic Director and the director of Our Town, Robert Hupp says, "Our Town is among my favorite plays, and I am delighted to return to it here at Syracuse Stage. It is a play of eternal, aching beauty. And while its themes are transcendent, I believe it is important to shape our production in ways that speak to Central New York today. It's intentional that of the 20 actors in our cast, 17 call Central New York home. Working together with our amazing design team, we look forward to bringing this timeless and timely classic to life for our audience."
Our Town is written by Thornton Wilder. The play is directed by Syracuse Stage Artistic Director Robert Hupp. In addition to Mr. True-Frost, the cast features Michael Stewart Allen as "Dr. Gibbs," Alberto Bonilla as "Mr. Webb," and Ché Lyons as "Mrs. Gibbs," and Christine Albright-Tufts as "Mrs. Webb." The ensemble cast is made up of Blake Segal, Michael Barbour, Ricky Pak, Danyon Davis, Whitney Pak, Lilli Komeruk, Derek Powell, Ahmanee Simmons, and Donovan Stanfield. The design team for Our Town includes Scenic Designer Jason Ardizzone, Costume Designer Tracy Dorman, Lighting Designer Yael Lubetzky, Sound Designer Michael Keck, and Movement Consultant Danyon Davis. Stuart Plymesser is stage manager.
Scenic Designer Jason Ardizzone is an Emmy Award winning set designer (NBC's concert production of Jesus Christ Superstar) and is working on the set design for Adele's Radio City concert event among other notable achievements. Our Town sound designer, Michael Keck is also composing an original score for the Syracuse Stage production.
Our Town runs Wednesday, March 29 through Sunday, April 16, 2023. All evening performances begin at 7:30 p.m. while all matinee performances begin at 2 p.m. Tickets start at $30 with discounts available for students and groups. Tickets can be purchased by visiting SyracuseStage.org, by calling 315.443.3275, or by visiting the Syracuse Stage Box Office at 820 East Genesee Street.
On Saturday, April 1 and Sunday, April 2, Syracuse Stage will host the Our Town Vendor Fair. Join community friends at this two-day event in the lobby before and after the show as artisans and small-business owners display products for sale ranging from jewelry to beauty products and decorative items to home goods. The Our Town Vendor Fair is free, and all are welcome.
Pay-What-You-Will performances for Our Town are March 29 - April 2 inclusive; Prologue conversations, three pre-show discussions that take place one-hour before curtain time on April 2, April 8, and April 13; the Post-show Sunday Discussion will take place on Sunday, April 2 after the 7:30 performance. Syracuse Stage has its open-captioned performances scheduled for April 5 at 2:00 p.m. and April 15 and 16 at 7:30 p.m. and 2:00 p.m. respectively, as well as an audio-described performance on Saturday, April 15 at 2:00 p.m.
Season support for Syracuse Stage is made possible by the Dorothy and Marshall M. Reisman Foundation, Advance Media New York, and The Slutzker Family Foundation.