MILLION DOLLAR QUARTET Returns to Geva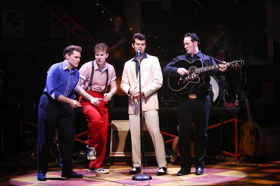 Last season's hit musical, Million Dollar Quartet, is back by popular demand for a strictly limited run in the Elaine P. Wilson Stage, from June 14 to July 8. With book by Floyd Mutrux and Colin Escott, based on an original concept by Floyd Mutrux and inspired by the music of Elvis Presley, Johnny Cash, Jerry Lee Lewis and Carl Perkins, Million Dollar Quartet is directed by Tony Award Nominee Hunter Foster.
On December 4, 1956, four young musicians got together at Sun Records in Memphis for what would become one of the greatest jam sessions ever. Put on your blue suede shoes and join Jerry Lee Lewis, Elvis Presley, Johnny Cash and Carl Perkins for the recording session of a lifetime. Loaded with classic rock 'n roll hits such as "Great Balls of Fire," "Sixteen Tons," "I Walk the Line," "Hound Dog" and many more.
Last year, Geva Theatre Center closed the 2016-2017 ESL Wilson Stage Season with this sell-out hit which was extended by an additional week to accommodate patrons who wanted to see the show for the first, second (or even third) time. Over 20,000 patrons flocked to the show which features nearly 30 hit rock 'n' roll tunes.
Created by film producer, writer and screenwriter Floyd Mutrux, with a book by Mutrux and rock 'n' roll historian Colin Escott, the worldwide phenomenon that isMillion Dollar Quartet premiered at Florida Seaside Music Theatre in 2006. Following productions at the Village Theatre in Washington State and a limited run at The Goodman Theatre in Chicago, it transferred to Chicago's Apollo Theatre 2008. It celebrated its 2500th performance there in September 2014. In 2010 it opened at Broadway's Nederlander Theatre where it ran for over a year and was nominated for three Tony Awards including Best Musical and Best Book of a Musical. The Off-Broadway production opened in 2012 and ran for a year at New World Stages. The West End production of Million Dollar Quartet opened in February 2011 and ran at the Noel Coward Theatre for nearly a year. The show has toured the US, Canada, Australia, New Zealand and the UK.
Million Dollar Quartet begins performances June 14 and runs in the
Wilson Stage through July 8.
Photo: John Michael Presney, Taylor Gray, Trent Rowland, and Sky Seals in Geva's 2017 production of Million Dollar Quartet, directed by Hunter Foster. Photo by HuthPhoto.
PERFORMANCE SCHEDULE
PREVIEWS: Thursday, June 14 @ 7:30pm
Friday, June 15 @ 8pm
Saturday, June 16 @ 2pm (Open Captioned Performance)
OPENING NIGHT: Saturday, June 16 @ 8pm
PERFORMANCES:
Sunday, June 17 @ 2pm & 7pm
Tuesday, June 19 @ 6pm
Wednesday, June 20 @ 7:30pm
Thursday, June 21 @ 7:30pm
Friday, June 22 @ 8pm
Saturday, June 23 @ 3pm & 8:00pm
Sunday, June 24 @ 2pm & 7pm
Tuesday, June 26 @ 7:30pm
Wednesday, June 27 @ 7:30pm
Thursday, June 28 @ 7:30pm
Friday, June 29 @ 8pm
Saturday, June 30 @ 3pm & 8:00pm
Sunday, July 1 @ 2pm (Audio Described performance) and 7pm
Tuesday, July 2 @ 7:30pm
Wednesday, July 4 @ 2pm (Opened Captioned Perfs)
Thursday, July 5 @ 7:30pm (ASL Interpreted Performance)
Friday, July 6 @ 8pm
Saturday, July 7 @ 3pm & 8:00pm
Sunday, July 8 @ 2pm & 7pm
TICKET PRICES: Start at $25
RESERVATIONS: (585) 232 GEVA (4382), Website: www.gevatheatre.org
LOCATION: Geva Theatre Center, 75 Woodbury Blvd, Rochester, NY 14607
*Open captioning provided with support from Hearing Loss Association of America - Rochester Chapter.
Geva Theatre Center
Founded in 1972, Geva Theatre Center is a not-for-profit, professional theatre company dedicated to creating and producing professional theatre productions, programs and services of a national standard. As Rochester's leading professional theatre, Geva Theatre Center is the most attended regional theatre in New York State, and one of the 25 most subscribed in the country, serving up to 160,000 patrons annually, including more than 16,000 students.
The 516-seat Elaine P. Wilson Stage is home to a wide variety of performances, from musicals to American and world classics. The 180-seat Ron & Donna Fielding Stage is home to Geva's own series of contemporary drama, comedy and musical theatre; Geva Comedy Improv; Geva's New Play Reading Series and the Hornets' Nest - an innovative play-reading series facilitating community-wide discussion on controversial topics. In addition, the Fielding Stage hosts visiting companies of both local and international renown.
Geva Theatre Center offers a wide variety of educational, outreach and literary programs, nurturing audiences and artists alike. Since 1995, the organization has been under the artistic direction of Mark Cuddy.