Indie-Pop Musical Kicks Off the Kitchen Theatre's 28th Season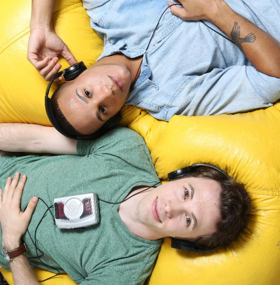 Kitchen Theatre Company begins its 28th Season with a musical! Girlfriend, with book by Todd Almond and music & lyrics by Matthew Sweet, is a story about first love, told through the music of singer-songwriter Matthew Sweet. Performances of Girlfriend begin at the Kitchen Theatre Company in the Percy Browning Performance Space on September 9th and run through September 30th.
Girlfriend takes place in the summer of 1993 in small town Nebraska. Mike and Will have just graduated from high school and couldn't be more different: Mike is an athlete, headed off to college in the fall; Will is a quiet boy who doesn't know where he's headed next. But when they start to get to know each other that summer, everything changes for both of them. Based on the Matthew Sweet album of the same name, Girlfriend captures the thrill of first love-and how we discover each other and ourselves through the mixtapes we make.
Girlfriend features two Kitchen Theatre newcomers. Jonathan Melo, who plays Will, is an actor, singer-songwriter, and dancer who recently graduated from Marymount Manhattan College with a BA in Acting and a minor in Musical Theatre. His recent credits include the 2018 Super Bowl commercial Everyday Athletes and roles on television and stage: CBS's Blue Bloods; the new play Alexandria by Vince Gatton; and the National Tour of the musical SkippyJon Jones: Snow What?!byEmmy Award Winner Kevin Del Aguilar. Woody White, playing Mike, is an actor, singer, and dancer with a deep passion for both stage and film. He graduated from Brigham Young University with a BFA in Music Dance Theater and has since been seen performing in the New York Theater Festival's production of The Suicide Journals after finishing a contract with the Disney Cruise Line. Favorite roles include Lumiere in Disney's Beauty and the Beast, Franklin Shepard in Merrily We Roll Along, and Fernand Mondego in the U.S. Premiere of Frank Wildhorn's The Count of Monte Cristo.
Directing the play is Kitchen Theatre Company Producing Artistic Director M. Bevin O'Gara. O'Gara says, "Girlfriend is all about falling in love for the first time and all the things that are impossible to say to each other. You'll fall in love with the two young men at the heart of this story and you'll be humming the music they connect through for days afterwards. I'm so looking forward to kicking off our season with this charming and sweet musical."
The music director and pianist, Mason McDowell, is a songwriter, actor, and wearer of many hats. Regional credits include The Grapes Of Wrath, The Sound of Music, and Fiddler On The Roof, all at Syracuse Stage. In NYC, he has performed at Rockwood Music Hall, Arlene's Grocery, The Shrine, and as a featured songwriter in the New York Songwriters Circle in Greenwich Village. Choreography is by Ms. Harmony Malone, an Ithaca College alum who has choreographed pieces for people of all ages throughout Tompkins County since 2007, most recently Hairspray and Songs for a New World for Running to Places Theatre Company. Completing the creative team are Lighting Designer Bridget K. Doyle, Scenic Designer Daniel Zimmerman, Sound Designer Sean Woods, Costume Designer Megan Parker, and a live, four-piece rock band: Paula Arzac Baird (bass), Ian Cummings (drums), Thom Dunn (guitar), and Mason McDowell (piano).
"I am in love with this play," says Scenic Designer Daniel Zimmerman. "I saw the original production at Actors Theatre of Louisville and was blown away. It was quite amazing to witness the audiences' reaction - this story about first love seemed to transcend sexual orientation. The audience was literally jumping out of their seats, and the sold out production extended. It instantly became one of my favorite pieces of theatre, so naturally, when Bevin asked if I was interested in working on it, I immediately said yes!"
Special events for Girlfriend include Pay What You Can Nights on September 9 and 11 and Actors' Forum discussions after the shows on September 14 and 21. Opening Night of Girlfriend is on September 13 and includes a post-show reception with delicious food and drink. On Tuesday, September 25, our Press Play series, a collaboration with Cinemapolis, continues with a showing and discussion there of the film Across the Universe. For more events and information, visit kitchentheatre.org.
The Co-Producer for Girlfriend is Viva Taqueria. The appearance of Jonathan Melo is made possible with generous support from Elissa Cogan and Barry Chester. The Media Sponsor is Cayuga Radio Group.