'Cozy, Effective Little Chiller' Up Next On The Kitchen Theatre Stage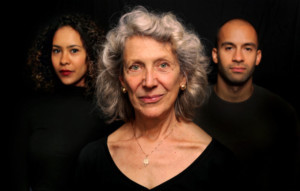 The Kitchen Theatre Company (KTC) presents its second show of the 2018-19 Season: The Piano Teacher by Julia Cho, a play the New York Times called "A cozy, effective little chiller." The Piano Teacher is a haunting story of elusive truths that explores the power of memory-both those we recall and those we've chosen to forget. Performances of The Piano Teacher begin at the Kitchen Theatre Company in the Percy Browning Performance Space on October 21st and run through November 4th. Opening night is Thursday, October 25th.
The play centers on Mrs. K, a woman who has retired after teaching piano in her living room for 30 years. Alone and curious about what became of the children she once saw weekly, Mrs. K picks up the phone, calling former students in the hopes they'll come for a visit and a cookie. When a former prodigy arrives at her doorstep, the memories of happy afternoons by the piano quickly unravel in the face of a truth darker than anything she could have imagined.
KTC is pleased to welcome to our stage for the first time, theatre, film, and television actress Beth Dixon (Mrs. K). Her credits include the Broadway productions of Major Barbara and Wrong Mountain, many Off-Broadway and regional theatre productions, and film and television credits including Non Stop, Zero Hour, Off-Ramp, Ballad of the Sad Café, The Good Wife, Law and Order, and more.
Dixon is joined by two actors who are also new to KTC. Matthew J. Harris (Michael), who plays Mrs. K's former student, is an actor, dancer, and choreographer. Harris's theatre credits include Milk Like Sugar,Tartuffe, and Topdog/Underdog (Huntington Theatre Company), In the Heights (Walnut Street), and A Midsummer Night's Dream (Classical Theatre of Harlem). Television credits include Blindspot and Person Of Interest. Next up he will be returning to the Huntington Theatre Company for Romeo and Juliet, playing Mercurio. Amelia Windom (playing Mary Fields, another of Mrs. K's former students) is a theatre and film actress. Selected theater credits: A Christmas Carol, Coffee Break, Maybe One Day He Will Get Divorced (Actors Theatre of Louisville); Wondrous Strange (Humana Festival of New American Plays); ... An Unnamed Love/Suicide (Access Theatre); Chamber Music (St. Johns, new ending written and workshopped with Arthur Kopit); and A Midsummer Night's Dream (PTC).
Directing the play is Diego Arciniegas, Senior Lecturer of Theatre Studies at Wellesley College and former Artistic Director of the Publick Theatre Boston. Scenic and Lighting Design is by Ithaca College Theatre professor Steve TenEyck, designer of over twenty-five productions at the Kitchen. Costumes are by Emily Woods Hauge, and Sound Design is by Fan Zhang.
"This is a little Rorschach Test of a play that reveals as much about the viewer as it does the story at hand," says Director Arciniegas. "What I love most is how Julia Cho plays with our expectations, tells us just enough to pierce the mystery. But when we think we've got it figured, she surprises us with an elephant in the living room so large we can only wonder at ourselves and marvel at what we choose not to notice or even remember. Designer Steve TenEyck and I decided to come at it as a memory play. Real memories, faulty memories, memories we choose to forget, and possibly even things only imagined, collide as our central figure attempts to recall the truth of the past. Of course the play couldn't be more timely or topical, and current events have given it an unusual resonance, but that only underscores the the universality of the writing."
"Not only do we have a stellar cast and creative team," adds Kitchen Theatre Producing Artistic Director M. Bevin O'Gara, "but Julia Cho's finely tuned play surprises me each and every time I encounter it. And at the heart of the story, actor and play meet in Beth Dixon's stunning portrayal of Mrs. K, the piano teacher. I don't want to give too much away, but what I can tell you is: this is a performance not to be missed. The story, and the way it's told, is unparalleled. I cannot wait to share this multi-layered play of twists and turns with our audience."
Special events for The Piano Teacher include Pay What You Can Nights on October 21 and 23 and Actors' Forum discussions after the shows on October 26 and November 2. Opening Night of The Piano Teacher is on October 25 and includes a post-show reception with delicious food and drink. For more events and information, visit kitchentheatre.org