Casey Garvin, Paige Faure, and More Lead Cast of FROM HERE TO ETERNITY Workshop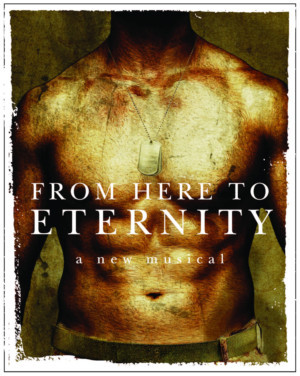 Multiple award-winning film and theatre lyricist Tim Rice, in conjunction with the Finger Lakes Musical Theatre Festival, will present an industry-only NYC development workshop of his new musical, From Here To Eternity.
From Here to Eternity features a new book by Donald Rice (based on the original London book by Bill Oakes), lyrics by Tim Rice, music by Stuart Brayson.
Directed and choreographed by Brett Smock, the From Here to Eternity workshop will feature musical direction by Vadim Feichtner, projection design by Christopher Ash, lighting design by Dan Ozminkowski, sound design by Kevin Heard, scenic elements by Stanley Meyer and costume elements by Tiffany Howard. Produced by Heartaches, Ltd. and the Finger Lakes Musical Theatre Festival. The January 2019 workshop will feature a fully staged version of the show with minimal scenic and production elements. For more information, please email info@5ee.nyc.
The cast will feature Casey Garvin as Robert E. Lee Prewitt; Paige Faure as Lorene; Jenny Hill as Karen Holmes; Kevin Aichele as Sgt. Milt Warden; Michael Tacconi as Pvt. Angelo Maggio, Patrick Boll as Captain Holmes, Jodi Kimura as Mrs. Kipfer, Jayson Speters as Cpl. Bloom, Tom Paolino as Sgt. Galovitch and Geoffrey Allen Murphy as Sgt. Judson. The ensemble will include: Jon Hacker, Michael Burrell, Travis Przybylski, Angela Travino, Aleka Emerson, Matthew Lieff Christian, Geena Quintos, Pepe Nufrio, Jacob Roberts-Miller, Aidan Wharton, Patrick Connaghan, Danny Lindgren, Matthew Healey, Rachel Schimenti, Amanda Robles, Anna Kostakis and Rachel Wong.
November 26, 1941. Six aircraft carriers depart Japan heading east for Hawaii to execute their devastating mission. That same morning, the men of G Company set about their daily duties restless and disgruntled, trapped in Hawaii, itching to join the war. Private Robert E. Lee Prewitt, a rebellious but soulful prize fighter, arrives new to G Company. His recruitment is strategic - to win the boxing competition and bring new pride and visibility to Captain Holmes and his regiment. When Prewitt refuses to fight, he becomes a target and must endure a series of monotonous and cruel punishments designed to coerce him back into the ring. As the ships make their way toward Hawaii, the musical charts a suspenseful and chilling course. Its hero embarks on a passionate love affair with an alluring escort girl, paralleling a dangerous relationship between his platoon sergeant and the Captain's wife. As the infamous date approaches, the claustrophobic world of the four lovers and the desperation of the soldiers of G Company splinter amidst an escalating war. From Here to Eternity is a compelling and visceral portrait of humanity, duty and redemption set against the backdrop of a beautiful but conflicted paradise.
From Here to Eternity opened on London's West End on Sept. 30, 2013, running at the Shaftesbury Theatre through March 29, 2014. With significant changes made to the show, the musical made its North American premiere at the Finger Lakes Musical Theatre Festival under the direction of Producing Artistic Director, Brett Smock. The production received a very enthusiastic response and continued its development at the Ogunquit Playhouse in Maine in October 2017.
Four hours from New York City and situated between Syracuse, Rochester and Ithaca, the Finger Lakes Musical Theatre Festival is one of the largest producing musical theatre organizations in New York state, outside of New York City. The Festival is headquartered in The Town of Auburn, NY - set in the picturesque Finger Lakes wine region of Central New York - and operates on multiple stages. Named in 2016 by the New York Times as one of the "Top 15 Summer Theater Festivals," the organization just celebrated its 60th Anniversary season. The Finger Lakes Musical Theatre Festival provides top-notch education and enrichment to over 125,000 students each year and to over 60,000 patrons each summer and is routinely recognized by industry press for its artistry and execution.