CRT Closes Summer Season With Regional Premiere Of THE RAT PACK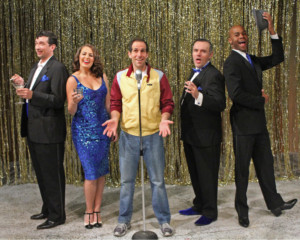 Cortland Repertory Theatre closes their 47th annual summer season of professional live theatre with the regional premiere of the musical "The Rat Pack Lounge", written by James Hindman and Ray Roderick, with musical arrangements by John Glaudini. An important notice about this production: performances will be held not at the Little York Pavilion, but at CRT Downtown, 24 Port Watson Street in downtown Cortland!
Performances will run from August 29 - September 8 with evening show times at 7:30. Matinees are available on August 31st, September 2nd, 5th and 6th at 2:00 PM. Tickets may be purchased by calling 800-427-6160 or at the CRT Box Office at 24 Port Watson Street in Cortland. Tickets are also available for sale 24 hours a day through the CRT website using ETIX at www.cortlandrep.org. CRT cautions that this is the only approved online ticket service; other online sites charge significantly higher rates for tickets and are NOT approved by CRT.
Frank Sinatra, Dean Martin and Sammy Davis Jr. are back in this charming, song-filled musical that mixes It's a Wonderful Life with Ocean's Eleven in a swanky martini glass! Frank, Dean and Sammy are up in heaven, but God tells them they left some unfinished business back on Earth. It seems Frank made an unfulfilled promise to Vic Candelino, the owner of the Rat Pack Lounge. Now he and the boys have one night to make things right, by taking over the bodies of the bar's janitor, and a barfly businessman and his chauffer. With over 30 hit songs, including Come Fly With Me, What Kind of Fool Am I, Amore, One For My Baby, High Hopes and more, audiences will be singin', swingin' and savorin' the days of highballs and high rollers!
The Rat Pack Lounge is directed by Mark Reynolds, who at CRT previously directed Newsies, Footloose, The Kitchen Witches and the children's productions of Dorothy Meets Alice, The Velveteen Rabbit and Pinocchio. Cynthia Halpin choreographs, having previously worked on The Full Monty, Brigadoon, Joseph....Dreamcoat, and others. Joel Gelpe returns as music director, having worked on Newsies, 1776, A Chorus Line and others at CRT. The cast is comprised of five talented performers, including returning CRT favorite Marcus Goldhaber as Vic Candelino, the Rat Pack Lounge nightclub owner. Besides performing with his jazz band at CRT Downtown, Goldhaber has appeared in CRT's 1940's Radio Hour, The Pajama Game, Leading Ladies, and Over the River and Through The Woods. Making their CRT debuts are Jason Plourde as William Saunders (Frank Sinatra), Matthew Krob as Jeorge Rodriques (Dean Martin), Scotland Newton as Bobby Goldberg (Sammy Davis Jr.) and Blaire Baker as Katherine Kerr (Angie).
Wrapping up their behind-the-scenes summer work at CRT is Stage and Company Manager Timothy James, Lighting Designer Eric Behnke, Props Designer Andrew Carney, Sound Designer Seth Asa Sengel and Costume Designer Orli Nativ. Taking over as Technical Director for this production is Michael Strickland, with Scenic Design handled by Adam Crinson, returning to CRT from his work last year on Life Could Be a Dream.
CRT continues "Friday Night Talk Backs" at which a Q & A session with the actors, designers and crew takes place after select Friday evening performances. Early Bird Subscriptions and Flex Passes for the 2019 Summer Season are currently available until October 8th. Call 800-427-6160 or visit www.cortlandrep.org for more information.