YOU'VE GOT THAT THING! Celebrates Cole Porter At The Triad Theater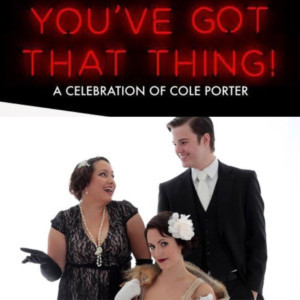 Celebrate the life of musical prodigy, Cole Porter, with those who knew him best: his muse Ethel Merman (Analisa Bell), his wife Linda (Alexandra Foley) and Edward, a young writer who embodies the essence of all his male lovers (Quinn Martin). A show where anything goes, You've Got That Thing! A Celebration of Cole Porter is happening at The Triad Theater on Saturday, March 30 at 9:30pm.
Written by Australian duo Izaak Lim and Nick Maclaine, You've Got That Thing! premiered in Perth, Australia, to the delight of critics. Bell has been with the production since the beginning, and went on to produce a season at Melbourne's The Butterfly Club in 2014. She is excited to be mounting the show, albeit for one night only, in NYC!
Featuring classics like Night and Day, Let's Do it, Let's Fall in Love, Anything Goes, and, of course, You've Got that Thing!, this delightful show has humor, pathos, and a glorious soundtrack.
Analisa Bell studied at the prestigious Western Australian Academy of Performing Arts, and has since performed in a number of musicals and theatre productions in Oz, including Oklahoma, Les Miserables and The Vagina Monologues (2007 ITA Best Actress Award, Australia). As an acclaimed cabaret performer, she toured the cabaret and festival circuits in Melbourne, Sydney and Perth before moving to NYC at the end of 2014. She is an Alumni of the International Cabaret Conference at Yale, won the 2015 Annual Broadway Spring Festival Cabaret Competition, was a Semi-Finalist in the 2016 and 2017 MetroStar Challenges at the Metropolitan Room, and has performed at the Metropolitan Room, The Duplex and 54 Below. She is currently mentored by Tony Award-winner, Faith Prince. Find out more at http://www.analisabell.com
Alexandra Foley is an Australian soprano and recent graduate from the Master's of Music Program at NYU Steinhardt. Regional: She Loves Me (Amalia), The 25th Annual.. Spelling Bee (Rona), Pump Boys and Dinettes (Rhetta). NYU:On the Town (Claire de Loone), The Boys from Syracuse (The Courtesan), Broadway Smash: The Iconic Overtures(Mama Rose/Reno Sweeney), Sister Act (Mary Martin of Tours) Australia: A Midsummer Night's Dream - Opera(Helena), HMS Pinafore (Hebe), The Last Five Years (Cathy).Workshops: Life Of The Party, Postcard American Town, Melba. Education: NYU Steinhardt (M.Mus), Western Australian Academy of Performing Arts (B.Mus, PGDip).
Quinn Martin is a Los Angeles native and has performed all over the world as a dancer in The Lord of the Dance. Favorite roles include Corny Collins (Hairspray), Man in the Chair (Drowsy Chaperone), Lumiere (Beauty and the Beast), Will Parker (Oklahoma!), and Snoopy (You're a Good Man...) He recently starred in a short film called Arm's Length and was featured in The Americans, Maniac, Madame Secretary, as well as the upcoming feature film Motherless Brooklyn, and HBO's upcoming limited series, The Undoing. He has worked as a parade performer at Disneyland, a Zombie at Universal Studios and Bell Caroller at Disney's California Adventure.