Vivian Reed Celebrates Lena Horne For Her Centennial At Feinstein's/54 Below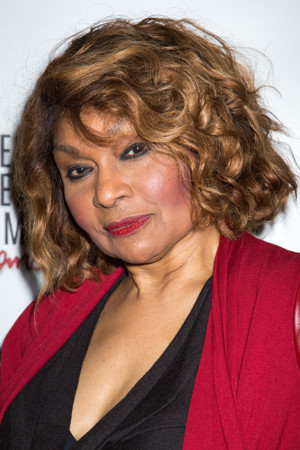 Vivian Reed, the two-time Tony Award-nominated Broadway star and concert artist called "remarkable and ferocious" by The New York Times and "a force of nature" by The New York Post, will continues her tribute to entertainment icon Lena Horne in a special centennial celebration at Feinstein's / 54 Below. For one more show on Wednesday, March 7, Reed will offer high-energy, fearless renditions of Lena classics such as "Stormy Weather," "The Lady is a Tramp," "A Fine Romance," "I've Grown Accustomed to His Face" and "On A Wonderful Day Like Today." She is accompanied by an all-star quartet featuring Conductor William Foster McDaniel on piano, Calvin Jones on bass, Damon DueWhite on drums and Don Tipton on guitar. Earlier this season, Vivian received the Mabel Mercer Award from the Mabel Mercer Foundation at Jazz at Lincoln Center.
The evening honoring Lena Horne received rave reviews when it was introduced to New York earlier this season. According to All About Jazz, "she balances scintillating wit and inspiration-both hallmarks of her artistry." Times Square Chronicles calls the show "an exciting and emotional evening of music and conversation." Cabaret Scenes said "she performed an extremely emotional 'Stormy Weather' that showed off her truly remarkable range, and received a standing ovation from the overflow crowd." The Broadway Blog simply exclaimed "Don't miss it!"
When the show premiered in Pittsburgh earlier this year, the Pittsburgh Courier raved "full of sass, jazz, soul and a deep down homegirl style, Reed has a unique ability to take her fans back to the time when music told a story of love, pain, strength and joy. Taking the stage in true star power, Reed took on an in-depth glimpse into the life of Horne."
Vivian's recent album "Standards and More" - available on iTunes, Amazon and CD Baby - includes unique arrangements of eternal standards by Billy Strayhorn ("Take the A Train"), Rodgers & Hart ("My Funny Valentine") and Cole Porter ("Just One of Those Things") in a dazzling blend of pop, jazz, soul and R&B.
Called "a lithe and dynamic triple-threat performer, with a voice that roams magically from contralto depths to R&B peaks" by Time Out New York, Reed's explosive resurgence has found her headlining major concerts, including a triumph at the Edith Piaf Centennial Celebration at Town Hall with the American Pops Orchestra in December 2015. She was praised for the "firepower of her majestic rage" by The New York Times and her "outstanding performance" by the New York Beacon. In Out Magazine, Michael Musto raved about her "grace, boldness, and amazing notes. Star this woman in another Broadway show immediately." These accolades follow acclaimed Town Hall appearances at The Mabel Mercer Convention and "Broadway Unplugged," in addition to "Sondheim Unplugged" at Feinstein's/54 Below, "American Showstoppers" at Pace University's Schimmel Center, the National Black Theatre Festival and the new Harold Arlen musical One For My Baby, created by Scott Thompson and Fred Barton.
Vivian Reed is a passionate multi-faceted entertainer who has earned two Tony Award nominations, the Drama Desk Award, Theatre World Award, Outer Critics Circle Award, the NAACP Award and several others. When Vivian originally took New York by storm in the original Broadway production of Bubbling Brown Sugar, she was hailed for her "magnificent voice" by The Hollywood Reporter and her "fine dancing talent and stage electricity" by The New York Post. People Magazine heralded her one of their "25 Most Intriguing People of the Year." In the show she introduced her fiery rendition of "God Bless the Child," which has since become her signature show-stopper. Vivian subsequently starred in the show in Los Angeles and then led the world tour through England, Germany, Switzerland, Holland, Italy, France and beyond.
Her national TV appearances include "The Tonight Show," "The Today Show" and the ABC daytime drama "One Life to Live." She has shared the bill with notable performers such as Patti LaBelle, Brian Stokes Mitchell, Audra McDonald, Elaine Stritch, Alan King, Sammy Davis Jr., Quincy Jones, Ashford & Simpson and Charles Aznavour. Her film credits include Heading for Broadway, L'Africain with Catherine Deneuve and La Rumba, in which she portrayed Josephine Baker. Recently she produced and starred in the short film What Goes Around, written by Straight Outta Compton star Angela Gibbs. She captured the attention of Pierre Cardin, who booked Vivian into his theater which led to her first European TV special. She was invited by the Prince and Princess of Monaco to sing in Monte Carlo and later performed at the Top Fashion Designers Gala at the Théâtre des Champs Elysées and the American Film Festival in Deauville. She has been featured in magazines such as Vogue, Elle, Time, Paris Match, People, Ebony and a cover profile in Jet.
Vivian's most recent Broadway appearance was opposite Audra McDonald in Michael John LaChiusa's Marie Christine at Lincoln Center Theatre, which was nominated for six Tony Awards. She received critical acclaim in major productions of Sophisticated Ladies, Roar of the Greasepaint, Smell of the Crowd, Blues in the Night, High Rollers, Show Boat and Tintypes. Her recent plays include Blues for an Alabama Sky, Pork Pie and Cookin' at the Cookery. She also portrayed Lena Horne in More Than A Song with the Pittsburgh Ballet Company, directed by Lynne Taylor-Corbett. Vivian appeared at the Lena Horne Awards honoring Rosie O'Donnell and Quincy Jones at the Ford Center in New York. She appeared in Three Mo' Divas at the San Diego Rep and Arena Stage in Washington, DC and received critical acclaim for her dramatic portrayal in The Second Tosca.
Vivian Reed performs at Feinstein's/54 Below (254 West 54th Street) on March 7 at 9:30 PM. The cover charge ranges from $35-$75 with an additional $25 food and beverage minimum. Tickets and information are available HERE. Tickets on the day of performance after 4:00 are only available by calling (646) 476-3551.
More Hot Stories For You