Ray Shell, Original Rusty Of STARLIGHT EXPRESS Celebrates NYC Homecoming in One-Man Show at Joe's Pub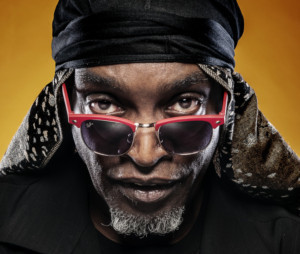 Internationally renowned actor, writer, singer, producer, and director Ray Shell comes home with the premiere of Ray Shell: Phoenix. Directed by Michael Boyd, with Dimitri Nakhamkin (MD), this intimate evening of music celebrates Ray's resurrection in New York after more than 30 years on West End stages, including his breakthrough as Rusty in the original London cast of Andrew Lloyd Webber's Starlight Express, plus starring roles in Five Guys Named Moe, Blues in the Night, The Bodyguard, The Lion King, among several productions. Cathy Porter, Amille Harris, Lauretta Nkwocha-Hannigan, and Lothair Eaton aka Street Angels NYC accompany Ray on background vocals.
Ray Shell: Phoenix revisits Ray's musical journey, which began in the U.S. touring companies of Hair and The Me Nobody Knows and has encompassed everything from singing with Whitney Houston, the Police, and Nona Hendryx to vocal coaching Grace Jones, Sia, Jamiroquai, and contestants on The Voice (BBC) and X-FACTOR. In 2017, Ray returned to the U.S. in Bud, Not Buddy (The Kennedy Center) and Inner City: The Music Reunion Concert (54 Below). He is the author of Iced (Random House) and Spike Lee: The Eternal Maverick (Street Angel Books), and recently directed the critically acclaimed Gilgamesh at London's White Bear Theatre.
As a special bonus to Phoenix, guest artists Chris Van Cleave and Yolanda Rabun will join Ray at Joe's Pub to perform numbers from Starboy, a new blues/gospel musical featuring original music by Ray Shell and Chris Van Cleave that traces the trials of a traveling gospel singing family in North Carolina in 1955. Ray will also read a short excerpt from Iced, the only time he's done a public reading of his acclaimed debut novel other than a promotional appearance for Random House at PS 122.
"He created the role of Rusty ... but there's nothing 'rusty' about his thrilling vocal talents, or the ease of the sparky rapport he establishes with an audience." - The Stage
Tickets: https://joespub.publictheater.org/Tickets/Calendar/PlayDetailsCollection/Joes-Pub/2018/R/Ray-Shell/?SiteTheme=JoesPub
Photo credit: McVirn Etienne.
Ray Shell: Phoenix
Monday, January 22, 2018
7:30 p.m. (Doors: 7:00 p.m.)
$20 cover
Joe's Pub at The Public