Photos: Cast of 'REVOLUTION IN THE ELBOW' Plays Joe's Pub
The world premiere musical REVOLUTION IN THE ELBOW... rocked Joe's Pub this past Sunday night, September 14th with a dozen numbers from the show's score performed by Tony Award winner Cady Huffman and the cast, backed by the Revolution Cellular Orchestra.
REVOLUTION IN THE ELBOW... will conclude its run this Saturday evening, September 20th at the Minetta Lane Theatre. With book, music & lyrics by Ívar Páll Jónsson, the cast features Cady Huffman (Tony winner for The Producers, The Will Rogers Follies, The Nance, "Curb Your Enthusiasm," "The Good Wife"), Kate Shindle (Cabaret, Jekyll & Hyde, Legally Blonde, Capote, Lucky Stiff), Michael Biren (Cinderella, Billy Elliot), Patrick Boll (Mamma Mia!, Death of a Salesman, "Gossip Girl"), Zach Cossman (Blue Man Group, Band Geeks), Karli Dinardo ("Silversun"), Rick Faugno (Jersey Boys, The Will Rogers Follies, Wonderful Town), Danielle Kelsey (Young Frankenstein), Graydon Long ("The Carrie Diaries," SPANK! The Fifty Shades Parody), Brad Nacht (The Producers, Billy Elliot, The Addams Family), Marrick Smith (Fun Home, Crossing Swords), andJesse Wildman (Ghost, Chicago). REVOLUTION IN THE ELBOW... is directed by Bergur Ingólfsson, with choreography byLee Proud and music direction by award-winning Icelandic Indie rock musician Stefán Örn Gunnlaugsson.
The heart of REVOLUTION IN THE ELBOW... lies in its songs, which were written over the course of several years by Ívar Páll Jónsson - a gifted Icelandic songwriter who pursued fronting a rock band several years ago and released an album, but felt confined in the spotlight. He worked as a journalist but kept writing songs, and ultimately, with the encouragement of his younger brother Gunnlaugur, found his comfort zone behind the curtain. He wrote the entire score and, with his brother, the book for the musical.
The songs, which can be heard on the musical's new concept recording, evoke influences from David Bowie, Radiohead, Grizzly Bear, the Pixies, Sufjan Stevens, and more. The album is performed by singers from an array of Icelandic bands, as well as Liam McCormick from The Family Crest.
The remaining five performances for REVOLUTION IN THE ELBOW... are tonight through Friday at 8 PM and Saturday at 2 & 8 PM at the Minetta Lane Theatre, 18 Minetta Lane (just a few steps from Sixth Ave., one block south of W. 3rd St.)
Tickets are available by calling Ticketmaster 800-745-3000 or through www.RevolutionElbow.com.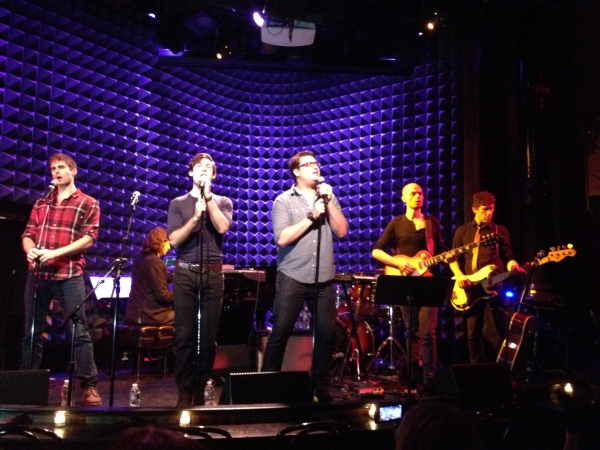 Graydon Long, Marrick Smith and Brad Nacht

Graydon Long

Cast

Cady Huffman & Cast

Rick Faugno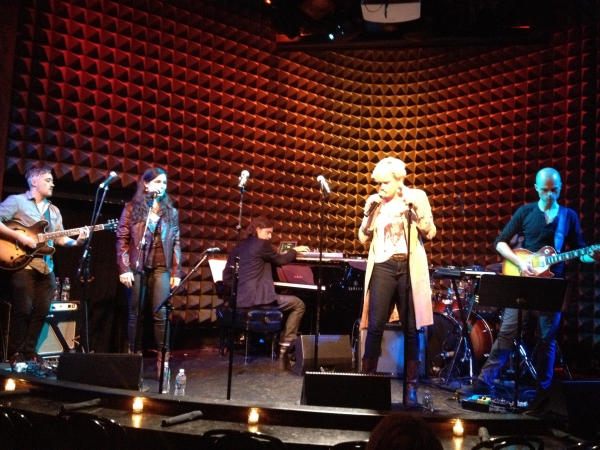 Cady Huffman & Cast