Photos: Broadway Sessions Was GETTIN' THE BAND BACK TOGETHER With Cast Members Garth Kravits, Mitchell Jarvis, Becca Kötte, and More!
Gettin' The Band Back Together cast members reunited to sing their faces off at Broadway Sessions this past Thursday night. Performers included cast members Becca Kötte, Garth Kravits, Lindsey Brett Carothers, Ian Ward, Scott Foster, Noa Solorio and Mitchell Jarvis.
The evening also featured performances by vocalists Jocelin Weiss and Eugene Ebner.
The cast sang into the wee hours, bringing show tunes, rock classics and played some hilarious games led by the comedically dexterous host Ben Cameron. Joshua Stephen Kartes provided the music direction.
As an added bonus, at midnight during the show, the cast's Original Cast Recording of Gettin' the Band Back Together dropped on all streaming music platforms. Check it out here
Helmed by Tony Award winner John Rando and featuring choreography by Chris Bailey, GETTIN' THE BAND BACK TOGETHER closed September 16. It played 30 previews and 40 performances.
The cast of GETTIN' THE BAND BACK TOGETHER featured Mitchell Jarvis, Jay Klaitz, Manu Narayan, Paul Whitty, Sawyer Nunes, Marilu Henner, Kelli Barrett, Becca Kötte, Garth Kravits, Tamika Lawrence, Noa Solorio, Brandon Williams, Lindsey Brett Carothers, Ryan Duncan, Scott Richard Foster, Jenny Hill, Nehal Joshi, J. Elaine Marcos, Rob Marnell, Jasmin Richardson, Ian Ward, and Tad Wilson.
Broadway Sessions takes place every Thursday evening at The Laurie Beechman Theater inside The West Bank Café located at 407 west 42nd street (corner of 42nd street and 9th avenue). Reservations strongly recommended at www.broadwaysessions.net. Doors open at 10pm for pre show open mic. Showtime at 11. $5 drink specials all night. $10 advance/ $15 at door cover includes a donation to Broadway Cares/Equity Fights Aids. Past performances can be viewed on Broadway Sessions YouTube channel,www.youtube.com/bwaysessions. www.BroadwaySessions.net. Follow Broadway Sessions on social media at @BwaySessions.
Photo Credit: Lia Chang


Broadway Sessions host Ben Cameron and Music Director Joshua Stephen Kartes

The cast of Gettin' the Band Back Together with host Ben Cameron and Joshua Stephen Kartes

Mitchell Jarvis sings Sondheim's 'Finishing the Hat'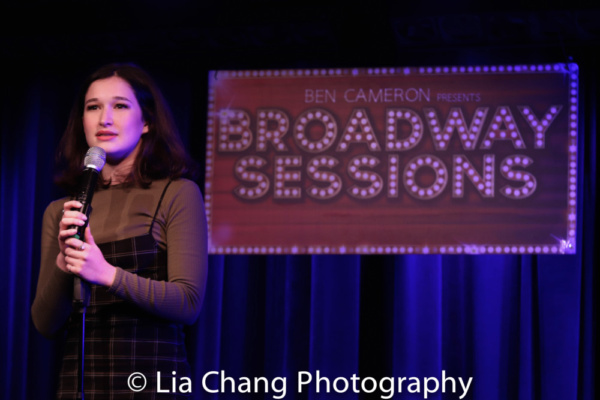 Noa Solorio sings 'Requiem' from Dear Evan Hansen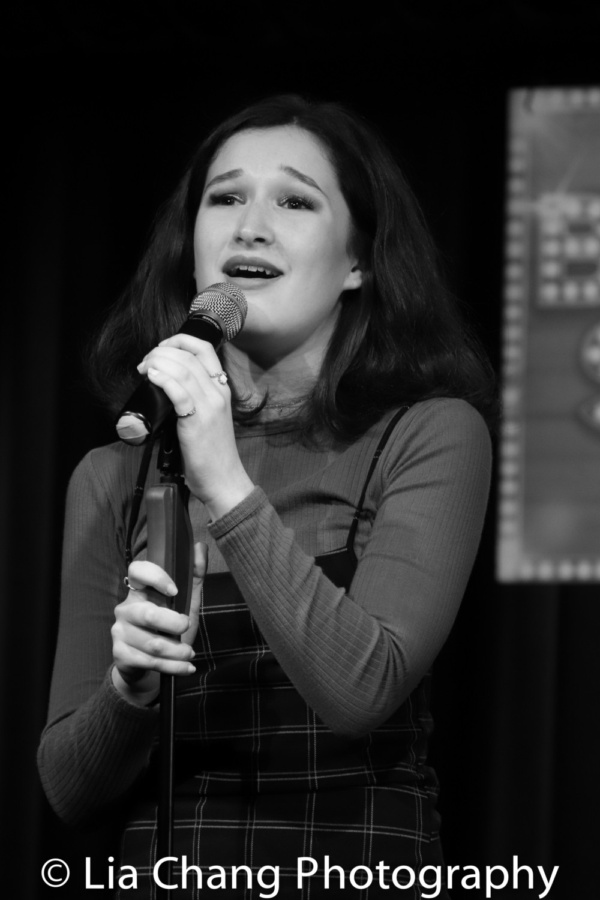 Noa Solorio sings 'Used to Be Mine' from Waitress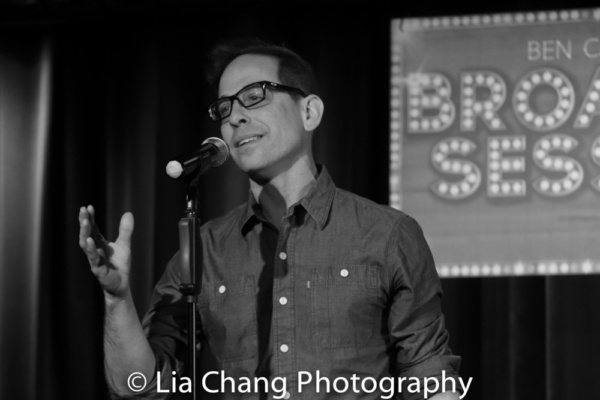 Garth Kravits singing 'Out There' from Hunchback

Garth Kravits

Garth Kravits rocks the classic 80's ballad 'Open Arms'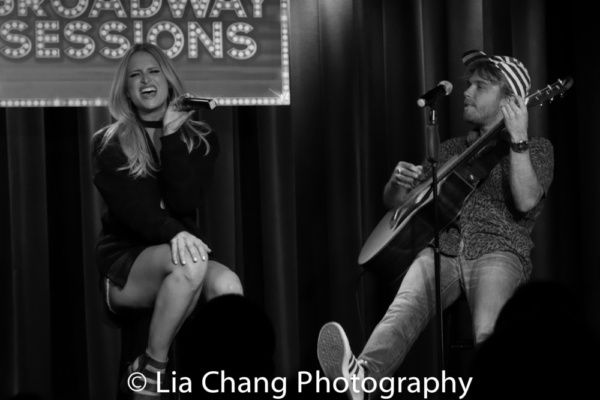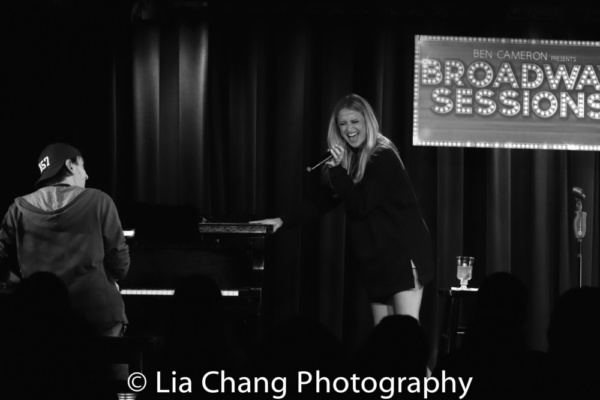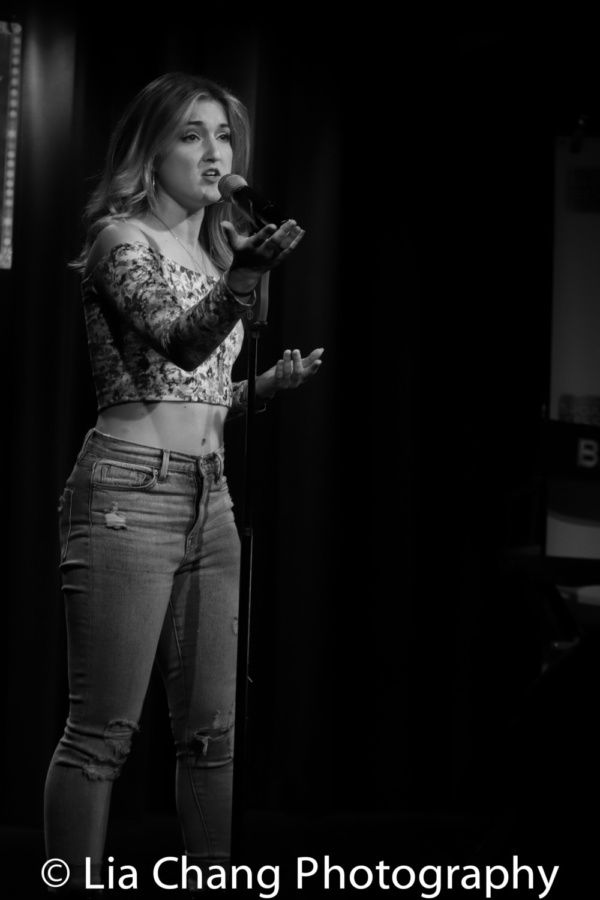 Lindsey Brett Carothers bringing Celine Dion to life

By special request Lindsey Brett Carothers sings 'My Heart Will Go On'

Host Ben Cameron leads a hilarious drinking game with the cast of Gettin' the Band Back Together called Sloppy Plot Synopsis

The cast of Gettin' the Band Back Together with Rising Star Jocelin Weiss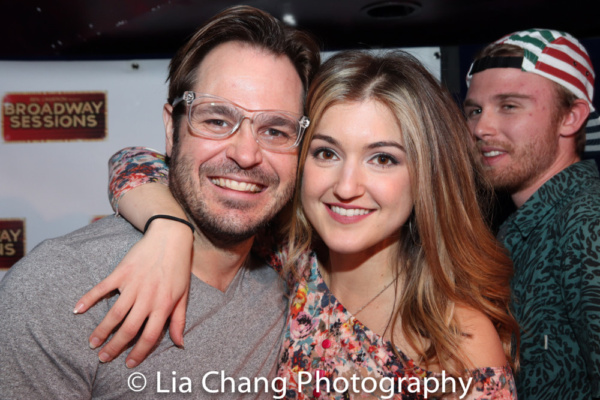 Mitchell Jarvis and Lindsey Brett Carothers