More Exciting Programming Coming Up This Week At Feinstein's/54 Below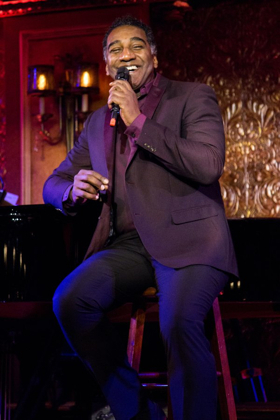 Next week, FEINSTEIN'S/54 BELOW, Broadway's Supper Club & Private Event Destination, presents some of the brightest stars from Broadway, cabaret, jazz, and beyond. To purchase tickets or for more information, visit www.54Below.com/Feinsteins or call (646) 476-3551.
Norm Lewis: NUTCRACKER COOL, DECEMBER 17 - 22 AT 7:00PM
Norm Lewis is BACK at Feinstein's/54 Below for his 4th consecutive year, in a unique holiday residency with more new music, more fun, and more GUESTS! Once again, it's the hottest Christmas Party in town with Norm and his swingin' band, including Perry Cavari and George Farmer, led by musical director Joseph Joubert and directed by his longtime pal, Richard Jay-Alexander.
This year's show will also coincide with the release of The Norm Lewis Christmas Album, as both the debut holiday recording and the show promise to have some real surprises and special material. Norm not only brings his talents and glorious voice to the stage each year, but always includes his audiences by sharing special moments, stories, and even Christmas gifts. This year will be no different.
Come see one of Broadway's most sought after leading men wrap his warmth and magic around holiday classics, showtunes, and pop music, in an evening like no other.
Directed by Richard Jay-Alexander
Musical Direction by Joseph Joubert
$75-$105 cover charge. $110-$130 VIP seating. $140-$160 premium seating. $25 food & beverage minimum.
Ben Lohrberg: DREAM WITH ME, DECEMBER 18 AT 9:30PM
After performing regionally across the country and abroad Ben Lohrberg finally makes his New York cabaret and Feinstein's/54 Below debut in Dream with Me. With his charming wit and "powerful, yet sweet vibrato" (Revue West Michigan), Ben sings the music of Leonard Bernstein, Jeff Buckley, Harry Nilsson, Stephen Sondheim, and many others to create a rich tapestry of dreams sure to ease your mind and melt your heart.
Featuring special guest Erin Mackey (Wicked, Anything Goes).
Directed by Yoni Weiss (54 Sings Jane Eyre, 54 Sings Alice in Wonderland)
Music direction by Mark Hartman
$25-$35 cover charge. $60 premium seating. $25 food & beverage minimum.
FAMOUS IN NY: NEW RECRUITS, DECEMBER 18 AT 11:30PM
You've seen hundreds (if not thousands) of FAMOUS IN NY's videos on YouTube over the past 9 years, watching some of Broadway's best perform. Now, come be introduced to a New Group of talented being welcomed into the FAMOUS IN NY family. You may not know their names yet... but you will.
Featured at Dec 18 Performance: Kevin Bender, Darren Cementina, Nora Lynn Kennedy, Jessica McCuish, Meghan Wilmott, Ricardo A. Zayas, Jeanna Zenz, and more to be announced soon!
Music directed by Ben Moss (Assistant Music Director of Amélie; Associate Music Director of Brooklynite; Music Director of Arlington)
Produced by Shoshana Feinstein (Founder of Famous in NY, Original Programming Producer at Feinstein's/54 Below)
$15 cover charge. $35 premium seating. 2 drink or $20 food & beverage minimum.
Meghan Murphy: BIG RED & THE BOYS, DECEMBER 19 AT 9:30PM
Meghan "Big Red" Murphy (cabaret/recording artist & Chicago theatre star) returns to Feinstein's/54 Below, after selling out her NYC solo debut in 2017, with Big Red & The Boys. With that special mix of naughty & nice, Big Red opens her living room to you in an evening of songs, stories, and spirits, celebrating holiday city-dwellers, new traditions, and chosen family. Big Red and her "Boys," Patrick Andrews (Angels in America), John Francisco, Nick Davio and TJ Chernick, feature music of many artists, from Irving Berlin to Stevie Wonder, from Dolly Parton to Destiny's Child. The results are heartwarming and hilarious, so if you are also trying to escape the typical holiday drudgery, come laugh, sing, grab a drink, and toast to the New Year with Big Red & The Boys in what is sure to become your new home for the holidays!
$35-$45 cover charge. $75 premium seating. $25 food & beverage minimum.
11 O'CLOCK NUMBERS: THE SONGS THAT LIT UP BROADWAY!, DECEMBER 20 AT 9:30PM
This brand new musical revue, when originally launched at Feinstein's/54 Below earlier this year, played to a sold out audience and a standing ovation. No wonder it's returning this winter, with the intent of not just repeating its past success, but topping it!
The show is exclusively comprised of Broadway's most famous 11 O'Clock Numbers! The term "11 O'Clock Number" is an insider theatre expression that was invented when the curtain on Broadway went up at 8:45 PM and usually came down between 11:15 and 11:30 PM. The 11 O'Clock Number was the pivotal song that hurtled the plot toward its dramatic conclusion. Every show needed an 11 O'Clock Number - and the great shows had sensational ones! You're going to hear the sensational ones!
This freshly realized show feature songs like "Memory" from Cats, "Back to Before" from Ragtime, "Being Alive" from Company, and "It's the Last Midnight" from Into the Woods. You'll hear famous 11 O'Clock Numbers from Golden Era Broadway classics as well as 11 O'Clock Numbers from today's most famous shows.
Featuring: Farah Alvin (Nine, Saturday Night Fever), Mia Gerachis (Jekyll & Hyde), and Brian Charles Rooney (The Three-Penny Opera)
Special Guest Star: Nichole Turner (Jerry Springer: The Opera)
$35-$45 cover charge. $75 premium seating. $25 food & beverage minimum.
Danny Bacher: STILL HAPPY ALBUM RELEASE, DECEMBER 21 AT 9:30PM
Making his Feinstein's/54 Below debut, singer-sax player Danny Bacher is a dynamic entertainer with comedy and theater chops to boot.
His high-energy album release concert at Feinstein's/54 Below is sure to be a special evening. Bacher brings out the humor and pizzazz of these tunes with his smooth-as-silk voice, storytelling skills, and soprano sax chops -- talents that have secured him a following in legendary jazz clubs such as Birdland and The Blue Note, as well as on concert stages like Weill Hall and Jazz at Lincoln Center, plus venues and jazz festivals nationally and internationally.
Joining Bacher is Broadway piano legend Allen Farnham (The Lion King) and ace musicians, Dean Johnson (bass), Samuel Martinelli (drums), Harry Allen (tenor sax), and Charles Caranicas (trumpet).
$25-$35 cover charge. $65 premium seating. $25 food & beverage minimum.
NEW MUSICAL IN CONCERT: TWO THOUSAND MILES, DECEMBER 21 AT 11:30PM
The cast of Two Thousand Miles is proud to make their Feinstein's/54 Below debut to celebrate the release of the show's brand new cast recording, straight off a run at The New York Theater Festival!
The concert is produced and directed by Alyssa Williams (book writer), featuring music written by Hans Zanger. Inspired by the musicals Rent and Next to Normal, Two Thousand Miles tells the story of illness, strength, and life-altering experiences. Set in New York City, the musical follows four estranged friends from California as they find themselves working on a musical together years after high school graduation. Drawing from her own personal experiences, the writer shines a light on arthritis and other illnesses that are deemed invisible.
Featuring: Davis - Jay McKenzie (Beautiful: The Carole King Musical), Ava - Claudia Yanez (Spamilton, On Your Feet! First National Tour), Nate - Morgan Bartholick, Jessica - Linedy Genao (On Your Feet! Broadway, Havana Music Hall Regional Premiere), Julian - Danny Burgos (On Your Feet! Broadway, First National Tour), Christina - Genny Lis Padilla (Rent Off-Broadway Revival, On Your Feet! Broadway), Mrs. Montgomery - Doreen Montalvo (On Your Feet! Broadway, In The Heights Broadway), Nik Sorocenski, Aurora Watts-Esquibel, Joshua Blount, and Gina Morgigno
Please note that all artists and acts are subject to change at anytime.
$20 cover charge. $45 premium seating. 2 drink or $20 food & beverage minimum.
NEW MUSICAL! SECRETS BY NOAH MEAUX & DANIEL RUFFING, DECEMBER 22 AT 9:30PM
Join us at Feinstein's/54 Below for a spectacular evening featuring the songs of Secrets: A Spy Musical. In an unforgettable celebration of Noah Meaux and Daniel Ruffing's hypnotic musical, experience "Fly," "Alone," "Rise," "The Friendzone," "Free," and "Meadow With The Tree" like never before!
Starring: Andy Faria, Audrey Hare, Nick Hermick, Dan Hoy, Autumn Key, Retta Laumann, Noah Meaux
Related Articles View More Cabaret

Stories

Shows
More Hot Stories For You