Michael Riedel and AJ Holmes to Join FOXY in Concert at 54 Below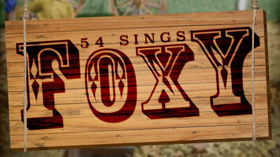 Michael Riedel, author of Razzle Dazzle, and AJ Holmes(The Book of Mormon and Team StarKid) will be appearing in Johnny Mercer's lost musical FOXY at Feinstein's/54 Below on Tuesday, April 9that 7:00pm.
Riedel and Holmes join the previously announcedJim Brochu(Zero Hour, Character Man) as Foxy, Kelli Barrett(Wicked, Fosse/Verdon) as Brandy, Chip Zien(Into the Woods, Falsettos) as Shortcut, Rob Bartlett(Imus in The Morning, Chicago) as Bedrock, Carl J. Danielsen(42ndStreet, The Big Voice), Madison Claire Parks(The Day Before Spring, The Fantasticks)as Celia, Brian J. Krinsky(Anything Goes, All Shook Up) as Ben, and David Stallar(Project Shaw) as Sterling.
The ensemble will feature Caitlin Belcik, Michael Byrne, Helora DaRosa, Catherine DeLuce, Atiauna Grant, Will Hutcheson, Madeline Mancebo, Russell McCook, Allsun O'Malley, Joseph Redman, Steve Schalchlin, and Christopher Withers.
FOXY will be narrated by Vogue's Adam Green.
Robert W Schneider will direct and produce the concert, Kevin David Thomas will music direct the concert. Benjamin Nissen serves as associate producer.
FOXY tells the story of gold prospector Foxy who is swindled out of some treasure by his duplicitous friends. Teaming up with the attractive conman Doc, Foxy sets out to reclaim what is rightfully his by pretending that he has discovered an even larger amount of wealth and must name an heir before he succumbs, forcing his treacherous friends to bow to his every desire in order to win his estate.
The 1964 musical based on Ben Johnson's Volpone, has a score by Johnny Mercer and Robert Emmett Dolan and a book by Ian McLellan Hunter and Ring Lardner Jr. The concert adaptation is by Jon Maas.
The original production opened on Broadway in 1964 at the Ziegfeld Theater and starred Bert Lahr, Larry Blyden, John Davidson,and Cathryn Damon.It was directed by Robert Lewis, choreographed by Jack Cole, and produced by David Merrick.
FOXY's score features such songs as "Run, Run, Cinderella," "Many Ways To Skin A Cat," "I'm Way Ahead Of The Game," and so many more!
Schneider said, "FOXY is one of the most interesting forgotten musicals from the Golden Age because the reviews for the show were quite strong and audiences adored the show. It's lack of popularity is due to the fact that producer David Merrick had just opened Hello, Dolly! and was so focused on the success of that show he neglected the promotion necessary to make FOXY the bona fide hit it deserved to be. Jon Maas has done an incredible job of adapting this jewel of the musical theater for Feinstein's/54 Below and its audiences."
Tickets, starting at $30, are still available. In addition to the ticket price, there is food and beverage minimum of $25.00 54 SINGS FOXY tickets can be purchased at 54below.com. Tickets on the day of performance after 4:00 are only available by calling (646) 476-3551