Marilyn Maye, 54 Sings Sara Bareilles, and more Coming Up at 54 Below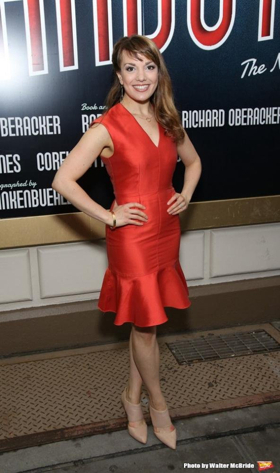 Next Week, FEINSTEIN'S/54 BELOW, Broadway's Supper Club & Private Event Destination, presents some of the brightest stars from Broadway, cabaret, jazz, and beyond. To purchase tickets or for more information, visit www.54Below.com/Feinsteins or call (646) 476-3551.
ASTEP & FRIENDS, APRIL 23 AT 8:00PM:
Artists Striving to End Poverty, founded by Mary-Mitchell Campbell 11 years ago, hosts its inaugural benefit concert and dinner with a one night only event! Intimate, engaging and sure to tug at your heartstrings, come celebrate ASTEP and the art that it brings to deeply underserved communities around the world and right here in NYC. All proceeds benefit ASTEP, which trains volunteer artists to deliver arts programs for children, regardless of their backgrounds. Join Mary-Mitchell as she invites her best friends onstage to talk about their work with ASTEP, sing a little ditty or two, and honor all the people who make ASTEP possible. Honoring the advocacy of Georgia Stitt.
Featuring: Kate Baldwin (Hello, Dolly!), Mary-Mitchell Campbell (Big Fish), Sean Green Jr. (Hamilton), Erika Henningsen (Mean Girls), Grey Henson (Mean Girls), Andrea Martin (Noises Off), Laura Osnes (Bandstand), and Jessica Vosk (Wicked, Fiddler on the Roof).
THIS BENEFIT IS A SPECIAL EVENT.
Patrons purchasing tickets for this Special Event agree to share their contact information with the hosts of this event.
Ticket price includes dinner, drinks and an exciting show. VIP tickets include premium seat location, as well as exclusive cocktail hour, prior to the performance.
$500 cover charge. $750 VIP seating.
AN EVENING WITH Alan Menken, BENEFITTING THE FOUNDATION FIGHTING BLINDNESS, APRIL 24 AT 8:00PM:
Award-winning Disney Legend and Songwriters Hall of Famer Alan Menken will transport you to a magical realm with his piano and storytelling artistry in this intimate musical evening benefiting the Foundation Fighting Blindness.
For more information, including sponsorship and ticket options, please contact Katie Van Benschoten at (212) 244-1470 or VanBenschoten@FightBlindness.org or visit www.FightBlindness.org/Menken.
Individual Premium Tickets include a meet and greet with Alan Menken.
$250 individual standard ticket. $1000 individual premium ticket.
John Lloyd Young, APRIL 25. 26, & 27 AT 7:00PM:
John Lloyd Young, the multi-award winning Frankie Valli from Broadway's Jersey Boys, as well as the star of Clint Eastwood's movie adaptation, returns to Feinstein's/54 Below with a brand new show! The only American actor to date to have received a Lead Actor in a Musical Tony, Drama Desk, Outer Critics Circle, and Theatre World Award for a Broadway debut, Young will be singing from his debut album for the first time in NYC. Featuring classics hits such as "Can't Take My Eyes Off You," "Unchained Melody," "In the Still of the Night," and others.
$75-$105 cover charge. $110-$130 VIP seating. $140-$165 premium seating. $25 food & beverage minimum.
54 SINGS Sara Bareilles, WITH Kara Lindsay, Daniel Quadrino, & MORE, APRIL 25 AT 9:30PM:
What's inside? It's Deep Belt Blueberry Bareilles served by your Broadway faves!
From her breakout single "Love Song" to her Tony-nominated hit musical Waitress, Sara Bareilles has garnered millions of fans around the world over with her personal lyrics and poignant
melodies. With six Grammy nominations (including Album of the Year for The Blessed Unrest), 5 Billboard Hot 100 singles, and over 9 million downloads in the USA alone, Bareilles has established herself as one of the foremost singer-songwriters of her generation. Fans can expect to hear everything from Bareilles' #1 hit "Love Song," to throwbacks like "Gravity," anthems like "Brave," screlted remixes of the "Dear Baby" monologue, and much more! Make sure you're in attendance for this night of opening up and letting the feels in!
Featuring: Krystina Alabado (American Psycho, American Idiot), Nicholas Barasch (She Loves Me), Deborah S. Craig (25th Annual Putnam County Spelling Bee), Kaitlyn Davis (Phantom of the Opera), Sally Eidman, Alexis Field (50 Shades! The Musical), Tyler Hardwick (Once on this Island), Jesse Hooker-Bailey (Beautiful), Peter LaPrade (The Lightning Thief), April Lavalle (Seussical), Kara Lindsay (Wicked, Beautiful), Morgan Marcell (Hamilton, Bandstand), Jennafer Newberry (Freaky Friday), and Daniel Quadrino (Wicked, Newsies).
$30-$40 cover charge. $65 premium seating. $25 food & beverage minimum.
Darius de Haas: A Leonard Bernstein THING, APRIL 26 & 27 AT 9:30PM:
Described by The New York Times as "electrically thrilling," by Variety as "a performer who can reveal the sorrows, pains, and joys of the composer's richly layered repertoire with an intensity and honesty that easily envelops and mesmerizes the listener," and by the Jazz Times as "blessed with a gorgeous voice and a keen theatrical sophistication," Darius de Haas brings his brand new concert to Feinstein's/54 Below.
The award-winning singer, recording, and concert artist (Lincoln Center American Songbook, Carnegie Hall, The Kennedy Center, Bistro Award winner for his recording Day Dream) and actor
(Broadway's Rent, Shuffle Along, Dreamgirls, Children of Eden, Obie Award winner) now brings his focus to the music of Leonard Bernstein. In this special evening of song, de Haas will regale audiences with songs from Bernstein's shows and concert pieces such as West Side Story, Candide, and Mass, including "Something's Coming," "Maria," "Simple Song," "Lonely Town," "It Must Be So," "Take Care of This House," and many more.
In honor of Leonard Bernstein's centennial birthday, join us for de Haas' tribute to the great maestro. Musically stretching and deconstructing Bernstein's great songs through the lens of jazz, blues, alternative, and musical theater, de Haas makes his case for Bernstein being a composer who transcends time, musical genre, and generations.
$30-$40 cover charge. $65-$70 premium seating. $25 food & beverage minimum.
SHENANDOAH CONSERVATORY MUSICAL THEATRE CLASS OF 2018, APRIL 27 AT 11:30PM:
Join Shenandoah Conservatory Musical Theatre Alumni as they welcome the Class of 2018 to life in New York. The seniors are ready to take on life in the big city with melt-your-face-belt and a ball-change-WHACK! Let's raise a glass to the Class of 2018 as we celebrate their accomplishments! #bereadystayready
Featuring the Shenandoah Conservatory Musical Theatre Class of 2018: Alex Beard, Drew Becker, Emma Benson, Zachary Bigelow, Alex Boyd, Emma Coniglio, Nicole Culbreth, Christopher Godshall, Kali Haines, Annanoa Kaufmann, Michael Kennedy, Ashley Knaack,
Brynn Sweere, Addison Peacock, and Madelyn Pyles.
With special guest appearances by Shenandoah Conservatory Musical Theatre Alumni!
$20 cover charge. $40 premium seating. 2 drink or $20 food & beverage minimum.
Chris McCarrell, APRIL 28 AT 9:30PM:
You've seen him in The Lightning Thief: The Percy Jackson Musical and Les Misérables, now get ready to see Chris McCarrell back at Feinstein's/54 Below!
Coming off his sold out solo concert debut and his beloved Christmas concert (Christmas Carols with Chris McCarrell), Chris will be testing new waters at Feinstein's/54 Below with his most personal songs to date. Come join him as he tackles love, art, and his newfound romance with the Catskills. An epic coming of age story and the music that inspired it all.
Both Sides Now - A modern musical odyssey of times so charged, it led a young actor to simplify his role within it. The onstage cultural chaos will include everything from guitar led pageant shows, to rap battles with the likes of Kanye West, Kendrick Lamar, and Taylor Swift. The evening burns itself out to embers of vocoded meditations, Alan Watts sermons, Joni Mitchell piano reflections, and lush orchestrations of Stephen Sondheim. Joshua Stephen Kartes, one of New York's most renowned cabaret arrangers will head a 5-piece band including electric guitars, drum pads, and synthesizers. Jill Paice of American in Paris will be called in for a Sondheim duet, with features of Adrian Bumpas, Jessica Joy Dyer, Julia Hines, Jillian Kates, Jude McCormick, and Rosie Upton throughout the night. A new take on a new era, join Chris for a creative, modern, and diverse retelling of what has been a turbulent, and renewing time for America and New York City through these past few impactful years.
$40-$50 cover charge. $85 premium seating. $25 food & beverage minimum.
Marilyn Maye: 90 AT LAST, APRIL 29 AT 7:00PM:
Back by popular demand! In 90 At Last! marvelous Marilyn Maye returns to her home away from home to celebrate her (latest) milestone birthday with her favorite audience. This performance will feature a special 90th birthday celebration for this very beloved lady of cabaret. As always, Marilyn carries the torch from her peers who originated tunes of the Great American Songbook, to the singers who perform these songs today and will carry them on to future generations.
Ms. Maye is an artist for connoisseurs and her powerhouse delivery and chatty rapport with the audience is what holds the evening together and electrifies the proceedings. This will be a night you do not want to miss!
$85-$95 cover charge. $115 VIP seating. $145-$150 premium seating. $25 food & beverage minimum.
Eric Petersen: SINATRA AT THE MOVIES, APRIL 29 AT 9:30PM:
Eric Petersen, star of Broadway's School of Rock, TV's "Kirstie," Madison Square Garden's Elf, and this season's Broadway show Escape To Margaritaville, makes a triumphant return to Feinstein's/54 Below after his sold out December show.
In this show, Eric will serenade audiences with the hits that cemented Frank Sinatra as a superstar. Along with his swinging band, Eric will lead audiences through film history of Frank Sinatra and the songs that he recorded for those films. While known as a recording artist, Sinatra appeared in over 50 films, and sang in many of them. This concert will feature 12 songs from those films including "One For My Baby," "I Fall In Love Too Easily," "My Kind Of Town," and "Sue Me." The elegant night will also feature guest stars from the world of Broadway. Bring yourself, and a friend or loved one, for a swanky night that recaptures the sounds of an easier, classier, more swingin' time, Sinatra-style.
With special guest Leslie Kritzer.
$35-$45 cover charge. $75 premium seating. $25 food & beverage minimum.
MORE ABOUT FEINSTEIN'S/54 BELOW
Feinstein's/54 Below, Broadway's Supper Club & Private Event Destination, is a performance venue in the grand tradition of New York City nightlife. A few blocks from the heart of Times Square and just below the legendary Studio 54, Feinstein's/54 Below is a classically designed state-of-the art nightclub in the theatre district that hosts audiences with warmth and style. Feinstein's/54 Below presents iconic and rising stars from the worlds of Broadway and popular music and has set a new standard for culinary excellence worthy of the world-class entertainment on the stage.
In their description of the venue, The New York Times writes, "Feinstein's/54 Below has the intimacy of a large living room with unimpeded views and impeccable sound; there is not a bad seat in the house. Its sultry after-hours ambience is enhanced by brocade-patterned wall panels planted with orange-shaded lanterns. And the atmosphere is warmer and sexier than in Manhattan's other major supper clubs."
Located at 254 West 54th Street, Feinstein's/54 Below features up to three shows nightly with cover charges ranging from $5-$105. 54Below.com/Feinsteins
Photo Credit: Walter McBride / WM Photos
More Hot Stories For You