Lexi Lawson, Ali Ewoldt, And Desi Oakley Lead BROADWAY IS 850 STRONG Benefit Concert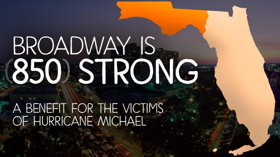 FEINSTEIN'S/54 BELOW, Broadway's Supper Club, presents "Broadway is 850 Strong," a benefit concert for the victims of Hurricane Michael on Monday, January 21, 2019 at 9:30 pm. The Florida Panhandle was completely devastated by the catastrophic effects of Hurricane Michael. Michael was one of the strongest storms ever to make landfall in the United States. The Panhandle, which is area code 850, took a direct hit. Thousands of people lost their homes, schools and hospitals were destroyed, and area businesses were obliterated. Panama City, FL native, Caitlin McNeilage, developed "Broadway is 850 Strong" as a way for New York to show the residents of the Florida Panhandle they are not alone. When disaster strikes our country, we pull together to help those who are affected. Broadway is reaching out to send comfort and support to those affected by Hurricane Michael.
Various Broadway entertainers will perform in "Broadway is 850 Strong" at Feinstein's/54 Below (254 West 54th Street) on Monday, January 21, 2019 at 9:30 pm. Come show your support for those affected by Hurricane Michael in the 850-area code of the Florida Panhandle. There is a $25-$35 cover charge and $25 food and beverage minimum. Tickets and information are available at www.54Below.com. Tickets on the day of performance after 4:00 are only available by calling (646) 476-3551.
PERFORMERS
Lexi Lawson (Hamilton, Rent), Ali Ewoldt (The Phantom of the Opera, The King and I), Desi Oakley (Waitress, Wicked), Catherine Charlebois (Wicked), Courtney Iventosch (Wicked, Something Rotten!), Andrew Pirozzi (Frozen, Hairspray Live!), Hannah Shankman (Wicked, Les Misérables), Nicholas Ward (Frozen, On the Town), Ben Bogen (Frozen, Jersey Boys) and more to be announced!
MORE ABOUT FEINSTEIN'S/54 BELOW
Feinstein's/54 Below, Broadway's Supper Club & Private Event Destination, is a performance venue in the grand tradition of New York City nightlife. A few blocks from the heart of Times Square and just below the legendary Studio 54, Feinstein's/54 Below is a classically designed state-of-the art nightclub in the theatre district that hosts audiences with warmth and style. Feinstein's/54 Below presents iconic and rising stars from the worlds of Broadway and popular music and has set a new standard for culinary excellence worthy of the world-class entertainment on the stage. In their description of the venue, The New York Times writes, "Feinstein's/54 Below has the intimacy of a large living room with unimpeded views and impeccable sound; there is not a bad seat in the house. Its sultry after-hours ambience is enhanced by brocade-patterned wall panels planted with orange-shaded lanterns. And the atmosphere is warmer and sexier than in Manhattan's other major supper clubs." Located at 254 West 54th Street, Feinstein's/54 Below features up to three shows nightly with cover charges ranging from $5-$105. 54Below.com/Feinsteins
More Hot Stories For You