Karine Hannah Has FABULOUS BABS At 54 Below In April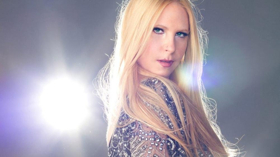 The two-time Billboard Dance Chart Top 10 singer-songwriter Karine Hannah continues to emerge as a category-eluding nightclub torch singer as she returns for the third time to Feinstein's/54 Below, 254 West 54th Street, on Thursday April 19 at 9:30pm. The one-night-only engagement marks the premiere of Hannah's audacious if inevitable tribute to Barbra Streisand, a singer and presence to whom she is often compared. "Karine Hannah Sings Streisand" is the Montreal-born and New York-based singer's intensely personal homage to the Sphinx-like diva, and the '70s and '80s era that produced many of her biggest hits. From "People" to "Guilty," from "Memory" to "Somewhere" Hannah artfully un-tethers herself from the ground (and Streisand's oversized reputation) in ways that will surprise and ultimately throw off sparks that are clearly beyond compare.
Music direction is by Kyle Norris ("If/Then," "School of Rock" on Broadway) on piano, with Jessie Nelson on cajon.
Mixing both European and American pop sensibilities as she has since her incandescent dance-hit debut "Burning Up" (co-written and produced by Josh Harris) for her label Cash Money, Hannah torches the sky with Grucci Family flare. But she also diligently rifles through the old-time trunk of stagecraft tricks that pre-date even Streisand's super-nova rise, giving her an old-school/out-of-school sensuality. In addition to her indebtedness to Celine Dion (who discovered her in Canada), Gladys Knight and Patti LaBelle, Hannah credits early New York collaborator Jim Steinman (the famed Meatloaf and Bonnie Tyler producer and "Whistle Down the Wind" lyricist) with helping her to chart her unusual pop-to-cabaret-theatre trajectory. In fact she was featured in Steinman and Andrew Lloyd Webber's NYC premiere concert of "Whistle Down the Wind," as well as the concerts "Paradise Found," and "Steinman Stripped." Her other Top 10 hit was the winning "Victory," which was co-written by Michael Jay. Hannah is currently working on her first full studio album for Cash Money. Commenting on her January 2017 show, Billboard exclaimed, "After the persistent joy of experiencing Karine Hannah in a studio setting, what a rush it was to at last see her in a full-on live setting." The internationally acclaimed singer-songwriter and Cash Money Records artist Karine Hannah lights up Feinstein's/54 Below, 254 West 54th Street, on Thursday April 19 at 9:30pm. One show only! Tickets range from $30 to $60 and there is a $25 food and beverage minimum. To purchase in advance visit www.54below.com or call 646-476-3551
Related Articles View More Cabaret

Stories

Shows
More Hot Stories For You