Ed Dixon and Sally Ann Triplett to Lead A POUND IN YOUR POCKET at Feinstein's/54 Below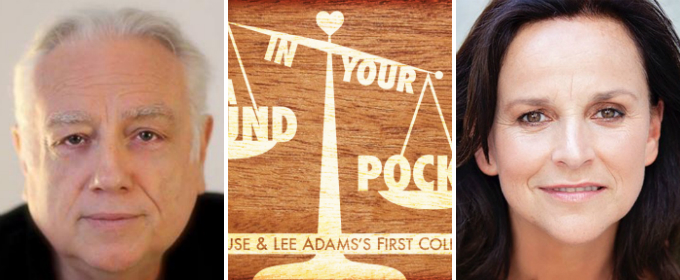 As previously announced, Feinstein's/54 Below will present the rarely heard musical A Pound in Your Pocket as part of its popular Second Act Series.
The little-known first collaboration by Tony Award-winning songwriters Charles Strouse and Lee Adams (Bye, Bye, Birdie, Applause, Golden Boy, All American, It's A Bird... It's A Plane... It's Superman!) will star Drama Desk Award-winner Ed Dixon (Georgie, Les Miserables, Sunday In The Park With George and more) as Sampson Brass and Sally Ann Triplett (Carrie, The Last Ship, Finding Neverland) as Sally Brass.
Joining them as The Small Servant Girl is Abbey Jasmine Rose, who was hand-picked by the show's composer to reprise her turn after first playing the role at King's College in 2016.
For one night only, on Wednesday, January 24th, 2018 at 7:00pm, audiences at the famed New York supper club will have the rare opportunity to hear a seldom-sung score by two of the American musical theatre's most acclaimed writers. Based on the classic Charles Dickens novel The Old Curiosity Shop, the comedic musical centers around Dick Swiveller. A congenial, boozy, soon-to-be-heir to a family fortune, Dick takes a job as a law clerk while waiting to come into his inheritance. When he befriends the lonely servant girl of his corrupt employers, the unlikely duo overcome greed, malice, and injustice through a series of topsy-turvy plot twists.
When Strouse first met Adams, 1949, neither knew what would happen next. 68 years and three Tony Awards later, Strouse and Adams are one of the most celebrated and prolific teams in musical theatre. Now, an all-star cast will celebrate their very first collaboration, the delightful and rarely heard A Pound In Your Pocket. With a delectable score that launched Strouse and Adams' legendary career and an all-star cast, the charming and intimate musical is sure to be considered a newly-discovered classic to warm your hearts this winter. Full casting to be announced shortly.
Also featured in the evening are Richard Rice Alan (Drat! The Cat!), Yvette Bedgood, soprano Eugenia Copeland, Suzanne Dressler (Nick & Nora), Erik Sisco (The Concrete Jungle), Mac and Bistro Award-winner Stearns Matthews, and Nikki Switzer (Nightmare Alley, National Tour of 25th Annual Putnam County Spelling Bee. Complete casting will be announced shortly.
The one-night-only concert is presented as part of the Second Act Series, produced by Steven Carl McCasland and James Horan. Each evening revisits a short-lived musical, highlighting its neglected score and inviting audiences to rediscover a forgotten gem. Previous evenings include: Bring Back Birdie, The Fix, Onward Victoria, Charlie and Algernon, Eating Raoul, Nick & Nora, 70, Girls, 70, Shelter starring Jon Cryer and more. The evening features Musical Direction by Horan and Direction by McCasland.
Tickets, beginning at $25, are available now at 54below.com/events/charles-strouse-lee-adams-first-collaboration-pound-pocket or by calling (646) 476-3551.
Michael Feinstein, one of the world's great musical artists, and 54 Below, Broadway's Supper Club, have united to give New York an unparalleled destination for entertainment and dining. Feinstein's/54 Below, Broadway's Supper Club, is the performance venue in the grand tradition of New York City nightlife. A few blocks from the heart of Times Square and just below the legendary Studio 54, Feinstein's/54 Below is a classically designed state-of-the art nightclub in the theatre district that hosts audiences with warmth and style. Feinstein's/54 Below presents iconic and rising stars from the worlds of Broadway and popular music. The venue provides a food and beverage menu from early evening through the wee hours of the morning that is worthy of the world-class entertainment on the stage. Located at 254 West 54th Street, Feinstein's/54 Below features up to three shows nightly with cover charges ranging from $15-$105.