Davon and The Spectacle Will Make NYC Cabaret Debut Benefitting Black HMU United
The performance is on Sunday, December 19.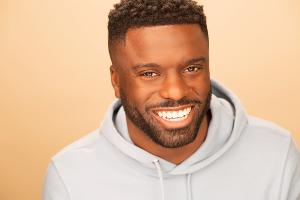 Davon and the Spectacle will be making its NYC cabaret debut at the world famous Don't Tell Mama at 343 West 46th Street in Manhattan on Sunday, December 19. Tickets to the one-night-only event are $25 and go on sale at 9:00am on Wednesday, December 1 at www.dontellmamanyc.com.
Featuring special guests Eden Espinosa ("The Gardens of Anuncia," "Wicked," "BKLYN The Musical"), Dawnn Lewis ("Tina - The Tina Turner Musical," "A Different World," "Star Trek: Lower Decks"), Eleri Ward (debut cd: "A Perfect Little Death") and The Randy Andys, Davon and the Spectacle will entertain both a live and streamed audience with an autobiographical concert spanning nine decades of music from the golden age of Musical Theatre to contemporary hip hop as Davon Williams shares his complicated relationship with New York City and journey towards finding community. Courtney Daniels (March On Broadway) hosts with Chris Gillyard, Nattalyee Randall ("The Race Against Race") and Melissa Victor on background vocals, musical director Napoleon Douglas and Darnell White leading the band on keys.
The evening is a fundraising benefit for Black HMU United, the organization dedicated to providing a national database of vetted, competent and welcoming hair & makeup professionals for TV, film and theatrical productions to ensure safety to all entertainers. The non-profit also provides continued educational resources for experienced and aspiring hair and make-up artists and estheticians to have free or low-cost education in serving all skin types and hair textures from the African diaspora. "Historically, Black people are an after-thought," said founder Wunmi Fowora. "As union members, we are paying the same dues for the same protections and we're not getting them. We're having discussions with our unions to put better practices in place so that everyone can be safe." For more information, please visit www.blackhmuunited.org.
An international performer, delegate for the Actors' Equity Association, and a TED Talk alum, Davon Williams is committed to using his talents to bring about substantive social change. As a performing artist, Davon has been blessed to star in several national and international productions, working on multiple television shows and playing the lead in independent films. Davon and the Spectacle was founded in 2018 after Davon was asked to sing at a state dinner in Thailand. Davon and the Spectacle has since entertained audiences all across Southeast Asia before hitting the performance circuit in the US. During the pandemic, Davon launched the hit show, "The Receipts w/ Davon Williams," which garnered over 118,750 views with a reach of over 750,000 in less than a year with no formal producers, budget, or marketing. This show led to the creation of the Black Theatre Matters Bill, a series of over 100 resolutions designed to build a more equitable theatre industry, which recently passed at the Actors' Equity Association's Inaugural Convention. The story of "The Receipts" and the Black Theatre Matters bill has made its way into Deadline, Forbes, CBS, Playbill, The Daily Beast, BroadwayWorld, 60 Minutes, and numerous other platforms and publications.