Beth Leavel and Chad Kimball with Frank DiLella and More Coming Up at Birdland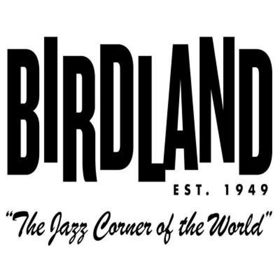 Birdland Jazz Club has announced its lineup for August 21-August 27, featuring Benny Green Trio, Lorin Cohen, Michelle Lordi, and more. Scroll down for details!
---
Birdland will kick-off their great week of programming with the following acts:
August 21 (Monday) at 7:00PM
Show Biz After Hours With Frank DiLella
The Broadway at Birdland concert series is proud to announce that NY1 theater journalist Frank DiLella will return to the Birdland stage with the fourteenth episode of his talk show, "Show Biz After Hours With Frank DiLella." Frank's Very Special Guests will be Beth Leavel (currently starring in Bandstand) and Chad Kimball (currently starring in Come From Away). The regular theater-based live talk show features Broadway movers-and-shakers, impromptu musical performances, audience interaction, and a cocktail or two!
All tickets $30, $10 food/drink minimum
August 21 (Monday) at 9:30PM
Jim Caruso's Cast Party
Jim Caruso's Cast Party is a wildly popular weekly soiree that brings a sprinkling of Broadway glitz and urbane wit to the legendary Birdland in New York City every Monday night. It's a cool cabaret night-out enlivened by a hilariously impromptu variety show. Showbiz superstars, backed by Steve Doyle on bass, Billy Stritch on piano and Daniel Glass on drums, hit the stage alongside up-and-comers, serving up jaw-dropping music and general razzle-dazzle.
All tickets $30, $10 food/drink minimum
August 22-26 (Tuesday-Saturday) at 8:30PM and 11:00PM
Benny Green Trio
Inspired by his saxophonist father, Berkeley California native pianist Benny Green embraced jazz at an early age. In his early 20's he toured with jazz legends BetTy Carter, Freddie Hubbard, Art Blakey, and Ray Brown before signing a recording contract with Blue Note Records. A few years later he became a protégé of pianist Oscar Peterson, recording "Oscar & Benny" for Telarc Records. As a leader Benny's groups have performed in all the major clubs, festivals and concert halls around the world. His most recent recordings, "Happiness" (2017) and "Live in Santa Cruz" (2015) are a return to the kind of swinging straight ahead jazz piano trio playing of which he is now an acknowledged master.
All tickets $40, $10 food/drink minimum
August 23 (Wednesday) at 5:30PM
David Ostwald's Louis Armstrong Eternity Band
Inspired by the noble jazz pioneers Louis Armstrong, Bix Beiderbecke, Duke Ellington, Jelly Roll Morton and their colleagues, David Ostwald's Louis Armstrong Eternity Band breathes life and passion into America's own great art form. Now in its 14th year of residency at Birdland, the weekly post-workday engagement is the city's best musical bargain! Tuba player David Ostwald leads a rotating lineup that features talents such as clarinetist Anat Cohen, trombonist/vocalist Wycliffe Gordon, pianist Ehud Asherie, drummer Marion Felder and more!
All tickets $30, $10 food/drink minimum
August 24 (Thursday) at 6:00PM
An Evening with Michelle Lordi
Combining unique clarity and grace with subtle emotional depth and eclectic tastes, Philadelphia-based vocalist Michelle Lordi sings impeccably curated standards that span three generations of heartfelt love songs. Michelle's passion for storytelling through song is clear in her engaging performances. Her profound love of the music she chooses to sing and sublime musicians she creates with is evident in every note of her vividly expressive and elegantly communicative voice. Her band includes Michael Kanan on piano, Matthew Parrish on bass, Bill Avayou on drums and Larry McKenna on tenor sax.
All tickets $30, $10 food/drink minimum
August 25 (Friday) at 5:15PM
The Birdland Big Band
Founded by drummer and musical director Tommy Igoe, the Birdland Big Band features the finest musicians in New York! Celebrating 10 years at the club, the BBB roars into action every Friday, playing the finest Jazz, Latin and Brazilian music from the world's best arrangers. After work or before a show, drinks or a great dinner, come hear one of the world's best drummers driving the hardest swinging band in New York. Experience why the BBB is the must-see weekly jazz event in New York and kick off your weekend with what critics are calling "the best live music bargain in all of NYC!"
All tickets $30, $10 food/drink minimum
August 26 (Saturday) at 6:00PM
Hailed as "the truest heir to Bobby Short" in The New York Times, pianist/singer Eric Comstock returns to Birdland with star bassist/composer Sean Smith with songs by everyone from George Gershwin to George Harrison. These two masters met on the Off-Broadway hit OUR SINATRA (which Eric co-wrote), and have since worked separately and together around the world. Join them at Birdland for a cool spring party where the music and stories are equally great.
All tickets $30, $10 food/drink minimum
August 27 (Sunday) at 6:00PM
Lorin Cohen
A thrill to watch and sublime to hear, Lorin Cohen has distinguished himself as one of the most exciting and dynamic musicians on the scene today. His imaginative, joyous and singular work as a bassist and composer has resonated with audiences throughout North and South America, Europe, Asia, Africa, the Middle East and the Caribbean. Cohen's musical experiences are not limited to the world of Jazz. Equally adept on the bass guitar, he has been a substitute bassist for the Chicago run of the Tony award winning musical Jersey Boys from 2008-10 and for the Broadway production of Motown: The Musical. His thumping bass guitar grooves, original songs and production drive the R&B/Jazz/Hip-hop band Vertikal.
All tickets $30, $10 food/drink minimum
August 27 (Sunday) at 9PM & 11PM
Birdland Latin Jazz Big Band
David DeJesus directs a new band at Birdland bringing together some of the best players in Latin Jazz today, from such bands as the Spanish Harlem Orchestra, Eddie Palmieri's band, and the Mambo Legends. Enjoy classic Mambo, cha-cha and salsa on Sundays at Birdland.
All tickets $40, $10 food/drink minimum
---
Purchase tickets at www.BirdlandJazz.com, and for more information and reservations, call 212-581-3080. Ticket prices will vary by performer. At the tables, there is a $10 food/drink minimum per person in addition to the music charge. At the bar, the music charge will include one complimentary drink with no additional minimum.
Named for alto saxophonist and jazz pioneer Charlie "Bird" Parker who dubbed it "The Jazz Corner of the World," Birdland opened on December 15th 1949. For 60 years it has been home to jazz legends, from Parker, John Coltrane Duke Ellington and Count Basie to Oscar Peterson, Hank Jones, Diana Krall and everyone in between. The original 52nd street location was a cultural barometer and meeting place, inspiring the songs "Birdland" and "Lullaby of Birdland," and serving as a regular haunt for celebrities and cultural figures. The modern incarnation is a state of the art nightclub featuring award winning Southern and Cajun cuisine, first rate sound and lighting and a who's who of contemporary musical artists, 7 nights a week.
Birdland is located at 315 West 44th Street (between 8th & 9th Avenues), New York, NY 10036. Students (with current ID) & Broadway Theatre-Goers (with Broadway ticket stub from same day of performance): 50% off music charge at 11PM shows only. Birdland serves American Fare with a Cajun Flair nightly from 5PM until Midnight and until 1AM on Friday and Saturdays. Parking is available across the street at 332 West 44th Street. Concert Grand Piano By: Yamaha.
For more information, go to www.BirdlandJazz.com, or follow BIRDLAND JAZZ CLUB on Twitter: @birdlandjazz, Facebook, Instagram, and on Pinterest.
Related Articles View More Cabaret

Stories

Shows
More Hot Stories For You