BWW Review: SCARLET ENVY at The Laurie Beechman Theatre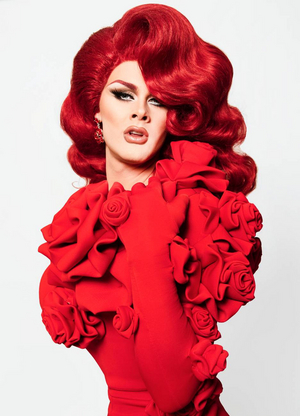 There is a philosophy expressed in a famous musical about performers working in burlesque that tells us "Having no talent is not enough ... You've got to get a gimmick". Well, Scarlet Envy has a gimmick, and Scarlet Envy has talent.
The gimmick: She's aloof. She enters looking so beautiful that you wonder if it is even permissible to look at her; and when she takes center stage for her hour-long show, there are times when you revisit the question of whether or not, while looking at her, you might turn into a pillar of salt. Scarlet Envy wants you to look at her. She wants to be loved, to be adored, to be wanted. But she doesn't want you to speak to her unless she speaks to you, and she certainly doesn't want you to ask her any questions from the audience. She wants to stand there, one of the most beautiful creatures man ever created, and have you come to her.
And go to her, you will.
The talent: She's funny. She has some funny material, but she is naturally funny, in the moment, riffing with the audience, making it up on the spot funny. There are people who say things funny, and there are people who say funny things. Scarlet Envy opens her mouth and funny things fall out, like witty, sarcastic, snarky, sardonic gemstones that the audience will gather up and take home in a blaze of red-hot happy memories.
Those are the memories that were made last night at The Laurie Beechman Theatre when Scarlet Envy returned with her freshened up cabaret, REFLECTIONS, one that she admits has not changed much since the last time she played the midtown Manhattan nightclub, but returning guests didn't care about seeing the same material twice, and newcomers were glad to be seeing the material for the first time because Scarlet gets her wish: the audience adores her. The nearly sold-out room was filled with people who hung on her every word, whether she was doing her own brand of stand up comedy, singing a famous song like "Girls Just Want to Have Fun" or "Summertime Sadness" or enthralling with one of her self-penned songs. Ms. Envy has a few musical offerings in her one-woman show, including a little Britney Spears and a little Patsy Cline, and the surprise is that she has a pleasant singing voice, which she uses in the style to which she would like her audience to become accustomed. One gets the feeling the voice has been trained and could bust out with a strong belt, but that would not be appropriate to the sultry, sexy, standoffish siren that is Scarlet, and since the art of drag is rooted in illusion, the audience seemed just fine with the raspy, rock and roll purr reminiscent of Bonnie Raitt or Kim Carnes.
If Ms. Scarlet's musical offerings (with Yasuhiko Fukuoka on piano) are fun, light and carry occasional messages of profundities, it is in the spoken portion of her evening where the true meat of her show lies. Scarlet Envy has an enviable talent for stand-up comedy. She isn't afraid to take her time and be herself. Working from a music stand that had pages of her material on it, Scarlet worked in the same manner as comedians like Joan Rivers, who always referred to her pages and the new material she was trying out. The music stand and script pages (which Scarlet said was just a prop) became a cute bit throughout the night when Scarlet would wad them up into balls and throw them out into the audience for her fans to have as souvenirs. The comedy bit made it through the entire show without losing its' luster, and even though there were times when turning away from the audience so often to refer to her script cost Scarlet a little of the connection she had with the crowd, she still had everyone's rapt attention as she used her comedy to comment on her youthful desire to wear high heels "Those death inclines that women have been suffering through for centuries.. Why can't I have those?!" or her adult commitment to drinking "I've been in New York for 9 years and for about 80,000 of them I was pretty much drunk". Scarlet's unapologetic insistence at being who she is and saying what she wants was a kind of hint to what Lenny Bruce might have been like in a dress ... only with a lot of Ann-Margret Hollywood glamor.
Where Scarlet fares the best, though, is when the aloofness drops away and she talks to the audience freely. In an unstudied, natural raconteur style, Scarlet shared stories about her experiences in New York, becoming less haughty and more naughty, speaking as the strong, empowered and honest woman that she is: "New York is the one truly healthy relationship in my life", championing the misfits and artists "It's people like us who keep the art and culture alive in New York City", and urging guests to live their lives "There's so much adventure out there". When she asked, almost modestly, if anyone wanted to go out after the show, the crowd couldn't quite tell if it was a joke or an authentic invitation "I'm always up for an adventure". Conversing openly with the front row about the upcoming nuptials of her two moms, "Are you a lesbian? I have a wedding for you to go to!" Scarlet let the adoring throng in long enough to get a taste for what a sweetheart she is, lowering the veil so that we can see the optimism "You can throw a smile out into the arena of vulnerability" and the loving message that she has for us all, that we are beautiful, that we are worth it, that "The World Wants You"
Well, the world may want us, but the world needs Scarlet Envy, she is a glorious example of what happens when you apply craft, talent, and heart to the art of appreciating who you are, what you want to say, and how to love yourself.
Photos of Scarlet Envy by Matthew Pandolfe
Scarlet Envy is the creation of Jacob James and she can be followed on Twitter @ScarletEnvyNYC Instagram @scarletenvy and through her website Scarlet Envy Website
Related Articles View More Cabaret

Stories

Shows