BWW Review: Judy Collins (with Special Guest Ari Hest) Offers a Timeless Show at Café Carlyle
Hirschfeld might draw Judy Collins as a halo of white hair, doe eyes, and a long black line curving, unbroken, to cradle her guitar. She's the image of unstudied elegance, natural, and despite the artist's thanks to Elizabeth Arden, soulfully organic.
Woke up, it was a Chelsea morning, and the first thing that I heard/Was a song outside my window, and the traffic wrote the words... ("Chelsea Morning" by Joni Mitchell) The voice slopes up then slaloms down as if on skis, breathlessly displacing air. We know that tone, that inflection. An octave may have shifted, but mastery of the music, the ability to take flight remains.
Judy Collins has been performing for 57 years in what she deems "the second oldest profession." Many of us came of age with her experimental, rallying lead. When the audience is invited to sing along they do so softly, sure of lyrics embedded in meaningful memories. Those of us who continue to show up year after year hear some of the same history---she was supposed to be a classical pianist, but opted for guitar and earned her chops in the folk world---and stories, like the night she awoke in Woodstock after an Albert Grossman party and sat on the floor secretly listening to Bobby (Dylan) work on "Mr. Tambourine Man."
Dividing her latest show at Café Carlyle into three sections, Collins first sings alone and on guitar with musical director/pianist Russell Walden. He and Collins have an extraordinarily symbiotic musical relationship. Walden's contribution is sensitive, evocative, supportive, pivotal.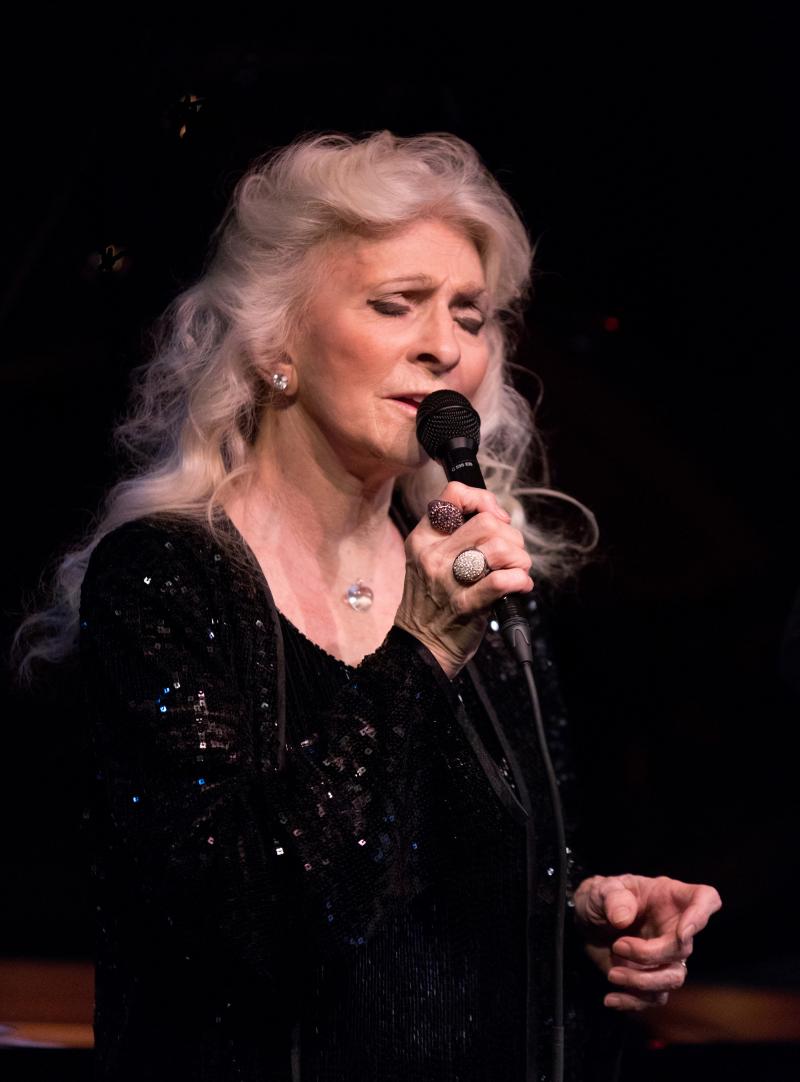 In this portion, we hear such as a haunting acapella "Golden Apples of the Sun" after the William Butler Yeats poem, a penetratingly sober "Masters of War" (Bob Dylan) which sounds, bearing witness, alarmingly current, and a spellbinding "When I Go" (Dave Carter/Tracy Grammer): And should you glimpse my wandering form out on the borderline/Between death and resurrection and the council of the pines/Do not worry for my comfort, do not sorrow for me so/All your diamond tears will rise up and adorn the sky beside me when I go... which, to me, evokes Leonard Cohen (who, alas, passed Thursday night).
Collins then invites special guest Ari Hest onstage with his guitar, retiring her own. The two met about four years ago. "I heard him sing and said, 'I hafta get me some of that,'" Collins tells us grinning. "Metaphorically speaking," Hest quickly adds. Their songwriting collaborations are a first for a woman who steadfastly created alone. Touring and a CD called SILVER SKIES BLUE followed. On stage, the pair share affectionate rapport and musical esteem. Five of their compositions embrace the same unfussy, literate, and spiritual language.
"I Choose Love" is as specific as it is poetic in opting for commitment through everyday trials. Hest composed "The Weight", during a year he literally wrote one a week. Its hopeful lyric is about a father trying to reconnect with his son. "Slow Burn" and "Silver Skies Blue" are love songs. The first describes a couple who part to spread their wings, eventually see one another accidently, and realize nothing's changed. The second I can only describe as utterly joyous; a wedding/anniversary song. Harmony is appealing. Collins drops years appearing exhilarated and sometimes girlish. Numbers are universal, enduring, sometimes redemptive. Hest returns towards the end for a rockabilly duet of "Someday Soon" (Ian Tyson) in which all three performers let fly. The club seems awash with ghosts from the 1960s. Sighs can be heard.
At the piano, Collins performs a muscular rendition of her own "The Blizzard" conjuring a one-act play. I don't talk to strangers, but a blizzard is a blizzard, she sings above the tandem storm of nature and despair. A stranger can be handy if there when needed, if clear-eyed and unexpectedly safe. There's nothing provisional about this performance. She's "in" it. One shivers. An imprint is left. Holding the microphone in both hands, the musician next offers a signature "Send in the Clowns" (Stephen Sondheim), which, for the first time, emerges defeated. A sign of the times?
Though the audience is unaware of Cohen's death (I didn't find out until afterwards), Collins may have known. Her encore is his song "Suzanne." Suffice to say they knew one another well. It echoes like a prayer.
Judy Collins is never less than memorable. This show combines familiarity with a fresh approach. The artist doesn't settle.
---
Judy Collins (with Ari Hest) plays Café Carlyle through November 19. For tickets and reservations, visit www.rosewoodhotels.com.