Review: Jacob Khalil's MOST REQUESTED at Birdland Theater Is Music Everyone Should Ask For
In his debut at the legendary jazz club, singer-songwriter-musician Jacob Khalil hits high notes.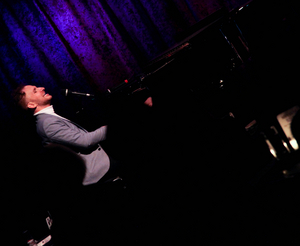 During his performance in the Birdland Theater last night, Jacob Khalil shared with his audience that he plays in various clubs around town and that, some nights, he plays to an audience of two people. Nevertheless, he will turn to those two people (just as he turned to last night's full house) and say, "What a crowd!" To be clear, Jacob Khalil should never play to a two-person house, only a full house, and, with his skill and style, Jacob Khalil could turn any audience into a "what a crowd" audience - that's how good he is.
This writer had heard the rumblings about Jacob Khalil, most notably from Broadway World Cabaret correspondent Ricky Pope and Birdland frontman Jim Caruso, so the mind was already open to the possibility that he would be a talent of note. And the impressively stocked theater at Birdland last night may have had some sway over the first impressions line, causing one to wonder if, perhaps, this was the new wunderkind of jazz. But when a musician starts their set with "Misty" (in a completely new, completely cool arrangement), it is a solid way to get the attention of a live music aficionado. Affable and appealing, Mr. Khalil has a voice for radio, a voice that you buy CDs for, a voice that people listen to for pleasure - not as background music, not as a random sound to keep one company on a long drive, during a party, or while cleaning the house. This is a palatable voice. Layer in the skills at the piano and the entertainingly animated style with which Khalil plays, and what you have is a live entertainer. Less showy than Jerry Lee Lewis and more flashy than Emmet Cohen, Khalil is fun to watch - a boon to the live entertainment experience - and quite jovially casual with his crowd, many of whom (last night, by a show of hands) were visiting the legendary jazz club for the very first time. Birdland, take note: there are seats to be sold here.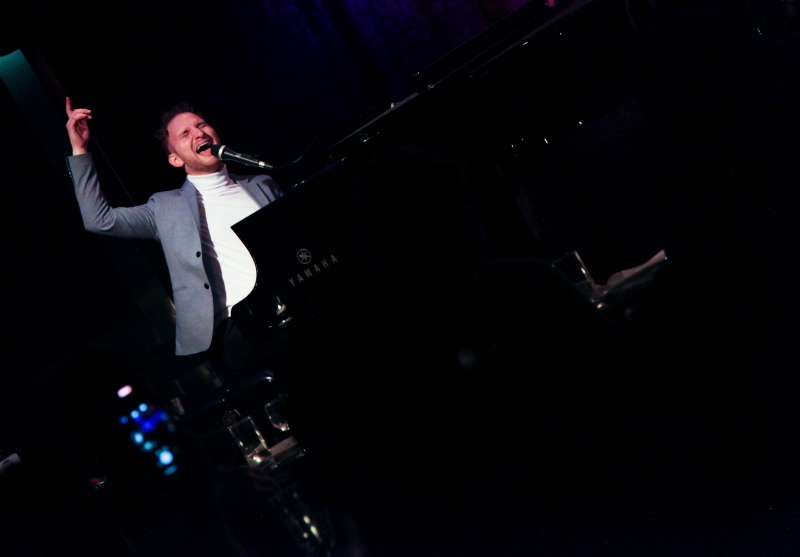 In his more than generous seventy-five minute concert, Jacob teeter-tottered between the sounds of jazz and pop, not really diving deep into either genre, making the music more widely accessible. Jazz fans could enjoy treatments and performances of standards by Cole Porter and Antonio Carlos Jobim, while pop devotees were allowed moments like a fascinating new exploration into Billy Joel's most famous ballad, and never could the fans of each differing genre object to the teetering tottering for a few blissful minutes. Working alongside the talented musicians who round out the Jacob Khalil Trio (Corantin Le Hir on bass, Donovan Taylor on drums) the singing, songwriting, piano playing entertainer presented a program titled MOST REQUESTED reflective of the music to which his audiences, most particularly, gravitate, not surprisingly, since it is standard piano bar and lounge fare - but even though these are songs we have all been hearing for decades, it doesn't mean that Khalil plays them by rote. Each of the tunes offered up last night was kept fresh, either through arrangements designed to keep them so, vocals veering into the unexpected, or solos from the musicians (including very special guest horn player Bobby Spellman), as was the case with numbers like "Hey Jude," "The Girl From Ipanema" and evening highlight "That's Life." The presentations of these songs most often requested of Jacob and co., and the team's treatments of the tunes, were the kind of performances that make people love live music, the kind in which Birdland specializes. And yet, in spite of the excellence of these jazz covers, the real thrill of the evening (and the clear path for Jacob Khalil) came in the songs that audiences cannot request (yet) because they don't know them.
It turns out Jacob Khalil is a rather fine songwriter.
Like a special gift or holiday treat, Mr. Khalil performed five original compositions last night, the quality of which was so exceptional as to make one question just how much longer Jacob Khalil will be playing to two-person audiences around town, rather than taking up residency in highly-esteemed clubs and concert halls around the country. Though the Jacob Khalil originals lean less into the jazz vibe, they are radio-ready, and (more than that) ready to be chart-toppers. Performing three originals with just the band, Mr. Khalil demonstrated not only a knack for songwriting but for performing his compositions in ways that guide an audience into the joyful experiencing of the music, with patrons clapping along and swaying in their chairs, some clearly wishing they could get up and dance. Then, closing out his Birdland debut with a chorus of backup singers, Khalil turned the show into a full-fledged pop concert that inspired cheers of delight from a very appreciative audience, one made even more grateful by the announcement of a recent album release (the physical CDs arrived just in time for this very concert). Stand-outs among the original compositions were the songs "Flame" (currently available as a single), and "Come A Little Closer" and "Gemini" - both of which this writer hopes are on the album (which I will be adding to my collection at the earliest possible convenience); factually, all five of Jacob Khalil's original songs performed last night are worth looking for on streaming platforms when they become available.
But Jacob Khalil is available now, playing out in New York City. See him soon, and be sure to request your favorite song. Or use his secret code and ask him to play HIS favorite song - that will get you one of the originals. Either way, either request - it's a win-win situation.
The Jacob Khalil Trio is Corantin Le Hir on bass, Donovan Taylor on drums, and Jacob Khalil leading the band from the piano.
Jacob Khalil's guest artist for MOST REQUESTED was Bobby Spellman, who has a website HERE.
Find great shows to see on the Birdland website HERE.
Jacob Khalil has a website HERE.
Jacob Kahlil gets a five out of five microphones rating for performing his entire show without the use of a lyric sheet, tablet, or music stand.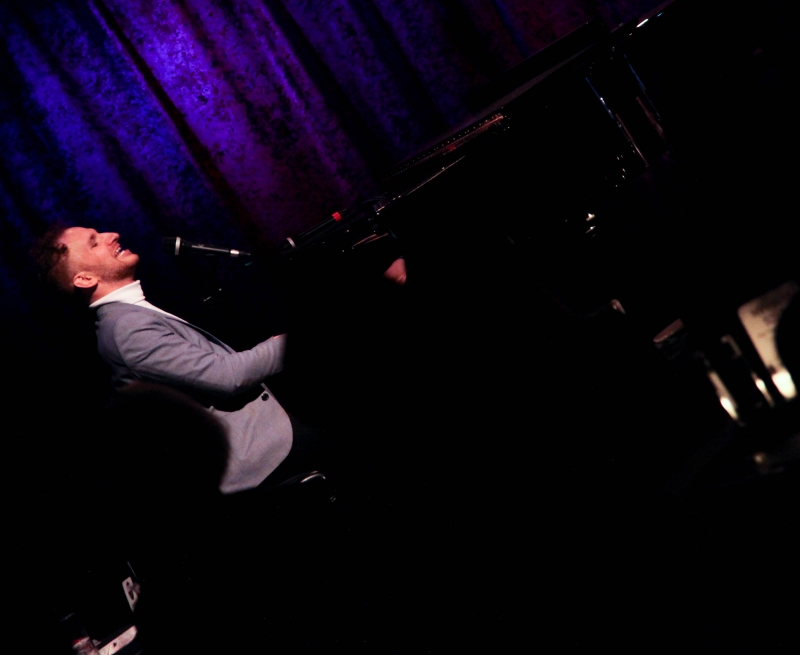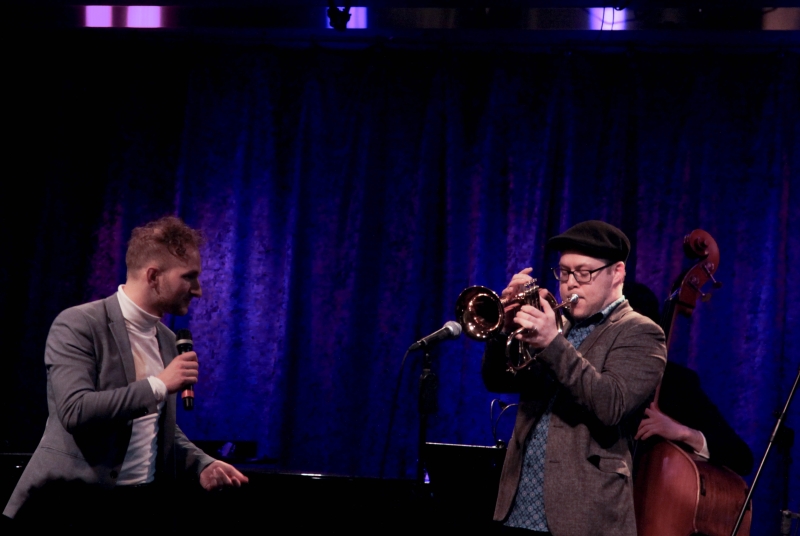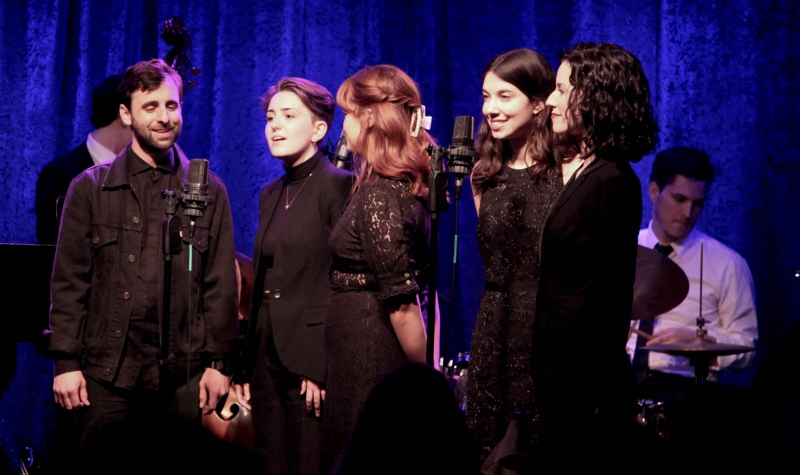 Photos by Stephen Mosher